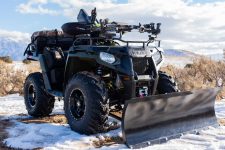 Polaris 570 Sportsman ATV Build: The Year-Round Machine – RM Rider Exchange
ATVs are versatile machines. From serving as a snow plow in the winters and a hunting rig year-round to a trail-riding, recreational machine for every weekend, our Polaris 570 certainly is. With how much we depend on this machine, for function and fun, we decided to outfit it with the best parts and accessories for our needs. From tires to storage and everything in between, our 570 is completely customized. See the changes we made by watching the video and reading the article below.
Storage
Storage was the first big thing we tackled on our Sportsman. A great thing about new utility ATVs is that they often come with storage in the front, rear, or both – but we've always been of the opinion that there is no such thing as "too much storage." So, up front, we installed the American Trails ATV Tank Saddle Bag. Having somewhere easily accessible to store the essentials like a phone, wallet, drinks, snacks, and more ups the convenience factor on the machine tenfold. Keeping up with that trend, we installed American Trails' ATV Fender Bag on the machine as well. The removable water bottle holders on this bag are a great feature that has come in handy on more than one ride. The fender bag is pretty versatile, too, as it can be installed on the front, rear, or side fenders depending on your needs.
Moving to the back of the machine, we added the ATV TEK Expedition Series Softback Bag. When it comes to the cargo space back here, there are a lot of options on how to customize it. Soft bags are great because the storage capacity is there without the hefty price tag. That said, rigidity and durability are always a primary concern. We've found that those worries aren't worth the time with ATV TEK's luggage. Constructed with a steel frame inside, the ATV TEK soft bags hold their shape well even without any cargo inside. If an ATV cargo box is still your preference, though, we have a whole lineup of those to choose from as well.
Snow Plow and Winch
A snow plow is a must-have accessory if you live in the weather like we do in Utah. Through the winter season, we use the WARN Universal Plow Kit with the WARN VRX 25 2500 lb. Winch with Wire Rope. It's an effective setup, and we even have a how-to video to help you with your installation. And, once winter is over, it's easy to remove the push tubes and use your machine without the blade until it snows again, at which point the blade can be easily reinstalled.
The WARN winch works in tandem with the snow plow, but it's not a seasonal item like the plow is. Unfortunately, you can get stuck year-round but having a winch can help you get out of some of those sticky situations, or maybe just be useful for some work around the house. An innovative feature on these new winches is that they are Bluetooth capable, meaning you can control your winch from the WARN app on your phone. This allows you to use your winch even when you're not on your machine, an incredible option that makes it that much easier to operate your winch in a variety of situations. And, like with the snow plow, we have a helpful how-to video to walk you through the installation.
Comfort
For our 570 Sportsman to be effective in the Utah weather, there were some comfort accessories that needed to be added. We started with the Tusk Hand Mitts. They're big, warm, easy to install, and easy to remove when the weather heats back up. Paired with the Tusk Lock-On Heated Grips, it's a paring for the ages. Heated grips offer comfort year-round, too, especially on windy days and chillier nights. The Tusk Seat Heater rounded out the trifecta because there's no denying the niceness of a warm rump.
Hunting
A top priority for this build was getting the machine ready for hunting season. There's room for a lot of customization when it comes to setting up your hunting rig, but for our combination of rifle and bow hunting, we opted for the Koplin 6.0 Gun Boot with the KXP Mount and the ATV TEK FlexGrip Pro rack.
The Koplin gun boot is big enough to fit your larger rifles easily, with a hatchback design that makes it even easier to take your rifle back out. The KXP mount we chose to install was especially convenient because it dropped right into the same mounting locations already on the machine. The universal mount works as well, giving the same benefit of easy carrying and complete protection for your rifle on your hunts.
The front of the machine is where we installed the ATV TEK FlexGrip Pros. This is an awesome product for bow hunting. There are several options of this product available, but we like the FlexGrip Pro for its adjustability. 8" of adjustment on each side make for 16 total inches of adjustability, meaning you can rotate the rack to the perfect angle for your specific bow. Your rifle can fit here as well if you don't want to go the gun boot route or don't care to bow hunt.
Another accessory that's actually a must-have on nearly all of our rides is the Garmin inReach Explorer+. It's unmatched peace of mind and incredible protection packed into one tiny device. The inReach Explorer+ allows you to communicate via text 24/7, even in places without cellular service. In the case of an emergency, the device's SOS feature allows you to contact emergency services. This device can save your life, and we highly recommend investing in one for your future rides.
Tires and Wheels
It's not a build if we don't talk about ATV tires and wheels, right? Either way, we couldn't wrap this machine up until we installed a set of aftermarket tires and rims. The Tusk Mud Force tires on the Tusk Beartooth wheels were the perfect setup for our riding style. We needed a combo that could tackle a variety of terrains through every season, and these tires are a great all-around option for performance that doesn't sacrifice durability or affordability.
All Wrapped Up
It didn't take much to outfit our 570 Sportsman, but those small changes made all the difference in our new snow-plowing, year-round-hunting, weekend-ripping machine. We're thrilled with how it turned it out and will be riding this one for many seasons to come.
Tell Us What You Think
What do you think about our build? What would you add to your machine? What would you leave off? Let us know in the comments below!