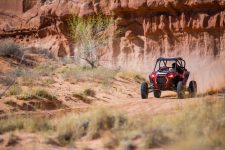 Gearing Up: New to the RMATVMC Website for April 2021 – RM Rider Exchange
Week in and week out, there are always new products hitting the RockyMountainATVMC.com website. We take pride in everything that we stock, but sometimes some new, exciting, ingenious, or just plain cool products get lost in the mix. So, here are some of the parts and accessories that you might've missed from last month.
Price: $349.99-$399.99
It doesn't have to be winter for you to enjoy some full upper doors on your machine. The snow may be melting, but dirt and dust can be just as detrimental and discouraging to your ride as wind, rain, and snow are. Doors, specifically the Tusk Soft Upper Doors, are useful in every season, adding protection from the elements and a little comfort inside your machine. But, if you do find yourself wanting that additional air inside the cab, the vinyl windows easily fold down. Made from powder coated steel tubing with heavy duty canvas and durable vinyl windows, these doors come fully assembled with a quick-release mounting system for easy install and removal (although we do have a helpful how-to- video to help with the install). Their value at such an affordable price point will make you wonder why you ever rode without them.
Price: $99.99
As the industry has grown and expanded, products for every type of ride and rider have become increasingly more available. The Yamaha Bed Lighting Kit is certainly evidence of this. It's a product that feels indulgent, but to label it as such undermines its usefulness. The product does what it says it does – lights the bed of your machine – but just how helpful and convenient that is cannot be understanded. Whether you're camping or hunting, the subtle and stable (i.e. no wobbly flashlight or fumbling with a headlamp) light comes in handy every time. What's more, the dual 5-watt LED lights are easy to install with plug-and-play wiring. And, for just $100, it's a pretty affordable way to add exceptional value to your machine.
Price: $39.99
If you have the stock RZR doors, you need the Tusk RZR Upper Door Bags. We love designing and developing products that offer comfort and convenience, and the Tusk door bags do just that. Made of durable 1680D and UV resistant material, the bags come for both the driver and passenger side for under $50. They're easy to install and boast enough storage for those quick-access items like your cell phone, snacks, water, sunglasses, and more. Plus, padding stitched into the bags make them extra comfortable for your knees rather than a bulky inconvenience during your ride.
Price: $39.99-$56.99
JT Sprockets isn't reinventing the wheel with their new JT Braking Self Cleaning Competition Brake Rotor, but they are showing that the wheel can be refined and optimized for the most competitive riders. The story with these new rotors is the unique conical holes with patented self-cleaning design. This keeps debris out of the pads and disc, making the rotors consistently high-performing each ride. Heat-treated steel helps the rotors resists wrapping at high temperatures and gives them a long lifespan, too. Lightweight, high-quality, and high-performing – what more could you want from a brake rotor?
Price: $199.99-$279.99
Since its release, the Tusk soft luggage lineup has been well reviewed and highly sought after. We're proud of these bags and have been continually humbled by the overwhelmingly positive response to them. A lot of time, testing, and effort went into the development of each bag, so we're thrilled that so many riders have loved their Tusk soft luggage. There's always room for improvement, however, which is why we've refined the Tusk Pilot Paniers to be easier to mount up and remove than ever before with a new replaceable strap system. Additional MOLLE webbing has also been added for extra convenience, and the panniers still remain affordable, durable, and capable of withstanding every type of challenge.
Building off of the success of the previous bags, the Tusk Excursion Rackless System is the newest member of the soft luggage lineup. The little brother to the Highland Rackless System, the Excursions were designed for off-road riding on ADV motorcycles. Constructed with heavy-duty nylon materials and coming with four nylon webbing straps for easy mounting and removal, the new luggage system is perfect for those shorter trips without compromising quality.
Tell Us What You Think
Which one of these new products is your favorite? Which one are you going to be picking up next? Or do you already have some of the items on this list? Let's talk about it in the comments below!