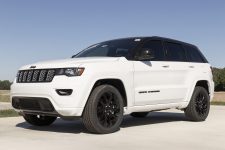 Jeep Grand Cherokee Towing Capacity — The Ultimate Comparison for Canada
Grand Cherokee can tow almost everything. As Jeep's official website gives it — "Boats, trailers, you name it". Is it all that simple? Of course, not. 
There's absolutely no way to answer the question with just a number. Towing capacity is defined by multiple factors, and even if we assume the year — it still will greatly vary. 
What Defines Grand Cherokee Towing Capacity?
Towing capacity is the maximum weight of a trailer that can be safely towed at a specified speed and gradient. A few factors contribute to it: 
The engine; 
The car's own weight; 
The weight it's already carrying; 
The towing package;
The way the trailer you're towing is arranged. 
To put it simply, your Grand Cherokee's maximum towing capacity will never be the same number. However, we still can take a look at the numbers and define the maximum towing capacity in perfect conditions. 
2022 Jeep Cherokee Towing Capacity 
The 2022 grand Cherokee lineup comes with 3 different engines, and each of them has a different towing capacity: 
3.6L PENTASTAR® V6 ENGINE: 6,200 Lbs (2,812 kg); 
5.7L HEMI® V8 ENGINE: 7,200 Lbs (3,266 kg); 
2.0L I4 DOHC DI TURBO PHEV ENGINE: 6,000 Lbs (2721 kg). 
5.7L V8 wins the game and gives the 2022 Grand Cherokee call it a "best-in-class" in terms of towing capacity. With 357 horsepower and over 390 lb-ft of torque — it's not even surprising. 
The lowest towing capacity in the 2022 lineup comes from the hybrid engine, but let's be honest here: it's not its primary benefit, and 6,000 Lbs is still pretty impressive. 
How Much Can 2021 Jeep Grand Cherokee Tow? 
What if you're asking for a friend or need it for your 2021 year model? It had a wider selection of engines, but the maximum towing capacity stays the same: 
3.6L PENTASTAR® V6 ENGINE: 6,200 Lbs (2,812 kg);
5.7L HEMI® V8 ENGINE: 7,200 Lbs (3,266 kg);
6.4L SRT® V8 ENGINE: 7,200 Lbs (3,266 kg);
SUPERCHARGED 6.2L V8 ENGINE: 7,200 Lbs (3,266 kg). 
Note that Jeep officially calls it "up to X towing capacity". it means that not every 5.7L HEMI engine will be able to carry over 7,000 Lbs effectively. You have to create the perfect conditions for it, have no extra passengers, unload as much weight as you can, and so on. 
Of course, the number applies to the unmodified model: if you — for some reason — decide to put an enormous heavy bumper on your Grand Cherokee — don't expect the maximum towing capacity to stay the same. 
Jeep Grand Cherokee Maximum Towing Capacity 7400 Lbs? 
Since the majority of engines stay the same, there's no need to list all years. The maximum towing capacity will always stay 7,200 Lbs or 3,266 kg. 
On various websites and in tables you can find info about the 2018 Grand Cherokee being capable of towing up to 7,400 Lbs, but that's questionable. If it was the case, Jeep definitely would state it in the official 2018 lineup brochure, but they didn't — and called the 7,200 Lbs towing capacity the best in class instead. 
Some websites even specify that the 7,400 Lbs  towing capacity was available in the 2018 Jeep Grand Cherokee Limited Sterling Edition, but it's questionable, again.
The Sterling edition was a luxury upgrade, not a capability upgrade. It was available with the same supercharged engines as the base 2018 model, and therefore — had the exact same maximum towing capacity of 7,200 Lbs. Sorry, but chrome doesn't add anything to the maximum weight of a trailer you can tow. 
2022 Grand Cherokee Towing Package 
In case towing a heavy load is really, really important for your lifestyle — it would be a good idea to make the process as safe as possible. And it includes the Towing Package. For the 2022 year lineup, it comes standard in Trailhawk, Overland, and Summit models. 
Towing package is not external hardware, it's a complex of hardware solutions that ensure easy — and safe — towing. From the factory, the Towing package includes: 
An improved hitch receiver; 
Wiring harness;
Spare tire
Rear load-leveling suspension;
Cooling system.
In synergy, all of these solutions make sure that Jeep will stand for its word and you will be able to tow 7200 loads with no damage to the car and no risks for road safety. 
The Problem with Grand Cherokee Towing Capacity? 
Remember we promised the catch? Now, stop thinking of 30-feet-long enormous trailers that Jeep can easily move, and get back to reality with this simple fact: 
Your maximum towing capacity is defined not by the car, but by the weakest towing hardware you have. 
And since towing is not exactly as simple as it may seem — there's a huge variety of accessories that can be "too weak" to let you use the maximum capabilities of your engine. 
Towing Parts for jeep Grand Cherokee
The list includes, but is not limited to: 
Hitches;
Tow straps;
Tow bar mounting hardware;
Tow bars;
Tow hooks;
Shackles;
Frame brackets;
D-ring isolators and mounts. 
In case your tow hook is damaged — it'll shatter to pieces when you'll try to move anything. The same goes for the hooks, bars, and all the towing hardware. Now — let's look at each of them in better detail. 
Hitch
How to make sure your hitch is really capable of heavy towing? First and foremost, look for the maximum Gross Trailer Weight that's written on the hitch. For example, if you have a Class III Rear Receiver Hitch — the GVW mustn't exceed 7200 Lbs. A Class IV Hitch can handle up to 10,000 pounds. 
Note that all the ratings are for dry towing only. That's the weight of the trailer, not you and your family. 
What if you have a Class IV hitch and want to tow more than 10,000 Lbs? No problem — as long as your trailer is equipped with a weight distribution system or "Winch". 
The latter is pretty useful when you're carrying something heavy and want to hold your Grand Cherokee in position. It's essentially a set of straps, but it differs from a simple tow strap because it distributes the load. 
Tow Straps
Tow straps are necessary for situations when you need to transport something in the back of your car but don't want to use a trailer. The problem is that they are usually too short and not strong enough, when there's a choice between a short and strong tow strap — it's always best to go with the long one. A proper heavy-duty tow strap is a must-have for off-roading and for road recovery situations. 
Tow Bars
The same goes for the tow bars as well, especially if you're looking for as much safety as possible and want all your accessories high-quality. A proper tow bar should be sturdy, made of steel, and reliable. The construction options, however, may vary: 
Vertical;
Horizontal;
Collapsible;
Fixed;
Self-aligning;
And more. 
It should be specifically designed for your Grand Cherokee and positioned just right. It's always good to go with the companies that have a solid reputation and at least a few years on the market. 
Tow Hooks
And here's another area where cheap alternatives can hurt you significantly in case anything goes wrong. Tow hooks are an essential part of the towing package, and if you're driving in a dense area — you want them to be as safe as possible. Cheap alternatives can shatter to pieces if you'll try to tow something too heavy for them, and that's how you can end up hurting someone else or damaging your Jeep. 
D-ring isolators
It's a small, usually, polyurethane detail that reduces the noise, lowers the chances to damage your bumper, acts as an isolator in the shackle, and prevents unnecessary direct contacts. It's important not to try to save money on it, especially if you're looking for true heavy-duty performance. 
Why Towing Safety is Important? 
Towing a trailer involves much more factors than just hooking up, pulling, and driving away. If you end up damaging your Jeep during the process, you will have to pay for it. Imagine paying for the whole new bumper when you know that the part that truly failed is something like a cheap 40$ aftermarket towing hook that you decided to save on. 
How to Increase Jeep Grand Cherokee Towing Capacity 
The short answer is — there's no way to increase your Jeep's towing capacity easily. Of course,  you can put a turbo-diesel engine from RAM 2500 in your Grand Cherokee, but why would you do that? We're 110% sure that if you wanted a RAM, you'd buy a RAM. 
Jeep Grand Cherokee has a huge number of benefits that probably are more important than extra few thousand pounds of towing capacity. Besides, it wouldn't be a Jeep after that, and it would mess up the whole car anyway. 
You can't increase your Grand Cherokee towing capacity, but you can make towing near-the-limit loads safer, add more stability and safety to the process. You just need the right towing gear. 
The Conclusion 
Your Jeep Grand Cherokee towing capacity will depend on your accessories and your towing hardware. As well as the quality of your woodwork will depend on your tools, your kids' college education will depend on their teachers' qualifications, and so on. Towing is a complex process, and we wish it was as easy as strapping the trailer to the hook and going your way. Unfortunately, it's not. 
Anyway, if you get your towing parts right — you can enjoy your best-in-class towing capacity of 7,200 Lbs on your Jeep Grand Cherokee. Or the 6,200 Lbs, in case you have a V6.