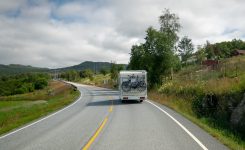 Jeep Gladiator Towing Capacity — The Ultimate Comparison
Asking about Gladiator towing capacity would raise some eyebrows back in the days of the Roman Empire, but it's a totally normal question nowadays. Since Jeep is one of the most popular SUV brands in existence, people will definitely understand what you mean. Unfortunately, it does NOT make understanding Jeep Gladiator towing capacity any easier. 
Jeep Gladiator Towing Capacity — The Simple Answer 
Your 2022 Jeep Gladiator towing capacity can reach up to 7,650 lb (3,470 kg). 
Source: the official Jeep Canada. 
Why The Simple Answer is Not Enough
Because even Jeep states on their website that the towing capacity of 7,650 lb can be achieved only when one specific engine from the lineup — the 3,6L V6 — is "properly equipped". 
What do they mean by "properly equipped"? Jeep clearly answers it: "Specific models and optional equipment are required to achieve the maximum ratings shown."
Now, what exactly does it mean? Your 2022 Gladiator towing capacity can reach 7,650 lb ONlY when: 
It's a Sports edition;
It has a manual transmission;
It has a max tow package installed; 
It has a fresh, properly maintained PENTASTAR V6 engine;
It has all other conditions and aspects optimized for maximizing the towing capacity. 
Now, do you have a Sports package with the towing package, no people on board, minimized the car's weight, have no extra accessories, and the optimal tire pressure? If so — congrats, you can tow UP TO 7,650 lb. With one more condition: all your towing parts are of top quality as well. 
Real 2022 Jeep Gladiator Towing Capacity 
Here's the trick: you may have a different edition or even a different engine. Since the engine plays the main part in towing, here's a comparison, in short: 
Jeep Gladiator with 3.6L PentastarTM VVT V6 and MANUAL transmission: towing capacity up to up to 4,500 lb (2,041 kg);
Jeep Gladiator with 3.6L PentastarTM VVT V6 and AUTOMATIC transmission: 7,650 lb (3,470 kg);
Jeep Gladiator with 3.0L EcoDiesel V6 engine (only comes with 8-speed automatic transmission: 6,500 lb (2,948 kg). 
Now — let's put it in perspective.
Jeep Gladiator Towing Capacity Comparison
We'll take the Jeep Gladiator MAX towing capacity — and place it right next to other trucks in the same (or almost the same) category: 
| | | |
| --- | --- | --- |
| Position | Car | Towing capacity |
| 1 | 2022 Dodge RAM 1500 | up to 12,750 lb (5,783kg) with the 5.7L Hemi V8 (yes, it's a full-size truck, but it's in the same price range) |
| 2 | 2022 Jeep Gladiator | up to 7,650 lb (3,470 kg) |
| 3 | 2022 Ford Ranger | up to 7,496 lb (3,400 kg) only with a towing package and the turbocharged 2,3L I-4 engine |
| 4 | 2022 Toyota Tacoma | up to 6,500 lb (2,948 kg) with the 3.5L DOHC V6 |
| 5 | 2022 Honda Ridgeline | up to 5,000 lb (2,267 kg) only with i-VTM4 AWD equipped |
As you can see — of 2022's most popular mid-size trucks, Jeep Gladiator has the biggest towing capacity. It loses only to RAM 1500, which is — to be realistic — NOT a mid-size truck, but a full-size one instead, even though the two sometimes get compared. 
Jeep Models Towing Capacity Comparison
Now, how does it compare to other 2022 models? 
| | | |
| --- | --- | --- |
| Position | Car | Max towing capacity |
| 1 | 2022 Jeep Grand Wagoneer | up to 10,000 lb (4,536 kg) |
| 2 | 2022 Jeep Wagoneer | up to up to 9,850 pounds (4,468 kg) |
| 3 | 2022 Jeep Gladiator | up to 7,650 lb (3,470 kg) |
| 4 | 2022 Jeep Grand Cherokee | up to 7,200 lb (3,265 kg) |
| 5 | 2022 Jeep Wrangler | up to 3,500 lb (1588 kg) |
| 6 | 2022 Jeep Compass | up to 2,000 lb (907 kg) |
Among all the major Jeep models in Canada in 2022, Jeep Gladiator loses the comparison only to Wagoneer and Grand Wagoneer. It's not surprising, since Wagoneer and Grand Wagoneer models are not in the same class and both have enormous (6.4L V8 and a 5.7L V8) engines with an e-Torque Hybrid Assist. They also cost more than 2 Gladiators combined, so we can't compare them. 
What is Towing Package for Jeep Gladiator
In short, it's a set of premium components with optimized and upgraded towing capacity and other towing-related aspects. From the factory, the package may include
an Engine-cooling system;
Anti-lock brakes;
Rear differential upgrade (anti-spin system);
Front and rear axle upgrades (heavy-duty option); 
a Hitch receiver;
Trailer-Hitch Zoom;
All-terrain tires. 
Given that it's the only way to achieve the max towing capacity — we highly recommend at least considering it. That's the first half of the secret to achieving the said "UP TO" towing capacity. 
How to Increase Jeep Gladiator Towing Capacity 
And that's the second part of the secret. Not only should your factory gear be in the right place, but all other necessary parts should also be functioning properly. 
The best way to increase your SAFE towing capacity (meaning that it's an effective process that gets the job done, without destroying the engine, overpressuring the transmission, and making your Gladiator suffer) is to make sure that your whole towing system is equipped properly. 
Tow bars — provide maximum support as they restore traction and make the towing process smoother;
Tow hooks — often called "trounce clips" — allow you to secure your trailer to the Jeep Gladiator;
Tow straps — essentially, collars that are designed to wrap around the tow bar and secure your trailer on it; 
Brake systems for the trailer — provide you with better control over reversing and stopping a trailer. It's an important part of the towing system in order to prevent serious accidents;
D-rings — work with tow straps and provide security by retaining them into place when connected to a trailer;
Shackles — secure the trailer to your Jeep Gladiator when you're hauling heavy loads. 
Keep in mind that your towing capacity is not just about the trailer you may need to pull — it's about road recovery as well. 
The Final Word
Now, you might've noticed that Jeep Gladiator's max towing capacity of 7.650 lb (3.470 kg) is not as easy as it seems. There's no doubt, it has a lot of potential but reaching the "up to" demands a serious focus on factory-installed and aftermarket towing parts.
It would be a shame if something as silly as a cheap hitch receiver would break in the middle of the road. Saving on something that is supposed to carry heavy loads was never a good idea. 
You also should keep in mind that the secret to your Jeep Gladiator's towing capacity isn't just about the engine you may have or the towing package — it's mostly about how you use it.