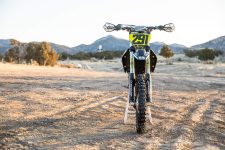 Gearing Up: New to the RMATVMC Website for May 2021 – RM Rider Exchange
Week in and week out, there are always new products hitting the RockyMountainATVMC.com website. We take pride in everything that we stock, but sometimes some new, exciting, ingenious, or just plain cool products get lost in the mix. So, here are some of the parts and accessories that you might've missed from last month.
Tusk EMEX Tires
Price: $25.88-$59.88
Performance, reliability, and durability make up the foundation of a high-quality tire, but those features don't have to come at the expense of your budget. At least, they don't now that we've released the Tusk EMEX T-35 and T-45 tires. Countless hours of developing, testing, and refining went into these budget-friendly tires to give them all of the elements of their premium off-road competitors. The EMEX T-35 is a soft/intermediate terrain tire capable of transitioning from loose conditions to hard surfaces, all while providing unmatched traction and aggressive performance. For packed surface conditions, the EMEX T-45 offers consistent bite and stability. We designed these tires to work as hard as you do, and they stand up to the test – all for under $60.
Tusk EMEX Tires
Tusk EMEX T-35® Soft/Intermediate Terrain Tire
Tusk EMEX T-45® Intermediate/Hard Terrain Tire
Price: $99.95
One of the best accessories you can get on your machine is a windshield. Year round, windshields protect from the elements, provide airflow, and combat dust and wind. The Tusk Wing Vent Kit isn't a windshield, but it almost works as an extension of one. Installing directly on your machine's roll cage, the wing vents can be tilted to direct air and offer even more venting. Then, in the winters, the vents can be closed completely off to add those extra few inches to your windshield. It's a simple, affordable addition, but we've found that it makes a significant difference in every season. As for the nitty-gritty of this product, it's durable and scratch resistant, comes with all mounting hardware, and comes in a pair. It's fairly easy to install, too, but we have a great installation video that you can follow along with just in case.
Price: $44.60 & $56.50
Hi-Lift's Lift-Mate, paired with the Off-Road Base, revolutionizes the way you lift your machine. Whether you're high-centered, your wheel is stuck in a hole, or you're in any other type of sticky situation, the Hi-Lift setup is an effective solution. The lift-mate lets you lift up to 5,000 lbs. directly from the tire with rubber-coated hooks that protect the wheel while the wide base helps alleviate jack sinkage. With this new tool that allows the wheel to be lifted directly from the wheel, there isn't the same need for extreme lift kits and plastic bumpers. It's just this convenient-to-use and easy-to-store combination that you need, and it's likely to become your go-to after you try it for yourself.
Price: $5.48-$85.66
When's the last time you changed the drivetrain oil on your machine? It's a funny thing – your drivetrain fluid should be changed as often as your oil, but it's usually overlooked and underdone. Some people don't know which fluids they need, but our new Tusk kit takes the guesswork out of that. Whatever oil, gear oil, or transmission fluid your machine needs, this kit comes with, along with any necessary crush washers. It's nice having all the basics you need in one convenient package, and it should make completing this neglected task quick and easy.
Tell Us What You Think
Which one of these new products is your favorite? Which one are you going to be picking up next? Or do you already have some of the items on this list? Leave us a comment below.