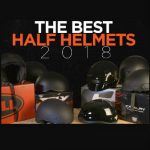 Best Low Profile DOT Half Helmets
There's a lot more variety among half helmets than you might think. Especially when it comes to the way the lid sits on your head and the profile it creates when strapped down. Remember Toad from Super Mario Brothers? You don't want to be that guy…
So to help make a more informed decision, we grabbed several different half helmets and tried them on with the cameras rolling.
We chose only DOT approved helmets, since this certification is required for legal use on American roads. Granted, opting for a half helmet does assume more risk than going with a full-face even with a certification, but we're not here to tell you what to do. Rather, we just suggest being as safe as possible within the parameters of the gear you want to wear.
We also chose DOT because there's a glut of half helmets out there that don't even attempt to live up to the government's safety standards. There may be a DOT sticker on there, but in those cases it's fraudulent and not likely to do you any good in a crash. All 12 of our picks are the real deal.
Another note is that my head is long oval. This made some of the helmets completely inappropriate for me, but they could be perfect for riders with more round or intermediate oval shaped heads. I make mention of fit and call out the ones that really work or really don't work in the above video and descriptions below. All helmets we sampled were my usual size, XL.
The extended ear coverage of the Bell Scout Air puts it slightly outside the "look" of a straight-up half helmet, but this one's a great option in my opinion. Not too expensive, made from quality Tri-Matrix composite material, super lightweight at one pound, 13 ounces and available in five different shell and EPS sizes. Bell even offers a face shield, sold separately, if you want a little more coverage. The profile is slim and it sits low and comfortably on my head. I liked it so much I picked this one as my favorite of the bunch.
The AFX FX-200 is built with fiberglass reinforced plastic, has a hypoallergenic, removable and washable liner, a D-ring retention strap and removable ear covers. The $84.95 price tag is an enticing proposition, and the lining inside is actually really soft and cozy. It's also the lightest helmet of all 12 at one pound, 12 ounces. Fit wasn't right for my head shape, though. I didn't get any contact with the top of my head and there was pressure points on my forehead.
The Scorpion EXO-C110 packs some nice touches, from the advanced polycarbonate shell with crown ventilation, a SpeedView retractable sun visor, removable communicator speaker pockets and peak visor. It weighs two pounds, seven ounces on our scales. The KwikWick 2 anti-microbial liner is really soft and fit is fantastic for me. However, the profile is a little big for my liking, the lid sitting up tall and bulging out in the sides a bit more than others in our line-up.
Fly Street's .357 is made from thermo-plastic poly alloy and has a retractable drop-down sun shield. You can get other tints of drop-down shield too, which is a nice option to have. The removable liner inside is decent, but not as soft and cozy as other options we had on hand, and the helmet weighs out at two pounds, three ounces. This is another lid that didn't fit my head shape quite right, however the profile is nice and slim.
The GMax GM65 has some nice touches, like the retractable UV400 sun shield, a removable neck curtain and removable, washable and moisture wicking interior liner. It's lightweight too, at two pounds, one ounce. Fit wasn't great for me with this one, however. Like some of the others more appropriate for round or intermediate oval shaped heads, I got noticeable pressure on my forehead and could even get the tips of my fingers between the liner and my head on either side.
The HJC CL-Ironroad is made with an advanced polycarbonate shell, has a zip-off neck curtain, ear pockets for communication speakers, a peak out front and a removable and washable liner system. There's also a dial at the back which allows you to tighten or loosen fit as needed. It's a little heavier than some of our other picks at two pounds, 11 ounces. Fit was better then some, but not quite right for me. The dial adjuster is a really nice touch, but the lid sits quite high in my opinion and the side profile juts out a bit more than I'd like.
The Sena Cavalry is the most sophisticated half helmet of the bunch, with built-in Bluetooth communication. The shell is made from fiberglass, it has a comfy removable interior liner and even with all the tech built-in, it only weighed out at two pounds, six ounces. Fit was great for my head shape too, the helmet sits nice and low, the profile is slim and the interior is plush. The price, just under $350, is a little prohibitive for this helmet segment, but the package is solid and made the Sena one of my favorites of all the helmets we had on hand.
The LS2 Stripper is built from the brand's Kinetic Polymer Alloy material and is available in three different shell sizes. It's bare-bones and as such only weighs two pounds, one once on our scales. Fit is really good with the LS2 Stripper, the lining inside is well padded and comfortable and there were no areas of discomfort at all. The profile seemed a bit too big for me though, definitely not as slim on the sides as some of the others.
The Speed and Strength SS210 is made with an Advanced Thermo-Poly Alloy shell, has a Cool-Core comfort liner and is a lightweight option at just two pounds. The interior is really nice with the SS210 and fit for my long-oval head was right on the money and the profile appeared slightly slimmer than man of the others I tried. For a standard half helmet with no frills and an affordable price tag, the SS210 gets my vote.
Skid Lid's Original helmet is built with a thermoplastic alloy injected shell and is really minimal. It weighed out at two pounds, one ounce and it packs a slim profile. The removable and washable interior liner is soft and comfortable, but the shape was just a little off for me. If it was a little better suited for a long oval shape, this one would be hard to beat for a no-nonsense half helmet.
The HJC IS-Cruiser features an advanced polycarbonate composite shell and Nylex interior liner system. It's got a drop down sun shield that is three position adjustable and it can be swapped out without the need for tools. There's a peak included on the Cruiser, too. It weighs two pounds, nine ounces. Fit is nice with the Cruiser, but like the Ironroad, it sits a little too high for my liking and has a pronounced profile on either side.