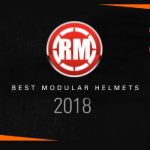 Best Modular Motorcycle Helmets of 2018
| Helmets | | | | | |
| --- | --- | --- | --- | --- | --- |
| | Speed and Strength SS1710 | Bell SRT | HJC RPHA-90 | Shoei Neotec II | AGV SportModular |
| Price | $189.95 | $349.95 | $459.99 | $699 | $749.95 |
| Safety Certification | DOT | Dual DOT as Open Face and Full Face | DOT and ECE | DOT | DOT |
| Shell Material | Advanced thermo-poly alloy | Fiberglass composite | Advanced Premium Integrated Matrix carbon and carbon-glass | Multi-Ply Matrix AIM | Carbon fiber |
| Interior | Removable, washable, anti-bacterial | Removable, washable, anti-bacterial | Removable, washable MultiCool anti-bacterial, moisture-wicking | Removable, washable 3D liner system, Noise Isolator design | Removable, washable, anti-bacterial, moisture-wicking, reversable crown liner |
| Weight | 3 pounds, 11 ounces | 3 pounds, 14 ounces | 3 pounds, 9 ounces | 3 pounds, 15 ounces | 3 pounds, 2 ounces |
| Drop Down Sun Shield | Yes | Yes | Yes | Yes | Yes |
| Additional Features | Air-Strike ventilation, All-Clear shield, d-ring retention strap | Intake and exhaust vents, Panovision shield, eyeglass compatibility, communication speaker cutouts, dark smoke shield, d-ring retention strap | Intake and exhaust vents, HJ-20 shield, Pinlock compatible, eyeglass compatible, communication speaker cutouts, d-ring retention strap | Intake and exhaust vents, CNS-3 shield, communication speaker cutouts, eye glass compatible, micro ratchet retention strap | Intake and exhaust vents, adjustable rear spoiler, GT3 shield, Pinlock compatible, communication speaker cutouts, eyeglass compatible, d-ring retention strap |
| Warranty | One year | Five-year | Five-year | Five-year | One-year |
Modular motorcycle helmets offer the best of both worlds. Full-face protection and coverage if you want it, or open face freedom. There are numerous options available from most top helmet manufacturers, but there's some choice items new for 2018 that we feel are better than the rest. That's what we've got for you here, five of the most innovative modular motorcycle helmets of 2018.
Considerations
Weight and aerodynamics are big things to keep in mind with modular helmets. Since locking and pivoting mechanisms are necessary to make a flip-up chin bar, modular helmets tend to be heavier than full face or open face helmets. It's not always the case, and some that we've selected below are surprisingly light, but if you are prone to neck fatigue it's an important point to take into account.
And with the chin bar in the up position, you'll want to remember that buffeting can become an issue. Manufacturers take this into account when designing the lids, so many are built to be as aerodynamically effective as possible with the chin bar up, but there's no escaping the fact that there will be more wind resistance to deal with when you're riding open face.
Some modulars can be a bit noisy on the road too, but as with weight, manufacturers are getting better and better in creating low-noise lids in this segment.
Beyond that, it's all about your preferences. Pieces like speaker pockets, drop down sun shields, eye glass compatibility are all features you can easily find among the helmets we've chosen. Prices range from about $200 up to almost $750, so a wide budget range is covered, too. We're sure there's something below for just about any need, but if you're not seeing exactly what you want, be sure to browse our entire selection of modular motorcycle helmets.
The Speed and Strength SS1710 is our budget choice, available for just under $200 in the Split Decision graphic shown in the video. A solid version prices $10 below that. As such, it's pretty minimal as far as features go. It's got all the basics a rider would want in a modular lid though, with a DOT approved advanced thermos-poly shell, Cool-Core removable and washable liner and DVD internal sun shield. The Air Strike ventilation system is straightforward, with open and closed positions on the intake vents on the chin bar and crown. There's an All Clear, optically correct main shield that's resistant to fogging and scratching. It also protects against UV rays. The chin bar releases by way of an easy to use release tab and stays firmly in place when in the up position. It weighs out to three pounds, 11 ounces. For riders that really want a modular helmet, but don't want to spend a fortune to get one, the SS1710 is a great option.
The Bell SRT is a step up in price but the extra cost is noticeable in a number of areas. To begin, it's got a fiberglass composite shell and is dual DOT certified as both a full face and open face helmet. The flip-up chin bar feels a little more sturdy than the S&S above, as do the large sliders that open and close the vents. The gasket around the eye port appears to be a bit more robust as well. There's all the other bells and whistles too, including a drop down sun shield, removable and washable anti-bacterial interior liner and EPS cutouts to allow easy installation of communication speakers. The SRT also has a Panovision main shield with Class 1 optics, is eye wear compatible and comes with a dark smoke shield included at purchase. It's a bit heavy compared to some of the others at three pounds, 14 ounces, but if you're a fan of the way Bell helmets fit and feel, you won't be disappointed in the SRT.
Tack on another hundred bucks of so and you get to the HJC RPHA-90. There's a noticeable jump in quality here too. HJC have achieved a remarkably slim modular helmet with the RPHA-90, and it's three pounds, nine ounces are really well balanced. It's made from the brand's Premium Integrated Matrix carbon and carbon glass hybrid fabric and is both DOT and ECE approved. The weight difference between this and the SRT may not seem like much on paper, but in hand the helmets feel quite a bit different, with the RPHA noticeably lighter. The function of its moving parts also seems more refined. From the wire-actuated drop down sun shield to the movement of the chin bar, everything is smooth. The chin bar also pops really firmly in place when up, so there's no doubt it will stay put if you decide to ride open faced. The interior is designed to be low noise, it's eye glass friendly and the ventilation port positions are optimized to flow lots of air through the EPS channels inside. It's part of HJC's premium RPHA line, so the quality construction and feel don't come as a surprise. For a slim, well-built modular, the RPHA-90 is hard to beat.
Shoei's Neotec has long been a standard bearer among modular helmets, and the Neotec II takes the formula and makes it even better. The attention to detail is second to none on the Neotec II. The DOT-approved Multi-Ply Matrix AIM shell is shaped for aerodynamic effectiveness, and provides the helmet with a striking look. The vents have been shaped and placed in optimal locations for the best possible airflow through the channeled, multi-piece EPS liner. The flip up chin bar was redesigned for more area inside and easier operation with a larger single button release. It's got a micro-ratchet retention system, instead of the d-ring straps on the other four helmets. It's also got a QSV-1 drop down sun shield inside. The new interior is downright luxurious too. It's got soft, supple removable cheek pads and crown liner that's eye glass compatible. But also has "Noise Isolator" elements built in to reduce wind and road noise. These elements are complemented by an improved eye port window bead to create an extraordinarily quiet modular helmet. It's ready for communication speakers, and was designed to seamlessly integrate with the SENA SRL system. It's a pricy lid and weighs the most of all we've chosen at three pounds, 15 ounces, but the package as a whole is unimpeachable. It's our favorite new modular helmet of 2018.
If you want a truly cutting-edge modular helmet though, and price is no concern, the AGV SportModular is the one for you. The first fully carbon fiber modular, this lid is feather light at three pounds, two ounces. That's better than a lot of standard full-face helmets, not to mention just about any modular you'd find. It comes in three different shell sizes with five different EPS liner sizes so riders can find the perfect fit. There is a cleverly designed integrated ventilation system, an adjustable spoiler, reversible interior crown liner, Pinlock ready, Class 1 optically correct main shield with integrated dropdown sun shield, metal locking hardware for the flip-up chin bar and eyeglass compatibility. Chin bar action is smooth, as is the action with the drop down sun shield. It's basically the Ferrari of modular helmets.
So why not pick the AGV as the favorite? For me, I was sold on the work Shoei did on its low-noise interior, as well as the action of the chinbar and ease of use designed into all the moving parts. That's not to say the AGV is poorly designed, far from it, but when it comes down to personal preference, Shoei gets my pick.
If you've worn any of these lids or want to chime in on which one you'd most like to have, leave us a comment below.