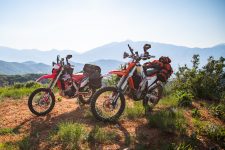 Gearing Up: New to the RMATVMC Website for October 2020 – RM Rider Exchange
Week in and week out, there are always new products hitting the RockyMountainATVMC.com website. We take pride in everything that we stock, but sometimes some new, exciting, ingenious, or just plain cool products get lost in the mix. So, here are some of the parts and accessories that you might've missed from last month.
It's not uncommon for OE fuel pumps to go bad, but it is common for them to be a pain to replace. Stock fuel pumps can be expensive and time-consuming to install, which is why All Balls created their Complete Fuel Pump Module. You don't even need to buy the complete tank like most manufacturers require – this module comes as-is starting at $179. Their fuel pump is essentially plug-and-play, making it a much easier alternative to rebuilding with stock parts. Plus, the All Balls option draws less current than OEM units while still operating at a lower temperature. Long-lasting, cost-effective, and user-friendly, the All Balls module is quickly becoming the new go-to for fuel pump repairs and replacements. If you want more information on how the fuel pump module works, you can watch .
Harnesses are one of the top safety upgrades to add to a UTV. In fact, many riders nowadays don't get in a UTV without them. And rightfully so – harnesses keep everyone safe and secure in the event of an accident. That said, installing harnesses on some machines, especially the new Kawasaki KRXs, is easier said than done. Enter the Tusk Harness Bar, the solution to this specific and irritating problem. This bar mounts behind the seats directly to the OEM roll cage in the factory mounting locations, so no drilling, cutting, or modifications are required. Another bonus, stops are welded on the ends so the shoulder straps won't slide around. Add the durable steel construction and sleek powder coat finish on top, and you've got one sturdy, high-functioning, good-looking, and extremely convenient product for your UTV.
https://www.youtube.com/watch?v=AK5rtRVLkVc
We just said that harnesses are a top upgrade to make to a UTV. Another is storage. Many riders consider it an important upgrade, especially if they're taking their UTV on long rides, hunting, or more. There are several UTV luggage configurations to consider, but a new, affordable, machine-specific option is the Tusk Bed Box. The molded polyethylene is tough and durable, and the rubber gasket and latch keep the whole thing water resistant. At a 24L capacity with dimensions of 18"L x 14"W x 14"H, the box is a sturdy and convenient place to keep things safe on your ride.
Oxford Heaterz EVO Heated Grips
Just because colder weather is approaching doesn't mean the riding season is winding down. In fact, that just means you need to get your machine prepped, and heated grips are the perfect way to do that. Oxford Heaterz EVO Heated Grips are a great option. Their thick rubber construction keeps them durable, their ergonomically engineered surface keeps them comfortable, and their winter grade wiring keeps them from short circuiting or cracking in the cold. The five heat settings on the grips go up to 115°F and draw under four amps so that you and your battery can comfortably keep the ride going.
These grips are available for all of the major machines – shop for yours by clicking on the links below!
Everyone has a device nowadays. GPSs, phones, and tablets go everywhere with us now, including our bikes. And they're convenient, too – you can see directions, stay in contact, and even take pictures. That said, you need a place to safely keep and access your phone. Holding it in your hands, wriggling it out of your pockets, and squinting at a screen instead of the road are a no go, so that means you need a secure, accessible place to keep your phone. That's where the Ram Mounts Quick-Grip Mount comes in. Their newest accessory is a wireless charging cradle that comes with all the necessary mounting hardware. Plus, the powder-coated, marine-grade aluminum and stainless-steel components give the product the durability and reliability to last a lifetime.
Tell Us What You Think
Which one of these new products is your favorite? Which one are you going to be picking up next? Or do you already have some of the items on this list? Let's talk about it in the comments below!