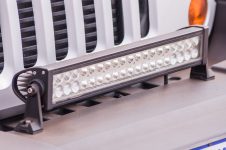 Are Aftermarket Jeep Wrangler Headlights Legal In Canada?
If you are not satisfied with the original headlights on your Jeep Wrangler, the problem is easily solved – replace them with more modern ones. The only doubt – are LED headlights legal in Canada?
Jeep Wrangler vehicles have become incredibly popular in Canada in recent years. Some of the users try to improve their cars and equip them with sophisticated details. For example, many off-road enthusiasts tend to equip their vehicles with brighter headlights in order to drive safely at night or in foggy or rainy conditions.
Others strive to beautify their Jeeps to make them look extraordinary. The possibilities are many: atypical coloring, drawings on the hull. One of the newest methods is to decorate the jeeps with neon led lights.
Light-emitting diode lights are known as the brightest models on the market. However, in some countries, the use of these lights is not allowed.
So, are LED headlights legal in Canada?
Light-emitting diodes could be considered an innovative solution due to their unique properties: super-bright beams that ensure perfect visibility at night or in bad weather. However, this advantage can also be considered a disadvantage. The ultra-bright beam could blind other drivers and cause accidents on the roads.
According to the Canadian structures, the use of aftermarket headlights without DOT certification is not legal in Canada. Light emitting diode light bars and bright headlights are included in this list.
Thanks to the latest technologies, there are some LED lights that have DOT certificates and are safe for road use and absolutely legal in Canada.
What about Ontario? Are LED headlights legal in Ontario?
Yes, they are allowed in Ontario. Incidentally, it is a common practice to install headlight modulators that pulse on motorcycles.
The condition for legal use of LED headlights is classified as "DOT approved". Headlights with this classification are safe to use on the road. Under other circumstances, the use of these lights is illegal. You may not use them for brakes, sidelights, or headlights.
Are HID lights permitted in Canada?
High-Intensity Discharge lights are legal in Canada. Most often they are used in places where bright light is a critical factor – stadiums, warehouses, gymnasiums, rooms for growing plants. The light produced by HID is very pure and clean, so they are often used in the headlights of vehicles to ensure good visibility on the roads.
The main advantages of HID lights are their durability – they last three times longer than halogen lights – and their low energy consumption – they use 25-30% less energy than halogen lights.
The disadvantage of HID lights is that they are so bright that they can be seen in mirrors – this can be a problem for drivers in front of your car. However, after some studies, it has been determined that the brightness of HID lights is acceptable for driving on the roads. For this reason, HID lights are officially approved in Canada.
How to choose the best pair of Jeep Wrangler headlights?
If you are choosing new headlights for your Jeep for the first time, you may have some questions. What are the most popular headlight types? What is the difference between the HID lights and LED lights?
LED Luminaires are becoming increasingly popular around the world. Unique features that distinguish LED from other light bulbs are – durability and extreme brightness. In fact, LED lights are brighter than HID and last longer. In addition, LED lights are also used to decorate the vehicle so that it stands out from the crowd.
As we have learned, in Canada, the use of both LED and HID lights is generally permitted. HID Lights are absolutely allowed, while there are some restrictions on the use of LED lights due to their brightness. The condition for legal use of LED headlights is classified as "DOT approved".
The matter of changing headlights does not seem to be simple and, as we can see, needs some investigation. Thus, those inclined to replace the headlights of their Jeep Wrangler headlights to more modern models can get confused at first and get lost in the choices. Some of the most popular headlights on the market include: KC HILITES 97115, KC HiLiTES 100, Rugged Ridge 11232.18, Baja Design 350003.
All these models have necessary certificates and are legal for use in Canada.
FAQS
Since the matter seems to be confusing, here we have compiled a list of the most frequently asked questions about and the legitimacy of using LED lights in various designs and Jeep Wrangler headlights in Canada.
Can I decorate my car with LED lights?
Yes, you can. There are several options on the market to decorate your Jeep with neon lights. The only thing you should check is if they are legal in your state.
Are LED tail bulbs permitted in Canada?
Yes, they are allowed on the roads of Canada if the state in which they are licensed allows it and they are certified at DOT. Check with your state's laws before deciding to replace the original headlights with the technically better models. If, in the event of a problem on the road, your insurer determines that your headlights are not approved in that state, you will not be entitled to compensation.
What about underglow? Are they legal in Canada?
Usually these lights are placed under the body of cars. Neon lights can have different colors. These lights will color the ground under your car in the color you choose.
According to Canadian regulations, you can decorate your car with neon lights. However, you should be careful not to turn on these lights while driving. Brightly colored lights can distract other drivers on the roads and cause an accident on the roads. To ensure safety on the roads, it is illegal under Canadian law to turn on the underglow lights while driving.
By the way, in the Canadian province of Alberta, all lighting effects, including underglows, are prohibited.
Can I put LED lights inside the vehicle? Is that allowed?
Yes, you can do that. There is no law that says you cannot put LED lights inside the car. However, keep in mind that by putting lights inside your car, you risk making things outside the car less visible.
What color lights are permitted?
The only color of headlights allowed in all states in Canada is yellowish. Colored headlights are prohibited.
Can I use blue LED lights?
Normally, bright, bluish-looking headlights are installed in high-end cars. However, blue rays from the headlights can also be a sign that the car's owner has replaced the original headlights with new, more stylish ones.
In the US and Canada headlights that emit blue light are not allowed.
How many lumens are allowed in the lights in the streets?
Lumens is a measure of the brightness of light. According to statistics, an average 100-watt lamp produces about 1500 lumens.
The allowable number of lumens in car headlights varies from state to state. Generally, the allowable amount is between 2000 and 4000 lumens.
What about LED bars? Are they legal?
In general LED bars are illegal in Canada. The reason is simple: light emitting diodes are very bright. You are not allowed to drive on the road with LED bars turned on. Also, you are not even allowed to drive the car with the bars off – you must use the cover while driving the car on the highway.
However, SAE-certified LED bars are permitted in Canada. Amongst the most popular choices: Quadratec 97109-1026, Quadratec 97109-2513, RT Off-Road RT28094.
Do all LED lights have a DOT certificate?
Normally, all aftermarket LED or HID headlights are not DOT approved. There is only one exception – rectangular or round LED headlamps with sealed beams that meet the requirements of DOT, SAE and E9. These signs can be found on the lenses of the headlights.
Can I officially use 6000k lights?
The light of the headlights you use can only be yellow or white. Colored halogen lights with a temperature above 4200K are not allowed on the road. Some of the colored HID lights with a temperature up to 6000K are allowed for use on the roads.
Can I use smoked headlights in the streets?
Any additional feature that obstructs vision is not legal. As cool as smoked headlights may look, their use can end badly. Smoked headlights are illegal in Canada.
Tinting headlights, either headlights or taillights, is illegal. Changing the color of headlights from the original color is strictly prohibited.