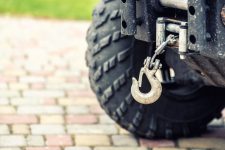 Jeep Wrangler Towing Capacity — All You Need to Know
The Jeep Wrangler towing capacity may amaze even the most experienced drivers. Not only does it offer excellent off-road capability, but it can tow up to 2,000 pounds. And some models demonstrate a towing capacity of up to 3,500 lbs. 
To give you an instant appreciation of the unlimited working power, imagine a full-size trailer that includes a tent, storage, cooking space, and a comfortable sleep area. The average weight of such a trailer is 1,200 to 2,600 lbs. In other words, virtually any 2-door or four-door Wrangler is capable of taking it in tow.
Despite the truly astounding towing capacity of a jeep wrangler, we advise you to stick to the factory recommendations and not exceed them. Remember: even a few hundred extra pounds over the weight limit can lead to serious steering problems. Today we invite our readers to familiarize themselves with all the nuances that need to be considered before wrangler towing.
What equipment wrangler will be required for towing?
Before you're going to make sure your jeep wrangler is towable, you should check the towing equipment. The equipment system includes:
Ball mount, clamp, and pin. To select the correct ball mount, measure the distance between the top of the receiver unit and the ground surface. Then level the trailer and measure the distance from the bottom of the hitch. The difference between the two values will tell you whether you need a raised or lowered ball hitch. The pin and clamp allow you to securely fix the ball hitch in the trailer hitch receiver. These are selected according to the size of the coupling ball bar receiver itself.  
Wiring harness. This is connected to the jeep's electrical system to supply power for the trailer brake light and rear turn signals. We recommend that you seek specialist advice to find the right fit. 
Trailer hitch receiver. Two different towing devices can be fitted to the Jeep Wrangler: a bumper hitch and a receiver hitch. The former replaces the factory bumper. There are plenty of options on the market and every car owner will be able to find the one that suits him or her best. The receiver hitch attaches to the jeep's frame or to the rear crossmember that is located under the bumper. It measures 1.5-2 inches and is secured with bolts. 
Trailer hitch ball. These come in three sizes: 1 7/8″, 2″ and 2 5/16″. This value should match the size of the trailer hitch you intend to tow. The ball size requirements are usually stamped on the hitch itself. 
What is the payload capacity of a jeep Wrangler?
Jeep Wrangler was originally designed not only for driving in rough terrain, but also for hauling heavy weights. Towing ability varies from model to model, but all are equipped with reinforced axles. It is these that ensure an even distribution of power when towing. Traction is calculated quite simply: the weight of your trailer with all its equipment must not exceed the maximum value stated by the manufacturer. Note, however, that all components in the coupling system have the same towing capacity as your hitch. 
The very first Jeep Wrangler models from World War II had a maximum payload of 800 lbs and a towing capacity of 1,500 lbs.
Of course, a lot has changed since then, but these figures give us an idea of how powerful even the first models of these all-terrain vehicles were. They were designed to carry heavy artillery, mobile stretchers, and human transport. 
In recent years, technology has changed a lot, and of course, the Jeep Wrangler has also changed. Models have been made more powerful, durable, and visually appealing. For example, 2015 vehicles could tow up to 2,000 lbs, while today's models have the capacity to override to 3,500 lbs. These Jeeps meet all the requirements a tractor-trailer must have. The original equipment includes:
An upgraded cooling system;
Jeep branded wiring harness and Jeep Heavy-Duty 180A alternator;
Class IV hitch.
What other factors affect the towing capacity of the jeep wrangler?
In addition to the original equipment you get from the factory — you can install a ton of extra aftermarket tools. They won't raise the weight limits, but will give you more in terms of towing stability and safety. 
Transmission cooler
When towing an automatic transmission, the automatic transmission is running at full speed, which can cause the transmission fluid to overheat over time. The transmission cooler is able to maintain optimum transmission fluid temperature when towing heavy trailers. 
Weight distribution and sway control
Proper weight distribution and sway control hitch are the important elements for a smooth ride of the Jeep Wrangler. Sway control allows the trailer to withstand strong gusts of wind. A good hitch is able to maintain optimum towing levels and creates a stable hitch when the vehicle is in motion. 
Brake controller
If the trailer you intend to tow on your Jeep is equipped with electric brakes, you will need a controller. With such a device, the signal from the trailer will coincide with the stop signal from your Wrangler.
Jeep Wrangler Towing Capacity in the Most Popular Models
The towing capacity itself does not depend on the amount of doors you have on your Jeep, but 2-door and 4-door versions come in different packages. That's why it's the easiest way to differentiate one from another in terms of the maximum towing limit. 
Jeep JL Wrangler 2-door
The most popular models in this range include: Sport, Sport-S, Rubicon. All are equipped with a 6-liter Pentastar VVT V6 engine, which has a fuel economy feature. It weighs 260 pounds and has 285 horsepower and torque up to 4,800 rpm. Maximum towing capacity of these Jeep models is under 2,000 lbs. There are variants of vehicles with 6 and 8-speed gearboxes.
Jeep JL Wrangler with four doors
This range is represented by the following Jeep models: Wrangler Sport-S, Altitude, Sahara, Rubicon, Sahara Altitude, and Moab. All of them have 4 doors and have a capacity tow up to 3,500 lbs. They feature a Class II towing hitch, programmable auxiliary switches, and a 240-amp alternator. Car owners have the option of equipping the Jeep with a control light panel, adding a winch, and additional accessories. 
Before you commit to towing a trailer to your jeep wrangler, you should ensure that your vehicle's capabilities are fully compliant to do so.
Remember that safety comes first! Follow the rules of the road, keep a proper distance, and do not exceed the speed limit. If you are transporting an extra load, you must be more careful on the road to avoid unforeseen situations!