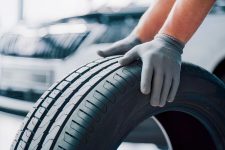 A Detailed Guide On How To Choose Summer Tires
As the daily temperature of the air gradually begins to get above zero, most automotive experts state that you should start thinking about changing your winter tires to summer tires. Driving with winter tires in the summer is not recommended and it can cause excess wear and tear on the tread of the tires. There are certain countries where vehicle owners are even given fines for not driving with tires that are designed for the applicable season. Learning how to choose summer tires will go a long way in ensuring you'll be driving safely and effectively throughout the warm, summer months of the year.
Summer Vs Winter Tires – What's The Point Of Changing The Tires?
Winter tires are manufactured with rubber that's a lot softer in comparison to summer times. The elasticity of the rubber on the tires will increase as the rubber comes in contact with the asphalt. Because of that, winter tires have less grip in summer. The tread on the tires will wear out much faster, and you'll be risking additional damage to your tires due to punctures and other things.
The soft rubber on winter tires also affects the handling of your vehicle. With summer tires, you're getting a tire that has a lesser amount of silicone polymers that are used. The tread patterns on winter tires also vary significantly from the tread patterns on summer tires. Summer tires have grooves that are more narrow, and this helps to lower the chances of hydroplaning on wet roads. The grooves increase the grip of the tires to the wet and dry road conditions, and with summer tires, the braking distance at which it takes your vehicle to come to a stop is much less than with winter tires.
How To Choose The Best Summer Tires
Driving with winter tires during the summer is never a good idea. You should always be driving with tires that are applicable to the road and environmental conditions. If you're only driving your vehicle in the early morning hours of spring when it's still chilly out, then you don't exactly need to be rushing out to get summer tires installed. But, if you do a lot of daytime driving as the temperatures begin to pick up and the temperatures throughout the day start to increase to around 7 degrees Celsius, then you'll want to switch to summer tires.
If you're using older tires, you'll always want to have a good understanding of how much tread is left on the tires. You won't want the tread to get lower than around 3 mm. When it does start getting to around this level, your grip on the road will start to suffer.
You'll also want to swap your front and back tires every so often so that the tread will wear evenly. Tires in the front will wear out faster than tires in the back, by swapping things around, the life of your tires will be increased. If you're using really old tires, it's always best to get new tires installed in pairs so that the tread patterns will wear out at the same time.
One thing to keep in mind when choosing new tires is the tread pattern. The tread pattern should always be designed for the conditions of the road. If you're wanting to ensure a quieter ride, go with an asymmetrical and non-directional tread pattern. These tires aren't typically too pricey and they are balanced efficiently.
These types of tires can also be reversed around. The tires that have asymmetric tread patterns are the ones that are known to be the most versatile for the different road conditions you're driving on. The tread pattern makes sure that your car will remain stable during wet and dry road conditions. This makes them a good choice for those that enjoy sports driving. Tires that have more of a directional tread pattern are the best in damp road conditions because they resist hydroplaning.
Rubber will age the longer it sits, so if you're getting tires that have been sitting in storage for many years without being used, then the life of them will be reduced. You won't want to be purchasing tires that have been sitting in a warehouse for a long period of time. The more rigid the tire, the more resistant it is to wear and tear. If you're doing a lot of long-distance driving, you should think about getting rigid tires.
You'll also need to keep in mind that tires that have softer rubber will have a better grip than rigid ones. If you have light-alloy wheels, you'll want to get tires that have a high load index. Tires with a high load index are more resistant to sidewall punctures. They might reduce your fuel consumption, but they will be a little safer on the road.
An economical solution is to swap overtires in assembly instead of replacing the entire tire. You'll be able to do the job yourself and you run a lower chance of damaging the tires while you're dismantling them.
You'll always want to keep the recommended tire size in mind as specified by the manufacturer for whatever seasons you're driving in. If it's summer, then you might want to stick with wider tire sizes because they have more contact with the ground. Keep note that you might be at a slightly increased risk of hydroplaning with these types of tires.
If you choose your tires wisely, you can expect to get some good use out of them. Reputable tire manufacturers will always test out their tires in their research centers, so you can be assured that you're getting a reliable product.
Final Thoughts
Your road safety can be drastically affected by what type of tires you're investing in, and that's always a huge factor to keep in mind. There are a variety of things that your tires depend on:
Off-road driving performance
The distance takes to brake
Hydroplaning
Road holding ability
Always do your research before purchasing a set of tires, and ensure to ask many questions when finally selecting ones for your vehicle.