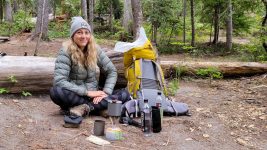 20 Great Backpacking Meal Recipes & Food Dehydration Tips — CleverHiker
Already do a lot of cooking at home? You might prefer preparing an entire meal to dry in your food dehydrator vs. drying and assembling individual ingredients as described above. As long as you follow a few simple rules, you can whip up and dehydrate almost any of your favorite thick soups, stews, and sauces safely and make them into lightweight, adventure-ready meals.
Below are some examples of hearty, delicious recipes that dehydrate/rehydrate well. You can cook a big batch in the evening to eat for dinner, load the rest in the dehydrator to dry overnight, and weigh out/package the dried meal in single servings for the trail the following day. Repeat. (This is an excellent method for busy people preparing for a thru-hike).
Rules to Follow:
Use only trimmed, lean meats (no sausage, bacon, etc.)

Chicken should be very soft (canned, pressure-cooked and finely shredded)

Use low sodium broths, tomato sauce, salsa, etc. (sauces become concentrated)

No dairy (not suitable for long-term storage)
Remember: Butter, oil, toppings, and condiments can be packaged with the meal and added on the trail to return fat, enhance flavor, and add texture.
Think "Thick" – You may want to use less water or broth than usual in recipes, add cornstarch, or reduce (cook on low for a long time) soups and stews to thicken them before dehydrating. Partially blend soups that contain starchy vegetables like squash and potatoes with a food processor to help thicken them up and make them dehydrator-friendly.
Instructions: 
Spread thick soups, stews, and sauces evenly on non-stick tray liners

Dehydrate at 145°F for 4–8 hours or until completely dry and brittle. 

Flip the "leather" over part way through the drying process and blot excess oil as needed. 

Vacuum-seal and freeze meals that won't be used promptly, just to be safe.
Dehydrating Prepared Foods – If you're short on time, you can also dehydrate prepared or canned foods like chili or beef stew, though they tend to be pretty salty and full of preservatives. Tomato sauce, salsa, and even Sriracha (a popular chili sauce) can be dried into "leather" or flakes to add to meals.