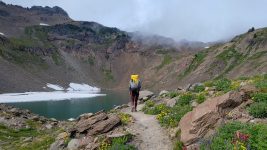 Ultimate Backpacking Checklist — CleverHiker
BACKPACKING FOOD – Good food is really important for any backpacking trip, so it's well worth the effort to put together a simple meal plan before your trip. Keeping food weight down is a critical backpacking skill that usually takes experience to master. A good place to start is our Guide to Lightweight Backpacking Food. Most seasoned backpackers opt for lightweight, calorically-dense foods that are very easy to prepare. Packaged freeze-dried meals and snack foods can be great, but keep in mind, they tend to be very high in sodium/sugar, which can take their toll, if eaten in excess.
Another approach is to prepare your own backpacking meals, using a food dehydrator to dry meats, fruits, veggies, and sauces. Combining them with spices and quick-cooking or easily rehydrated dried goods such as pasta, couscous, instant potatoes, instant refried beans, and minute rice is a great way to customize your own highly-nutritious meals. This method takes more time and effort, and you must be more willing to carry more weight, but making your meals can be more cost-effective and healthier for long trips. Our approach is usually a mix of both methods. For more specifics about food, check out our Best Lightweight Backpacking Food guide, where we outline our general backpacking food strategy and suggest some of our favorite meals.