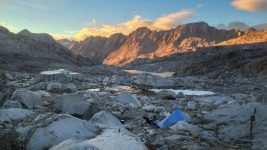 John Muir Trail Gear List: What to Pack — CleverHiker
What Gear Should I Pack?
Tent
Your tent will be one of the four heaviest items in your backpack, so it should be one of the first places you look to keep weight down.
Non-freestanding: Thru-hikers often choose ultralight, single-wall shelters that are non-freestanding to keep tent weight to a minimum. They take longer to set up, may have some interior condensation, and can be tricky to pitch on hard ground/rock, but they're usually far lighter than traditional shelters. This could be a good choice for the JMT, which is a challenging trail, but tends to be fairly dry in peak season.
Freestanding: If you'd prefer a more convenient option and are willing to carry some extra weight, you may find that a double-wall, free-standing tent will be a better fit. Just make sure to get a lightweight/ultralight model, because some freestanding tents can be very heavy. For the more casual backpacker, this tends to be the most popular choice. A lightweight freestanding tent will be fairly foolproof and can be used for backpacking, car camping, and everything in-between.
Tent Recommendations: The Zpacks Duplex and Triplex (pictured below) are our top picks for non-freestanding ultralight tents. They're top of the line thru-hiking shelters, but they're also pretty expensive. If you're looking for a freestanding tent, our top pick would be the Big Agnes Copper Spur UL2 & UL3. We love the convenience and comfort of the Copper Spur, and they're among the lightest freestanding tents on the market.
As far as what size to choose, we generally prefer 3-person ultralight tent models and use them as a roomy tent for two people (the Triplex or UL3 for example). Though 3-person models weight a bit more than 2-person models, they provide a much more comfortable interior space for two. If you're traveling solo or don't mind tight living quarters, you'll likely want a 1P or 2P tent (like the Duplex or UL2).
Though these are two of the best backpacking tents on the market, there are many other tent options for hiking the JMT. Check out our Best Backpacking Tents list and Best Ultralight Tents list if you want to shop around some more.