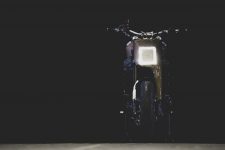 Yamaha and Dab Motors Team on Alter XSR900 Yard Build Custom – RM Rider Exchange
Yamaha Yard Built projects are always unique, and the latest custom build from Dab Motors is no exception. Based in the French Basque Coast city of Biarritz, Dab Motors decided to explore the possibilities of tomorrow with the ALTER Yamaha XSR900. Using futuristic aesthetics and out-of-this-world technology combined with innovative design techniques and state-of-the-art craftsmanship, the custom bike builder has produced something straight out of the next century.
Simon Dabadie, the founder of Dab Motors, felt an affinity for the XSR900 from the moment Yamaha introduced it to the world. With its mix of modern and retro design, along with nimble handling and a sporty engine packed with character, he knew it would be more than a match for a futuristic concept. After acquiring one, he put his knowledge of technology into high gear. Using 3D modeling and advanced rendering techniques, Dabadie designed his custom XSR in an almost entirely digital world. With data built from his modeling techniques and schematics created in a virtual work space, he set robots to work on forging his mechanical marvel.
Dabadie used manufacturing machines to produce the high-quality and ultra-durable 3D-printed aluminum rear subframe, upper triple clamp, handlebar risers and headlight holders. The ALTER also features ultra-light, sustainable flax fiber bodywork fresh out of the lab, and the lighting system pushes the boundaries of technology with a smart LED array controlled by an Arduino microcontroller board. Rizoma handlebars, grips, brake reservoirs and mirrors are featured along with Brembo brake components. The exhaust system is a collaborative creation by Dab Motors and a trusted partner, and suspension from industry giant Öhlins (NIX 30 front fork cartridge kit and STX 46 rear shock absorber) completes the build to make this a high-performance motorcycle sent back in time from the 22nd Century.
"I think Yard Built is often seen as the place where we honor the past, and maybe rightly so," said Antoine Clémot, Yamaha Motor Europe Motorcycle Product Manager. "Yamaha has such a rich past with iconic designs and techniques to draw from. But we also use it as a laboratory of sorts. There's room to innovate, to play with minimalist aesthetics and new ideas. So, seeing a build like this is incredible. Dab Motors is embracing technology that is light years ahead of so many other builders and that's thrilling to see and exciting to be a part of. The design is amazing, the bike really looks like something out of a science fiction film. But, the processes that went into making it, that's what has blown me away."
"In a world driven by technology, we don't have to be stuck in the old days with old ways of working," commented Simon Dabadie. "We should explore every possibility by using new technologies and be inspired by them. We want to stimulate people's curiosity by using new kinds of materials, by being critical and by testing every idea that we have. It's about not limiting yourself and opening your mind to potentially revolutionary ways of doing things. 3D design, virtual engineering, 3D simulation, rendering; these are all things we explore and things we have seen incredible results with. By looking to the future, we can focus on creating enhanced motorcycles. This will change how we create and customize a motorcycle. We now have unlimited means of creation that wouldn't be possible with traditional processes."
To see more of the ALTER and other Yamaha Yard Built projects, visit https://www.yamahamotorsports.com/sport-heritage/pages/yamaha-yard-built-xsr900-dab-motors
About Yamaha's Yard Built Program
Yamaha Sport Heritage motorcycles are designed & built with the "Faster Sons" philosophy: "Inspired by the past, built for the future." Descended from the heritage of motorcycling's past, today's "Faster Sons" represent both the motorcycles and the riders who respect iconic Yamaha designs while continuing to push performance forward.
In this spirit, Yamaha also established an initiative to support custom bike-building globally. In garages and backyards all over the world, Yamaha owners dream of creating their very own customized motorcycles. Yamaha's "Yard Built Project" seeks to enable these dreams by asking talented customizers to provide inspirational ideas on how to transform modern Yamaha models into "Yard Built" specials. Many builders will not only inspire Yamaha owners with their ideas, but will also make custom parts and accessories available to help owners turn their dreams into reality.
About Yamaha Motor Corporation, U.S.A.(YMUS)
Yamaha Motor Corporation, U.S.A. (YMUS), is a recognized leader in the powersports industry. The company's ever-expanding product offerings include Motorcycles and Scooters, ATVs and Side-By-Side Vehicles, Snowmobiles, Outboard Motors, Personal Watercraft, Boats, Outdoor Power Equipment, Golf Cars, Race Kart Engines, Unmanned Helicopters, Accessories, Apparel, and much more. YMUS products are sold through a nationwide network of dealers in the United States.
Headquartered in California since 1960, YMUS also has facilities in Wisconsin and Georgia, as well as factory operations in Tennessee and Georgia. For more information about Yamaha, visit www.YamahaMotorsports.com.