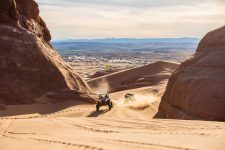 Gearing Up: New to the RMATVMC Website for November 2020 – RM Rider Exchange
Week in and week out, there are always new products hitting the RockyMountainATVMC.com website. We take pride in everything that we stock, but sometimes some new, exciting, ingenious, or just plain cool products get lost in the mix. So, here are some of the parts and accessories that you might've missed from last month. 
Price: $399.99
Being prepared for everything that could happen on your ride is tricky. No one wants to have a breakdown on the trail, but few people want to lug a heavy jack around with them "just in case." Smaller jacks are helpful in this scenario, but when they're actually needed, they often fail to raise the machine high enough.  
Don't fall into this same trap – set your machine up with Pro Eagle's Phoenix Co2 Air Jack. At just 5.6 lbs., the Phoenix can be mounted on a machine's roll cage with a fire extinguisher mount. A Co2 regulator controls the flow and lift speed of the jack, offering over 2' of adjustable lift height. The tiny jack packs a big punch, and each cartridge provides two lifts. It's a great option for riders looking for a reliable and compact way to be prepared on the trail. 
Price: $1,382.10 – $1,631.15
As UTVs have gotten more and more intuitive and technologically advanced, riders have been able to shift their focus away from machine hard-parts to extra accessories that make the ride comfier and more convenient. One of those accessories is a communication system. And these days, the best communication systems do more than just connect you with your riding buddies or other passengers. These systems can play music, allow you to answer phone calls, and work hands-free. At least the Rugged Radios UTV Intercom and Radio Lineup can.  
A premiere communication system, the Rugged Radios offering is something we've loved having on our rides. The built-in Bluetooth makes conversing and listening to music a breeze, plus the extra niceties like customizable volume thresholds, useful buttons, and double stacked knobs make the system unbelievably user friendly. The complete system comes with the features listed below, although individual Rugged Radio parts can be purchased to completely personalize your ride.  
Radio Kit Features: 
Digital mobile radio 
UNI-MAG mount 
VHF ½ wave antenna w/ spring  
13' antenna cable 
Warm and Safe Generation 4 Heated Gear 
Price: $199.95 – $249.95
Have you ever taken your favorite blanket – the one that's really soft and fluffy – out of the dryer and wrapped it around yourself? That five seconds of warmth and coziness is near unmatched, but it's a lot like the feeling we have when riding with heated riding gear. Ask a cold-weather rider what their secret to success is, and chances are you'll hear them mention heated gear. And as they should – who wouldn't want to wrap up in their warm fluffy blanket on a ride in lower temperatures? 
In all seriousness, however, heated riding gear is a key accessory when it comes to riding in the winter and even the cold parts of spring and fall. The extra heat will keep you riding faster for longer and will keep you comfortable in the typically-uncomfortable cold.  One brand that has made a name for themselves by developing dependable and adaptable heated gear is Warm and Safe. Their new Generation 4 heated gear comes in an extensive lineup to keep riders warm from their heads to their toes…literally. Each product is windproof, requires a minimal draw, and is backed by a one-year manufacturer warranty. Use the product table below to navigate through their offerings and customize your heated riding setup for this winter. 
Parts Available at Rocky Mountain ATV/MC
Warm & Safe Generation 4 Heated Jacket Liner
Warm & Safe Generation 4 Windblock Heated Pants Liner
Price: $33.95
If you own a UTV, you're going to have to change the belt at some point. If you ride that UTV in the dunes, you may be changing the belt every time you go. Either way, changing the belt on your UTV can range from tedious to just plain annoying. Having the right tools for the job, however, can certainly alleviate some of the annoyance. Enter the Tusk Belt Removal Tool, the newest must-have for your UTV tool box.  
The Tusk Belt Removal Tool makes the job quick and simple by separating the sheaves on the secondary clutch to allow an easy change of the drive belt. The included Tusk Flex Drive Clutch Cover Removal Tool then helps access the clutch cover bolts. The two small tools feature custom ergonomic handles and include two ¼" drive sockets. All things considered, it's something you want in your tool box sooner than later.  
Price: $499.99
It's that time of year again, the time when GoPro releases a newer, sleeker, and more advanced camera. This year, it's the HERO9, a stunning 5K-capable camera that shoots 20MP photos. There are several exciting features included in the latest model, but some of the highlights are: 
HyperSmooth 3.0, in-camera horizontal leveling, is the most advanced stabilization to be added to a camera 
Up to 30 seconds of footage before you start recording and 1.5 seconds before and after you take a picture can be accessed to allow for the best possible shots 
The camera captures up to 240 frames per minute and 8x in slow-mo 
A new front display offers a live preview  
You know what GoPros can do and you know that they're high quality. Now, you know you need the new HERO9. 
Tell Us What You Think 
Which one of these new products is your favorite? Which one are you going to be picking up next? Or do you already have some of the items on this list? Leave us a comment below.