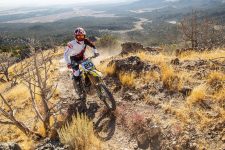 Top 15 Trail Dirt Bikes of All Time – RM Rider Exchange
There's something about the outdoors that feels like home, and we've come to realize that one of the best ways to explore it is on a trail bike. That's one of the reasons why we trail ride. Whether it's about seeing the world in a new way or expanding your off-road riding skillset, there's no better time to start trail riding than right now.
If you're interested in exploring off-road, then this guide is perfect for you. Read on to uncover the top 15 trail-riding dirt bikes, features of a worthy trail bike, and FAQs surrounding the riding style.
Top 15 Trail Bikes
How do we know what the top 15 trail bikes are? We certainly have our favorites – bikes with a longstanding reputation for being the best – but that's just our opinion. So, we went to the experts: you. We polled our followers, and just under 1,000 responses pointed us to our list of the top 15 trail bikes of all time.
1. Kawasaki KDX200/220
The 2-stroke KDX bikes are light, agile, and well-balanced stock. These bikes are some of the greats of the enduro world, especially shining as more of a leisure bike than a competition model.
2. KTM 300 XC
KTM's 300 XC has only gotten better with time, but every year bears the same power and reliability. This bike wants to push the limit and rider harder and faster, but it's docile enough to accommodate a beginner rider (not to mention it's pretty much impossible to stall). The XCW excels in tighter, more technical riding, but the XC is made for pushing speed. Check out this bike build of a 2014 XCW to get a feel for KTM's powerplant.
3. Honda XR 400
Old reliable – the XR 400 can take whatever abuse you throw at it and keep trucking. This bike demonstrates its worth on the slow, steep, and rocky trails, though it can still put in a smooth ride elsewhere. It's not a race bike by any means, nor does it like top speeds, but it gets the job done off-road.
4. Honda XR 250
In the XR lineup, the 250 is firmly planted as the user-friendly model of the bunch. It's easy to ride, easier to work on, and unflinchingly reliable. The bike is also surprisingly customizable – check out this comprehensive review of the bike as well as an exhaustive list of potential mods.
5. Honda CRF 250
The CRF 250 is primarily considered a race bike. This manifests largely in the longer wheel base that's not as well suited to trail riding. That said, if it's the bike you have and you're open to making a few trail/safety modifications, it's an incredibly capable bike. In fact, we converted our own 2010 CRF 250R into a trail bike in this build video.
6. Honda CRF 230F
The 4-stroke little-Honda-that-could has been a consistent favorite of trail riders since its release in 2003, and that likely won't change despite the bike's discontinuation in 2019. The CRF 230F remains user-friendly with a lower seat perfect for entry-level riders, but its speed in open terrain, reliable handling, and ability to be modified make it just as appealing to veteran riders. Use this build video for some inspiration of your own; one of our video editors, Josh, turned a 2015 CRF 230F into the do-it-all bike for his wife.
7. Yamaha YZ 250/250X
Like the CRF 250, the YZ 250 requires more of a conversion. In general, the bike has good power, is lightweight, nimble, easy to fix, and boasts fairly reliable handling. That said, the suspension is a bit rough, and the common consensus is that the stock seat is far from comfortable. With a few changes, however, the bike could be a completely customized trail machine. We used $600 to overhaul a 2004 YZ 250 into an off-road racer in this build video.
8. Honda CRF 450R
The CRF 450 is not the most beginner-friendly bike. There is a tough learning curve on these bigger bikes, like the CRF 450R made specifically for motocross. Between the weight, throttle and clutch control, and managing stalling at lower RPMs, this model is definitely a choice for more experienced riders. If that applies to you, then some changes to suspension, gearing, and a few off-road accessories could make this bike really rip. You can see how much work that entails by checking out this off-road bike build of a 2005 CRF 450R. On the other hand, Honda has made a more trail-worthy model with the CRF 450X, and more recently, the CRF 450RX. These models have 18" rear wheels and suspension a little more friendly for the trail.
9. KTM 200 XC
The 200 XC was designed to bridge the gap between KTM's 125s and 250s, meaning the bike is lightweight while still providing a kick of power. This model is good for enduro riding, especially smaller or more novice riders looking for a bike with a great power-to-weight ratio. You can build this bike on a budget, too, and this video highlights some of the key points to fix on an older model.
10. Yamaha WR 250
Yamaha's WR 250 is one of the most reliable and time-tested trail bikes out there. With plenty of power and easy maneuverability, it's no wonder why. Regardless of the year or 2-stroke or 4-stroke, the models are high-performing and very forgiving. In fact, we recently picked up two old (1994 & 1995) 2-stroke models and raced them at the Glen Helen 24-Hour Endurance Race in a recent cheap bike challenge.
11. KTM 350
More of a "do-it-all" bike, the 350 from KTM does everything well and nothing perfectly. Whether you go with the XC, XC-W, or EXC, the bike works great on the trails. Some riders have commented on the bikes tendency to run hot or stall, but that can be addressed with some aftermarket modifications.
12. Yamaha YZ 250FX
The YZ 250FX is a true trail bike built off the ever-popular YZ250F motocross model. The X model comes with different power settings, and the suspension comes set up for the trails. This bike has a lot of torque and loves to lug, an important trait for woods riding. The used models are reliable, but the newer models have modern conveniences like compatibility with the app and the most current upgrades. Even a 2020 model can be upgraded, though – see some of the changes we'd make in this 2020 YZ 250FX bike build video.
13. Honda XR 650R
The XR 650R is a heavy bike built to run fast; it makes sense considering how many Baja 1000 titles the model has won. It's an old-school tried-and-true thumper, and that shows in the skill it demands. It will wear an average rider out pretty fast, especially if you're trying to take it through slower, more technical trails.
14. Husqvarna TX/TE 300
Husqvarna has arguably set a new benchmark for enduro riding with the TX and TE 300 models. Both bikes include the same engine and chassis, but the TX is the race verion with the TE comes with WP XPLOR forks and other woods-worthy accessories like a headlight and taillight. Additionally, the TE is all about bottom end pulling power, although riders have said it's broad, never seeming to fall off at any point in the rev range. For a lot of those reasons, we were excited when the TE 300 was released – enough to snap up a new model and complete our own build on it.
15. Honda XR 200
The whole XR lineup is great, but the trick is picking the right bike for your needs. We've learned that the 250 excels in the woods, the 650 shines in the desert, and the 400 is great for hills and tight trails. The XR 200 is essentially a smaller version of the 400. With great gearing, torque, and softer suspension for off-road riding, the XR 200 is extremely comfortable off-road. Different model years have different suspensions, but each are capable on the trail.
Honorable Mentions
16. Beta 300RR
17. Yamaha TTR 225/230
18. Honda CRF 125/150
19. KTM 250 XC
20. Yamaha YZ 125X
The Bike
You now know the best 15 trail bikes, but do you know why those bikes are at the top? There are some expected capabilities and features a good trail bike should have.
Expected Capabilities
For trail riding to help you see new parts of the world, your bike needs to be able to travel it. Some terrains you're likely to encounter – or need to be prepared for- are fire/forest roads, singletrack, fields, woodlands, gravel, dirt, sand, and even a little bit of pavement. Think about where you live – think about the terrain, the landscape, and the climate. The general expected capabilities of a trail bike, along with the specifics of where you live, are the lens through which you should make decisions regarding your trail bike.
Main Features
Bikes that were designed for off-road, trail, or enduro riding check the entry-level requirements of a good trail bike straight from the showroom floor.
Softer Suspension – When you're ripping around a track, you need a stiffer suspension to help absorb the impacts from whoops, triples, and multitude of other MX-style obstacles. That is not the case for trail riding. Softer suspension can handle the dips and bumps that come with uneven gravel, worn down paths, and other similar terrain you'll encounter off-road.
Wider Gear Ratio – The difference between wide and close ratio gearboxes is actually pretty simple. Wide ratio gearboxes provide more linear, wider torque curves which deliver power across the entire rev range. Close ratio gearboxes are more often found on sport bikes or MX bikes because of their narrow powerband. These bikes require you to keep them in a narrow rev range to get the most out of the engine. If you think about it this way, it makes more sense why a wider gear ratio is better for trail riding – you need that consistent power on the longer stretches of trail more than you need the power to corner at high speeds.
Larger Fuel Tank – The more fuel you can carry, the farther you can go.
Protective Accessories – Every off-road ride comes with trail hazards, so many bikes come with, or can be easily equipped with, protective accessories like radiator guards, a skid plate, and wrap-around handguards. These are important features that protect not only your bike, but also you as the rider.
Size, and the 2-Stroke vs. 4-Stroke Debate
People have a lot to say about these.
Let's start with size. If you've ridden MX (or any type of bike, for that matter), then you already know the not-so-secret secret that the size of your bike comes down to your experience. The speed and power of a 450 doesn't mean much if you don't know how to access or control it. A common beginner mistake is thinking you need the biggest, most powerful bike, and it's almost always a surefire way to turn you off of riding when, in reality, there's just too much bike for you to handle. Gauge your experience level and use that to choose what size of bike you want – it's not as complicated as some riders make it out to be.
Choosing between a 2-stroke and 4-stroke is a bit different. Rather than explaining how the engines work (at this point, you likely already know the technicalities or don't especially care to), we'll use our time to explain the performance differences and accompanying pros and cons.
2-Stoke

Pros: 2-strokes are great for long stretches and technical trails. They offer a lot of power delivery as the revs come up, giving them great low-end power and off-idle torque. The bikes are resistant to stalling, resistant to overheating, and their simpler design means there are fewer moving parts to wear with time.
Cons: Despite having fewer moving parts, 2-strokes require more maintenance. Plus, older models that aren't TPI (transfer port injected) require you to premix your oil and gas. When it comes to power, 2-strokes can often rip, though that power is not always reliable or predicable.
4-Stroke

Pros: 4-strokes offer more linear power and smoother power gain. This is great for smooth, hilly trails, and makes the power more predictable throughout the rev range.
Cons: 4-strokes are much heavier than 2-strokes, and you can often feel the difference if you've switched from the latter to the former. Riders have also reported that 4-strokes are more resistant to direction changes, making them not as nimble as their 2-stroke counterparts
.
It's true that 2-strokes are having a resurgence in popularity right now, especially among professional enduro riders. It's no secret that they're pretty fun to ride, but don't let those facts make your decision for you. We have riders who have ridden both and enjoyed both, making the choice one of personal preference. If possible, find a local riding group in your area. Chances are, there will be a mix of bikes that you could potentially test ride. Dealerships are known to put on test rides as well. Use your resources to make the best decision for yourself, or at least weigh the pros and cons listed above in the scope of your own riding style.
Service Intervals
Every owner's manual meticulously underscores service intervals. All you have to do is invest in a good hour meter and keep track.
Basic maintenance is up to you, however. Whatever bike you have should be given a good once-over before every ride. Tighten your bolts, top off your fuel, and check your tire pressure before hitting the trails. It's much easier to fix these issues in your garage or close to home than on the trail.
Customizing a Current Model
The platform is important, but you can update your current bike with a few key accessories. We're not insinuating that it will make your bike perform the same as a dedicated off-road/trail bike, but it's a good start if you're wanting to try out trail riding.
In addition to the main features of a good trail bike, consider these additional changes:
Different Gearing – Your current bike, depending on what it is, could benefit from lower gearing. Check out this gearing guide to fill in the gaps.
Tires – This also depends on your current bike, but you may need some tires better suited for the types of terrain you'll encounter off-road. We've used our extensive off-road riding experience to develop a few high-performing options.
Headlight – There are no stadium lights in the great outdoors. Even if you don't plan on riding your dirt bike at night, a headlight gives you extra visibility before the sun sets, in the early morning hours, or during unexpected weather.
Kickstand – Part of riding off-road means exploring a little, too. And take it from us, a kickstand is far often more reliable then resting your bike on a tree, stump, or rock.
Even More Advice
This article covers the basic of trail riding, but we know that you might have more questions. We consider ourselves off-road riders at heart, and as such, we've created some helpful videos, products, and content for other off-road and trail riders. Browse the videos most applicable to you below, and head to the comments to ask more detailed questions or get advice from fellow riders. We're a community here, and we can't wait to see you on the trails.
Top 5 Motorcycle Single Track and Woods Accessories
Top 5 Dirt Bike Trail Riding Items That Could Save Your Bacon!
Top 5 Overlooked Dirt Bike Trail Tools
Tusk Tire Repair Trail Kit
Top 5 Off-Road Trail Hydration Packs
Best ADV & Dual Sport Motorcycle Boots
Top 5 Beginner Off-Road Riding Mistakes w/ Josh Knight
Top 5 Dirt Bike Night Riding Tips
Tell Us What You Think
What is your go-to dirt bike for trail riding? Do you have any advice for beginner riders or questions you want answered? Start a conversation in the comments below.