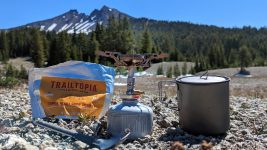 SOTO Windmaster Backpacking Stove Review
PROS
Excellent wind performance – We've used the Windmaster in some pretty windy conditions – exposed washes in the Sonoran desert, high-elevation ridges in the Cascades, and sprawling lava flows in Central Oregon. And we have to say, we've been very impressed with the performance of this stove every time. 
The reason many stoves struggle to work efficiently in the wind is because there's too much open space between the burner and the pot. The Windmaster is designed with a lip around the burner to block some wind at the source of the flame, and the pot sits relatively close to the burner head compared to other leading stoves.
The Pocket Rocket Deluxe is very similar in design with its recessed burner, but the arms of Pocket Rocket aren't attached to the burner head like the arms on the Windmaster are. The Pocket Rocket design leaves more space for wind to cut the efficiency of your flame.
While the performance of all stoves will be affected by the wind in some capacity, we have found the Windmaster to be noticeably better in the wind than other canister stoves.