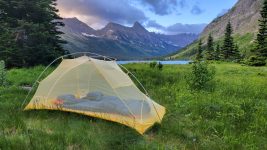 Big Agnes Tiger Wall UL2 Tent Review
SEMI-FREESTANDING – The Tiger Wall is a semi-freestanding tent, meaning it's supported by a simple pole structure, but requires a couple of stakes to complete the pitch. We normally stake out our tents anyway, so that's not usually a big deal. The simple pole structure also makes setup/takedown easy, adds rigidity in foul weather, and makes it convenient to move the tent around camp or shake out debris from the interior.  There are also some downsides associated with semi-freestanding tent designs, so we'll cover those in the con section below.
You could save even more weight by going with a non-freestanding tent or tarp, but these shelters have some trade-offs, including a steeper learning curve, the need for trekking poles to set up, and usually more interior condensation management.
The Tiger Wall combines the best of both worlds for those who want a tent that's easy to use as well as ultralight.