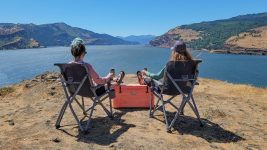 Our All-Time Favorite YETI Gear — CleverHiker
We often point people to YETI when they're looking for exceptionally durable, long-lasting, and stylish gear for frontcountry adventures. YETI products have found their way onto many of our Gear Guides because they're very high quality and built to last – something that really stands out in today's market.
YETI gear comes at a premium price, but it's an excellent value in the long term since it won't need to be replaced often, if ever. Their stuff also tends to be a bit heavy, so it isn't typically a brand we look to for ultralight backpacking items. That said, we love how rugged and rock-solid YETI products are when it comes to car camping and the gear we use daily while living an active outdoor lifestyle.
This is a sponsored post, but as always, our opinions and reviews are completely independent and unbiased.