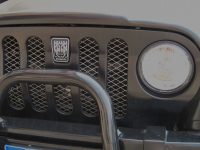 How to Tint Headlights the Right Way
If you want to protect and update the headlights of the car there is an excellent solution. You can tint your headlights and it will give your car an exclusive look. What is more, you do not need to spend a lot of time to achieve aesthetics that will also set your car apart from many others. Keep reading this article to learn more about the process and find out how to tint headlights yourself. 
Should you tint your headlights or not?
There are various reasons why car owners tint their headlights. Perhaps the most common reason is preference. Some car owners enjoy modifying every detail of their cars. For some people improving a car is a hobby or something they really love. Another reason why one wants to tint the headlights is to add attraction to the car. What is more, tinting your headlights with a protective film can prevent this damage and keep them attractive while maintaining their original visibility.
Tinting or painting headlights?
Studying the issue of tinting, you can find some information that instead of tinting, you can paint the headlights. Some people claim that painting car headlights look more beautiful than applying tinting films. However, when it comes to removing painting shades you will have to use the safe paint remover recommended by experts, or you may have to completely replace the covers or panels. If the headlights are tinted with the film, you can easily remove them by simply removing the colored films carefully. That is why many prefer the application of films rather than painting.
Pros of tinting your headlights
When it comes to choosing how to protect your headlights, you may consider different ways. However, tinting is one of the most popular ways that has plenty of benefits.
Protects the car lights;
Reduces the risk of lights becoming toneless;
Make your car look stunning;
Various colors, shades, and designs that go with your style;
Enhances visibility.
There is no need to spend much to highlight your car with stylish shades of headlights. You can try tinting and check whether you like it or not. You can also use different sprays to get smoked or darkened headlights. 
Tools you need
If you decide to tint your headlights yourself, you may need some tools to make the process go smoothly and achieve the best result. You can find all the tools in the nearest auto shop and start tinting as soon as possible. Here is the list of tools you need:
Rapid prep;
Rapid tac;
Rapid clear;
Squeegee;
Razor blade;
Heat gun, or hairdryer.
Before tinting, make sure you have all the necessary tools, otherwise, the process may take several hours. The necessary tools will allow you to achieve the best result.
Installation tips
The result depends directly on how carefully you study the process before starting it. There are some tips that will help you tint the headlights. It is very important to follow them and not to mess up. 
Make sure you turn on the front lights to increase the surface temperature;
Keep the surface clean and dry;
Spray both sides of the film with the application liquid;
Avoid high relative humidity;
Work quickly and carefully.
When you know some installation tips, it is high time to look through the necessary steps to tint the headlights.
Step by step procedure
The process of tinting can be difficult from time to time as you need to work carefully and not allow the dust to get stuck to the film. So it is better to study the process before tinting, not during the process. 
Preparation and cleaning
You should remember that this step is very important. Be sure to remove all dirt, dust, and oil from the area where you will be tinting. Otherwise, it may end up under the film and may lead to an uneven surface.
Spray and lubricate lenses
Then you need to spray the Rapid Tac onto the light. This way you will be able to change the position of the film during the application process.
Remove liner
Remove the protective layer from the adhesive side of the tinting film. To make it easier, you can mist your fingers and spray the tint as well. At this stage, it is important not to rush and do everything carefully.
Alight and apply tint
After spraying the light with the application liquid, apply the wet adhesive side of the film to the lens. A slippery surface will allow you to move the thin film, put it in place and make adjustments.
Spray tint
The next step is to spray the outside of the film with a quick solution of soap and water. This way you can reduce scratches. Do not hurry and move the film until you do everything right.
Squeegee on tints
When the position of the film is right, you can try to push all the bubbles out. It is better to start in the center and work your way to the edges. 
Use heat to smooth out curved and difficult areas
Now it is time to use a heat gun or if you do not have it, you can use a hairdryer. It will help you to make the tinting film more pliable and smoothly adhere to curved surfaces or areas that are usually difficult to reach. 
Trim away excess
Remove any excess vinyl that may be hanging off the edge. Be careful and try not to scratch the headlight lens under it. 
The tint is completed
As soon as you get rid of all the remaining bubbles, everything is ready. Use Rapid Clear to polish the headlight tints. 
Is it possible to remove a tint if you no longer need it?
The answer is yes. You can easily remove a tint if you do not need it anymore. For removing a tint you can use ordinary household items. There are various ways in which you can easily and safely remove the headlight tint. The most popular way is to use a heat gun to soften the glue, then you can remove the film. To remove the adhesive residue you need to use a special spray. Try not to harm plastic. 
As you can see, tinting is a time-consuming process that requires concentration. Take your time to study all the tips and recommendations before you start tinting your headlamps. If you are not sure of your abilities, you can turn to more experienced people or visit a special place where they will tint your headlight.