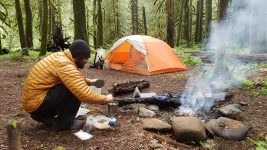 10 Campfire Safety Tips — CleverHiker
KEEP EXTRA WOOD, GEAR & OTHER FLAMMABLES AWAY FROM FIRE – Keep any paper, garbage, extra firewood, liquid/gas fuel, and other flammable materials a safe distance from your fire ring. If you're hanging out next to a fire with your sleeping bag or a camp blanket, make sure loose ends don't get too close to the fire.
BE ATTENTIVE WITH YOUR GAS STOVES/LANTERNS – The risk of starting a fire from a gas lantern or stove is pretty low, but it's still good to handle these items with care since they're a source of flame. Extra precautions should be used with alcohol stoves since they burn quick and hot, and they produce invisible flames. We generally recommend avoiding alcohol stoves because we don't think their weight savings is worth the risk they come with.