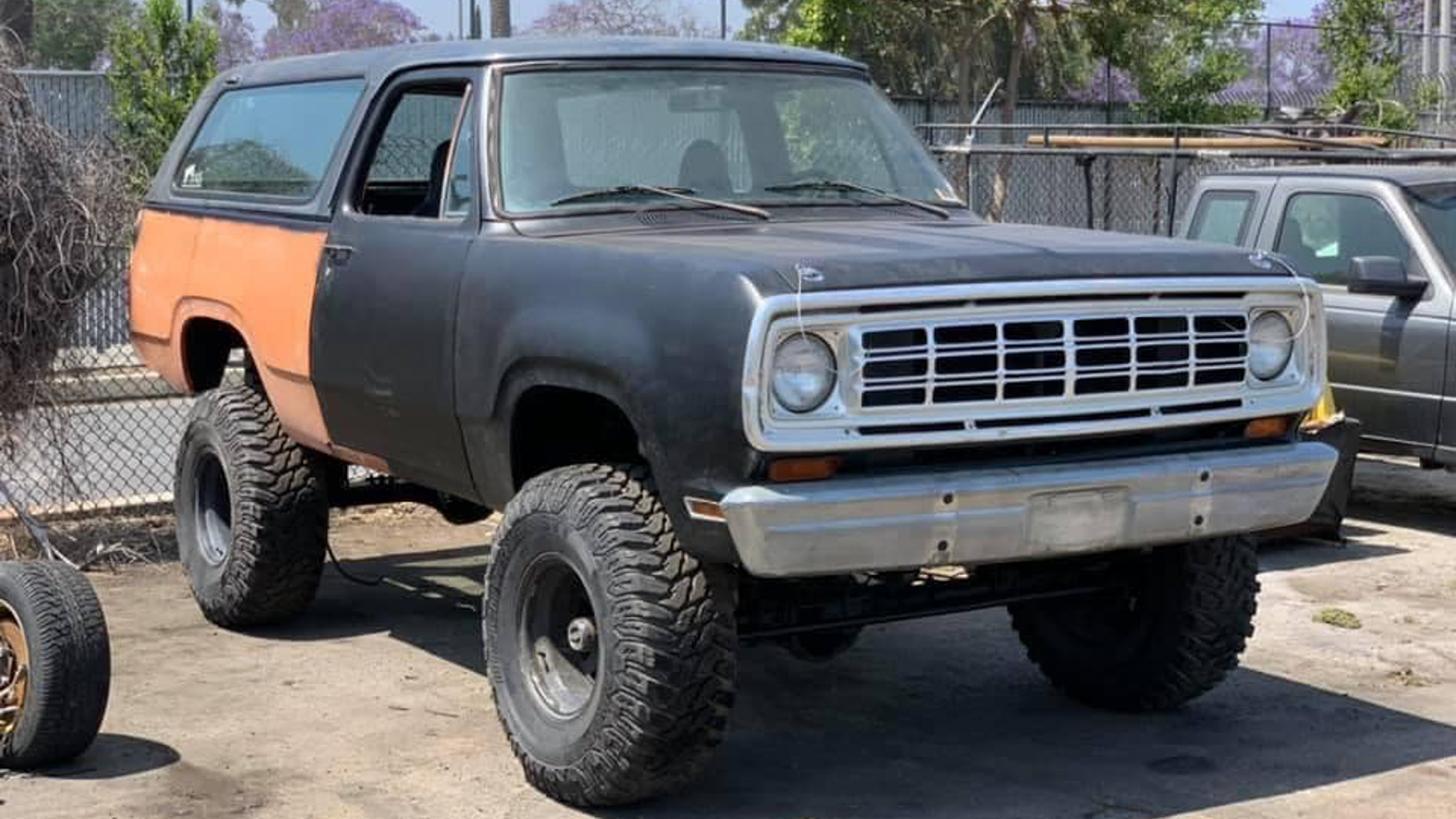 Here's How We'd Build This Unfinished 1974 Dodge Ramcharger Project!
Let's be honest: The Facebook Marketplace is really a joke. It's almost impossible to search, it almost never displays the actual asking price, and it's jammed with as much spam and phony ads as Craigslist. But still, things pop up from time to time that seem legit, so like a moth to a flame, we often get sucked into looking.
One ad we found was for a 1974 Dodge Ramcharger being sold as an unfinished project in La Mirada, California. The ad reads, "Sad to say something came up and need to sell my 1974 Ramcharger 4×4. Doesn't run currently. It was running before I started taking everything and stripping it down. I just welded in the trunk bed and I have both pair to replace the front. I also have a wiring harness for it since I was going to rewire the whole truck and get rid of the center console. Sandblasted most of the whole truck and frame. Has built 360 motor. Pushes 300 hp via previous owner. I have dumped a lot of money into this thing. Has 44 Dana front end and an 8 3/4 rearend. I can deliver for no extra fee if you're in the Los Angeles area. Asking $4,800 FIRM"
Yes, $4,800 is a lot for an incomplete truck with no interior that doesn't run, and honestly we probably wouldn't use all the parts on it, but this one did intrigue us for a couple reasons. For starters, in California where we are and where the truck is being sold, vehicles model year 1975 and older aren't required to adhere to smog or emissions regulations, so you're free to run any kind of engine and exhaust you like. Also, the 1974-1980 Ramchargers had a one-piece steel removable roof, which is nice not only for open-air wheeling, but it makes building a rollcage a lot easier, as well. So given that, this first-year 1974 model seems a decent candidate. Here's how we'd build it.
Tires, Tub, and Suspension
Any fullsize 4×4 just looks runty on hardcore trails with tires that are smaller than 38s. We'd set this sucker up for one of the many 40×13.50R17 tire sizes on the market these days. The Dodge wheel openings of this era are fairly narrow, and the body is triple-layers of steel that come together around the wheelwell opening in the back, so some sheetmetal surgery would be required. That said, we'd open up the wheel arches to cleanly accommodate those 40s at full stuff, not only widening the wheel openings in the front fenders and rear tub, but raising them up toward the beltline to allow for a lower suspension height. Up front, this is easily done by removing the inner fender liners, but in the rear it requires cutting the steel wheel tubs and sectioning them with an additional 5 or 7 inches of sheetmetal.
Sure, leaf springs are easy, but the stock Ramcharger spring packs are somewhat short up front and the factory spring hangers in the rear necessitate either very highly arched spring packs or big lift blocks. With the tub clearanced for the 40s, we'd hang our centerlines off the wheel openings and build a quality heavy-duty triangulated four-link suspension out back and a three-link with a track bar up front with coilovers at all four corners.
As for overall height, we'd shoot for keeping it as low as it currently sits even on 40s, if not even lower.
Paint, Bumpers, and Lighting
We're generally not ones to focus on paint, but the lines on these trucks are quite classic by today's standards. For starters, a nice fabricated bumper that mimics the full-length rectangular shape of the thin factory bumper would hide a submerged 10,000-pound performance winch without sticking out. There's no need for hoops or stingers since they just distract away from the grille. Same out back, where we'd build a high-clearance bumper in the same spirit as a factory Ramcharger bumper, but one that is bashproof and holds a hinged swing-out tire carrier low enough to clear trail obstacles but not so high that rearward visibility is completely blocked.
We'd cap the pre-paint niceties off with some super-small yet powerful LED spot and fog auxiliary lamps hidden where they don't catch your eye and distract from the clean, classic lines. Then, we'd slather the whole thing in a period-correct large-fleck pearl white metallic paint job with a patriotic red, white, and blue accent stripe that runs offset front-to rear up the hood, roof, and down the tailgate.
Engine, Axles, and Drivetrain
With what is supposedly a 300-hp 360 engine already in place, we'd confirm the engine is solid and then we'd cap it with a good aftermarket injection system that draws fuel from a stock 35-gallon tank protected by custom aluminum skidplating. We'd stab a factory-replacement four-core radiator from a 440-powered Dodge pickup of the era to keep things cool, and we'd also install an A/C compressor so we could chill the interior.
Backing the engine, we'd ditch the TF727 slushbox for a Tremec TR-4050, and we'd dismantle the NP203 T-case to pilfer the range box so we could adapt it to an NP205 with a Doubler kit from Offroad Design. We love the flexibility of multiple range boxes for higher speed off-roading to super creepy low, low technical stuff.
From the photos it looks like the front axle has internal locking hubs, so the front axle is most likely a later-model Dana 44 with disc brakes rather than the original 1974 open-knuckle, drum-brake Dana 44 that would have external locking hubs. And it's definitely not the underwhelming Unitbearing Dana 44 with 5×4.5 bolt pattern that most Ramchargers from the 1970s suffered with. The rear Chrysler 8 axle was the base model axle for these, later replaced with the sturdier Chrysler 9 axle. There's really nothing wrong with these axles for a resto-cruiser or even a very mild off-roader, but with a torquey V-8, manual transmission, stacked T-case low-range ratios, and 40-inch tires, these axles wouldn't stand a chance on a rockcrawl trail, so we'd most likely grab a pair of Dana Ultimate Dana 60 axles loaded with 5.13 gears and Eaton E-Lockers. The 69-inch wheel mount spacing of the Ultimate Dana 60s is similar to the factory front axle's width and is actually wider than the factory rear axle, so they'd be a huge upgrade in the strength department.
Interior and Safety
This particular truck has already had the interior gutted, which is sort of a bummer because the factory steel dash and gauge package is a lot nicer looking than the later 1981-up plastic Ramcharger dash. That said, we'd completely ditch the fabricated tunnel and vestigial rollcage to start afresh. After finishing all the interior sheetmetal we'd lay some Lizard Skin liner down and then we'd build a full rollcage out of 2-inch, 120-wall DOM that tied to the frame in six or eight places. For seats, we'd grab a factory rear fold-and-tumble rear seat from a 1980s Ramcharger and a full-length front bench from an early 1990s Dodge pickup that we'd have modified with a fold-down center seat section so if we weren't running a fifth passenger in the front we could have a nice armrest with a couple cupholders. Both seats would get covered in period-correct red, white, and blue plaid fabric, because what else would you use.
We'd find a good donor Dodge in the junkyard and grab the factory dash and steering wheel to restore the interior to period-correct flair, carefully cutting the dash to cover the rollcage crossbar. We'd finishoff the whole shebang with some high-quality seat belts, a rear trail drawer system in the cargo area that housed spares, camping gear, and tools, and a slide-out fridge tray on the top. Then we'd line the steel roof with thermal material to keep interior temps in check and would have new door and interior panels built to make the interior a super nice place to be for long road and trail trips.