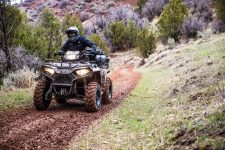 Gearing Up: New to the RMATVMC Website for September 2021 – RM Rider Exchange
Week in and week out, there are always new products hitting the RockyMountainATVMC.com website. We take pride in everything that we stock, but sometimes some new, exciting, ingenious, or just plain cool products get lost in the mix. So, here are some of the parts and accessories that you might've missed from last month.
Price: $24.99
Like most parts on your dirt bike, the throttle position sensor (TPS) is equal parts necessary, expensive, and vulnerable in the event of a crash. If you have a fuel injected 2-stroke KTM, Husqvarna, or GasGas, anything from a trail hazard or a small tip over to a larger crash puts your TPS at risk of damage. Instead of thinking it could never happen to you, save the chunk of change it would cost to replace the sensor by spending $25 now. The Tusk TPS Guard is small and inexpensive, but it's also strong and durable. Made from anodized 6061 T6 aluminum, the guard is designed to be as competitive as leading brands at a significantly lower price.
Price: $9.99
Changing a belt is never easy, but it sometimes needs to be done. And most the time, it needs to be done on the trail unexpectedly. One way to get the job done just a little bit easier is with the new Tusk Turbo Belt Removal T-Handle. This works the same as an OEM tool, but the ergonomic T-handle is much more user-friendly. It's a simple innovation, but it's one that will likely take some dread out of completing your belt change. Plus, coming in just under $10, the tool is a great offering to bump your order over our $75 threshold for free shipping.
Price: $67.88-$69.88
We're excited about the new Tusk Terraform tire. We develop Tusk tires in-house with the designs, compounds, and testing based on our own riding experience. That's the standard we build all of our proprietary brands on, and the new Terraform All-Purpose ATV/UTV Tires live up to it.
For this all-purpose tire, we especially focused on the lug design, tread compounds, and testing. The lug design is self-cleaning, maintaining the traction and grip you need on your ride. As for the tread compounds, they perform well on harder surfaces, the cutouts maximizing biting edges to enable that traction. To test these tires, our team took them out on multiple 100+ mile rides to find their limit and improve it. We're happy with their performance, and we think you will be, too.
Price: $79.99
GoPro's The Remote is, you guessed it, a remote for their newer camera models including the HERO9 Black, MAX, and HERO8 Black. The preexisting GoPro Smart Remote has long been a popular staple among GoPro users, but The Remote is ushering in a new era of function and convenience. Notable features include a waterproof, wearable, and mountable design with Bluetooth Low Energy power for maximum battery life. Another thoughtful design comes in the form of glove-friendly buttons that can be easily used to alternate between camera functions.
A significant difference between The Remote and the Smart Remote is that the former can control up to only five cameras at once, significantly fewer than the 50 cameras the latter can control. That said, there are benefits to offset the change, including the fact that The Remote's presets can be changed through the GoPro mobile app. Either way, if you have the HERO9 or another newer GoPro camera model, The Remote is your only option for remote control.
Tusk Billet Shift Knob
Price: $34.99
Some parts that you install add something extra to your machine. There are the big things like new tires and wheels, smaller things like billet bling parts, and a lot of tricked-out accessories in between. The Tusk Billet Shift Knob is a smaller addition, but it's one that really accentuates the interior of your side-by-side and takes its looks to the next level. There's something to be said about the knob's sturdy billet aluminum construction and anodized finish to resist corrosion, but we think this part is worth it because of the sleekness and factory-standard shine it gives to your ride.
Price: $104.99-$114.99
The Tusk Tintic Wheels are the newest addition to the always-growing Tusk wheel lineup. Their construction is similar to the other highly-rated side-by-side wheels by Tusk: great looks, versatile colorways, and a 1,000 lb. load rating. The cast aluminum construction contributes to their lightweight feel and unrelenting durability.
One unique facet of the Tusk products that isn't often showcased, however, is their tie to Utah's heritage and things that inspire our team of riders. In this case, the Tintic wheels pay homage to the rich history of the East Tintic Mountains and Tintic Mining Districts in Central Utah.
Nestled in the heart of the East Tintic Mountain range is the small town of Eureka, once the hub for silver, gold, and base metal mining in the late 19th and early 20th century. The Tintic Mining District, as it was called, was an extremely productive and profitable corporation that oversaw the yielding of an approximate 4.83 million short tons by 1975 – just over 100 years since the district's founding in 1870. That many pounds had an approximate value of $231 million in 1975 – almost $835 million in 2020 dollars!
Many of our Tusk products have names that highlight other unique heritages, and we see it as an exciting and effective way to demonstrate our love for the area we live and ride in.
Tell Us What You Think
Which one of these new products is your favorite? Which one are you going to be picking up next? Or do you already have some of the items on this list? Leave us a comment below.