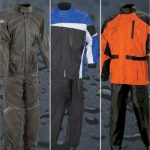 Best Motorcycle Rain Gear
When you know you're going to be facing rain, you've got some decisions to make when it comes choosing the best motorcycle rain gear (assuming you want to stay dry out there).
Do you invest in kit with built-in waterproofing, or do you stick with your tried-and-true set-up and protect yourself with a rain suit?
Built-in waterproofing is convenient, but can be costly or inappropriate depending on the conditions you normally encounter. Some of the nice things about a quality rain suit, on the other hand, are affordability, with many available well under $100 bucks, and transportability. If you've got any carrying capacity on your bike, or a backpack for that matter, it's easy to roll up a rain suit and have it on hand in case things take a turn on the road.
That last bit perhaps makes the strongest case for investing in a rain suit. There's nothing worse than watching the clouds darken unexpectedly out in the middle of nowhere, having nothing but a pair of riding jeans and a mesh jacket between you and the inevitable torrent.
If you feel the same, read on to see our three favorite rain suits.
Considerations
There are a few things to know before you make a purchase. First, there's two-piece and one-piece versions available. Two-piece suits are designed to keep you completely sheltered from precipitation, but if you're looking for a failsafe barrier against the elements, consider a one-piece.
Also, these are all intended to be worn over your standard riding gear. They will not be suitable as standalone riding kit.
None of our selections will cover your gloves or boots entirely either, so remember to complete your kit with items from our boot and glove sections.
Check out different color options, too. When you find yourself needing a rain suit, chances are that visibility isn't great. You want to stand out to other motorists as much as possible, and all of our choices below come in high-visibility colorways.
And finally, take a look at points where water could enter. The cuffs, collar, seams, zippers. Make sure seams are taped, zippers waterproofed or equipped with gaiters and the collar and cuffs packing appropriate fitment adjusters. You want a tight seal all around.
So without further ado, here's our picks.
Rain Gear
Nelson Rigg Aston Two-Piece Rain Suit
Joe Rocket RS-2 Rain Suit
Alpinestars Hurricane One-Piece Rain Suit
Price
$80.95-
$89.95
$55.99-
$67.49
$119.95
RM Rating
5/5
4/5
4/5
Material
Polyester shell with PVC backing
Polyester shell with PVC backing
PU coated poly-nylon
Interior Liner
Mesh lining, nylon lined sleeves
Nylon comfort lining
Poly-mesh lining
Fitment Adjustment
Elasticized belt adjusters, adjustable cuffs with self-fastening tabs, elastic suspender straps
Velcro adjustable cuffs, boot stirrups, elasticized waist
Velcro arm adjusters, elasticized collar, cuffs and lower legs
Pockets
Three waterproof outer pockets, waterproof zippered mesh pocket, waterproof thigh pocket
Two cargo pockets with expandable gussets
Waterproof compartment inside
Ventilation
Full length zippered back vent
Variable flow rear exhaust
None
Configuration
Two piece
Two piece
One piece
Additional Features
Integrated seat panel, heat resistant material on legs, corduroy inner collar with hood
Corduroy lined collar, full length zipper with Velcro storm flap, melt resistant material on lower leg, reflective accents
Storage transport bag, reflective detailing, twin slider main zip, zippered lower leg gusset
Warranty
Two year
One year
One year
Buy Now
Buy Now
Buy Now
The two-piece Nelson Rigg Aston Rain Suit is a thoughtfully designed set-up, inside and out. It's polyester outer shell is 100% waterproof, including a waterproof hood you can wear underneath your helmet to keep rain from running down the back of your neck. The main entry zipper comes with a self-closing storm flap, the collar is nice and tall and stays secured via Velcro, and there's a number of waterproof pockets. These include two cargo pockets near the base of the jacket, one on the chest, a waterproof zippered chest vent/pocket and a pocket on the upper thigh. You get heat-resistant material on the inside of the legs and boot straps. The pants are held up with elastic suspender straps and there's a seat liner to help you avoid slipping in wet conditions. There is a large vent on the back of the jacket to improve breathability. Fitment adjustment straps on the waist, cuffs and bottom of the jacket allow you to seal things up and gusseted zippers on the legs make it easy to put the pants on while wearing boots. No stone left unturned with the Aston, and for the price this is a reliable and well-sorted rain suit.
You can't beat the price of the Joe Rocket RS-2 Rain Suit. And you get a soft polyester shell with PVC backing on the pants and jacket, well-sealed entry points, generous ribbons of reflective striping on the front and back of both pieces along with an elastic waist and adjustable cuffs. The tall collar is lined with a soft corduroy material, so will keep the water from getting inside your suit without uncomfortably chafing your neck. Inside the jacket is a fully nylon comfort liner and the pants also come with heat resistant material on the lower legs. It's a simple piece, but well designed and reliable.
This one breaks the pattern we've seen in the preceding selections, in that it's a one piece suit. This has the obvious benefit of eliminating any chance of water seepage that might occur between the jacket and pants of the other options. It's made from a light-weight, PU coated poly-nylon fabric that's rated to be 100% waterproof. All seams are tape sealed, there's reflective details throughout the exterior and a poly-mesh lining inside for comfort and better circulation. A twin zip design runs from the thigh to the chest for easy entry and exit. There's a waterproof compartment inside the garment for storage and zippered gussets on the lower legs for a tight seal around your boots. It comes with a storage bag and there are also boot and glove covers if you want to complete the kit, though these covers are sold separately.