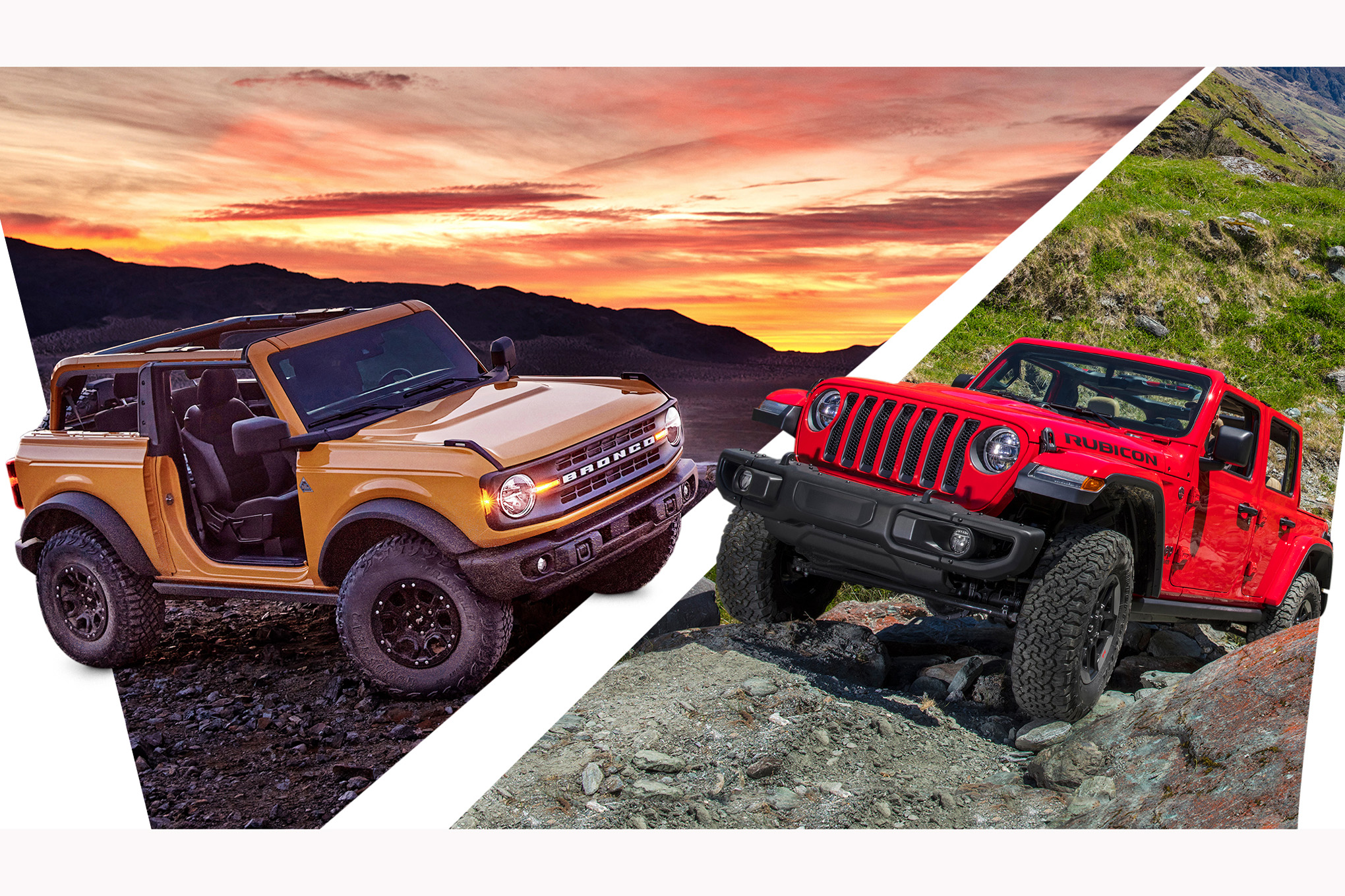 10 Ways The 2021 Ford Bronco Beats Jeep Wrangler
We try to remain fair and impartial in almost everything that we do, and with the launch of the all-new 2021 Ford Bronco, that's been no different. However, the masses have spoken, and we've heard the demands for our take on how the Bronco beats its nearest competitor, the Jeep Wrangler.
There's no doubt that the Wrangler is a formidable opponent. Solid axles, flexy suspension, locking differentials, and big tires make it a beast off-road. However, given the opportunity of designing a new vehicle from the ground up, Ford has taken aim directly at some of Wranglers top features. What we've listed below are the list of the top 10 ways we feel Bronco outdoes Wrangler. Granted, we've only seen photos of Bronco and have been wheeling with Wrangler for decades, so take all of this with the appropriate grain of salt.
35-Inch Tires from The Factory
When the 2021 Ford Bronco hits the trail early next year, it will earn the designation of having the largest tires fitted to an SUV from the factory. And not just on one model either. Customers who select the Sasquatch package can have 35-inch tires on any trim level.
Jeep offers a pretty solid selection of tires for Wrangler as well. However, the largest tire size currently offered from the factory is the 33-inch available on Rubicon models.
Beadlock Capable Wheels
Along the same lines as the 35-inch tires, the 2021 Ford Bronco is poised to be the first SUV with beadlock-capable wheels from the factory. Why are they not true beadlocks off the showroom floor? Well, that's a tricky question with a long legal answer; however, you can walk over to the parts counter and get the beadlock rings while they are finishing up your finance paperwork. If this sounds familiar, Ford has offered these types of wheels on Raptor since 2014.
You can get a beadlock capable wheel for a Jeep Wrangler, but it will involve going through the Mopar Performance catalog, finding a Mopar Performance retailer or dealer, and forking over big bucks. In this regard, having the wheels installed at the factory and available as part of a package is a big win.
More Standard Skid Plates
Underbody protection is key when traversing rocky terrain. To keep everything safe, Ford has fitted the 2021 Bronco with a bevy of steel skid plates. Higher-capability Broncos receive a front bash plate along with engine, transfer case, transmission, and fuel tank skid plates. Steel rock sliders are also available.
By contrast, the Jeep Wrangler Rubicon comes equipped with a fuel tank and transfer case skid plate. Obviously, this is due in part to the solid front axle. However, many Wrangler owners turn to the aftermarket for transmission and engine skid plates.
More Gasoline Power and Torque
At launch, the new 2021 Ford Bronco will be offered with two engines. The base engine will be a 2.3L EcoBoost I-4 that makes 270 hp and 310 lb-ft of torque. If this sounds familiar, it's because it's the same engine powering Ranger. However, the optional engine is a 2.7L EcoBoost V-6 which is projected to produce 310 hp and 400 lb-ft of torque.
Jeep offers the Wrangler Rubicon with a choice of two gasoline engines. First is a turbocharged 2.0L I-4 that churns out 270 hp and 295 lb-ft of torque. And second is a 3.6L V-6 that makes 285 hp and 260 lb-ft of torque. No matter which way you slice it, Ford has the spread covered on both gasoline horsepower and torque.
More Gears Are "More Better"
Ford has done the right thing with the 2021 Bronco by offering it with a manual transmission. And it's not just any manual transmission either; Ford will outfit the Bronco with a unique seven-speed manual gearbox that features an ultra-low crawl gear. This will yield a crawl ratio of up to 95:1 when paired with the electromechanical transfer case (80:1 with the standard transfer case).
Jeep offers the Wrangler with a six-speed manual transmission, and when paired with the Rubicon model's 4.0:1 transfer case and 4.10:1 axle gears, it offers a crawl ratio of 84:1.
Easy to Remove (And Store) Doors
Both Bronco and Wrangler have removable doors, which is awesome. There's nothing better than the feeling of rolling down the trail with the doors off. However, anyone that has ever removed a Wrangler door can attest to the fact that things have only gotten more difficult in this arena. Wrangler doors are heavy and a bit cumbersome, and the wiring can be tricky to remove as well. And once the doors are off, you need a place to store them.
Ford has touted that the new 2021 Bronco doors will be lightweight and easily removable. Thanks to being made of what Ford calls "a lightweight alloy," which we can assume means aluminum, the doors can be removed and stored easily by one person. And, best of all, Ford has created a storage solution for the doors in the cargo area of Bronco, so you won't be forced to leave them at home or worse, along the trail somewhere.
Bigger (Infotainment Screen) Is Better
There are a few things that really get people heated these days, and the size of a vehicle's infotainment screen is one of them. We've somehow slipped deep into a bigger-is-better mindset. While we don't disagree, there may just be a point of diminishing return. Either way, the 2021 Ford Bronco has Wrangler happily beat in this regard.
While Wrangler comes standard with a 5-inch infotainment screen, it can be optioned up to a 7-inch system with Uconnect 4, or to the top-of-the-line 8.4-inch system with uConnect 4C. The 2021 Ford Bronco, however, comes standard with an 8-inch touchscreen and can be optioned with a massive 12-inch screen with the company's all-new Sync 4.
Life's Better Topless
One of the defining features of both the Jeep Wrangler and Ford Bronco are their removable tops. In the past, the Ford Bronco was only able to shed its top in the rearmost section of the vehicle. Now, for 2021, Bronco features a completely removeable top, much like Wrangler. However, where Bronco bests Wrangler is in the area of its integrated roll bar. Unlike Wrangler, Bronco utilizes a "halo" design for its roll bar, which eliminates the need for a B-pillar crossbar. Why is this important? When cruising topless, Bronco's rear seat passengers will have a much better experience and fuller view of the sky above.
360-degree Cameras with Spotter Mode
This one is easy: Wrangler comes with one camera, a backup camera. The 2021 Ford Bronco will arrive equipped a 360-degree camera system that also includes Spotter Mode. These spotter camera angles will feature a view forward of each tire ensuring that the driver can easily see what trail obstacle the vehicle is up against. This will help eliminate the need for a spotter on some obstacles and can also be used to impress your friends on the trail. Best of all, the system will work even with the doors and top removed, as all of the cameras will remain on the vehicle.
Trail Control, Trail Turn Assist, & GOAT Modes
Wrangler purists will scoff, but technology can certainly make life better. While Wrangler retains point-and-shoot simplicity, the 2021 Ford Bronco brings tech to the trail. Bronco will include Trail Control, which takes away the act of controlling the throttle and brake to allow the driver to focus on steering. Trail Turn Assist utilizes the ABS system to allow the Bronco to pivot on either of the rear tires, allowing for a much tighter turning radius on the trail. And lastly, GOAT (Goes Over Any Terrain) modes are a collection of eight different drive modes. These include Normal, Eco, Sport, Slippery, Sand, Baja, Mud, and Rock Crawl.
Bonus: O.J. Owned A Bronco
Famed NFL football player and Heisman Trophy winner O.J. Simpson acted as a Ford spokesperson from the mid-1970s until 1994 and was himself a Bronco owner. O.J. 's best friend, Al Cowlings, also owned a 1993 Bronco. And the rest, as they say, is history.
To see our counter story of the 10 ways the Jeep Wrangler beats the 20121 Ford Bronco, click here.