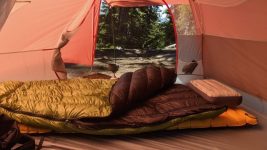 Zpacks Classic Sleeping Bag Review — CleverHiker
EXCELLENT WARMTH-TO-WEIGHT RATIO – We've established that the Classic is ridiculously light, but how does it compare temperature wise? We'd say it's pretty solid. We find that the 20°F Classic Bag provides comparable warmth to other quilts with similar builds, like the Enlightened Equipment Revelation, but it weighs less than most other options out there. The Classic also has the ability to cinch tight at the top, so it's very effective at trapping in heat when the temperature takes a big dip.
As is the case with most quilts, we wouldn't recommend taking this one out when temperatures are consistently below freezing. That said, we've used it down to around 30°F many times and stayed comfortable.