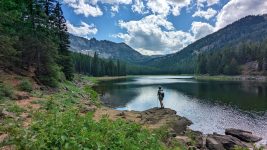 Strawberry Mountain Wilderness Loop Backpacking Guide
Route
There isn't a ton of information available for this loop, so we put together this little description of directions to help you navigate:
From the Strawberry Basin Trailhead parking area, the trail starts behind the pit toilet and follows well maintained switchbacks up to Strawberry Lake. On the way up, you'll encounter intersections with the Slide Lake Trail, keep right at these junctions to start the loop counterclockwise. 
After you're done taking in the sights at the lake, you can go either direction at the fork in the trail you came in on to get around the lake. Turning right to go along the west side of the lake is a .8 mile trek, going left to hug the east bank is .4 miles. There are a ton of campsites in the area. But this lake is only a mile from the trailhead, so you'll likely encounter other campers, fishers, and SUPers/kayakers here – especially on the weekend.