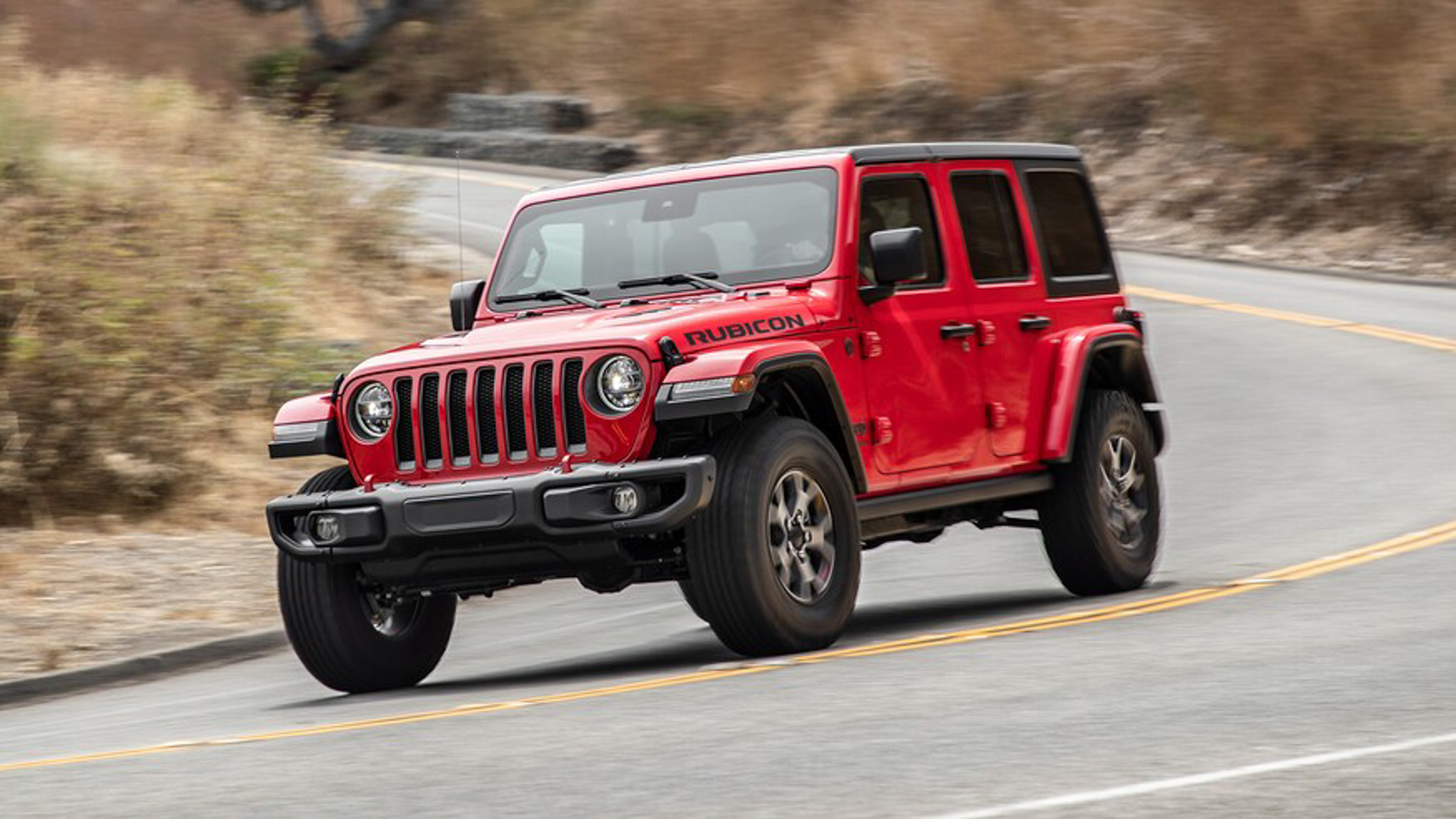 Storage places to keep and hold your stuff in a Jeep JL Wrangler.
Many things look great on the surface but when you live with them on a daily basis sometimes drawbacks and compromises erode away the luster rather quickly. Flat out, Jeep sells every new Wrangler it can manufacture. For the Wrangler model specifically, there are no real incentives, manufacturer deals, or leftover vehicles of consequence. And given the volume of new Wranglers sold, it's not conceivable that all of them are being purchased by former Jeep owners, which means there's a whole new generation of Jeepers about to be welcomed to the fold every year. So whether you're just considering purchasing your very first Wrangler ever or if you're a former JK, TJ, YJ, or CJ person making the leap to modern amenities, we thought it'd be interesting to share some of elements of the Jeep Wrangler JL's interior you'll be interacting with every time you pour yourself into the driver's seat.
JL Wrangler Front Seat Center Console Cupholder and Cell Phone Slot
There's not a ton of room between the front seats but the JL Wrangler makes decent use of what's there with pair of longitudinal cupholders that are big enough to swallow and hold most American-sized beverage containers, so those puny little european portions should be no cause for worry. Between the two cupholders there's a cell phone slot that accommodates more normal sized mobile devices unless you're one of those weirdos who needs to tote around and speak on a nearly full size tablet. The phone slot is a handy item, but it's cumbersome if you're trying to have more than one beverage in the cupholder while keeping your phone charger plugged in. Then there's the added danger of spilling your beverage into your phone after you take a sip, so usually if we're driving with a beverage in the cupholders we'll just toss our phone on the dashboard tray. Which brings us to the next section below.
JL Wrangler Dash Tray
The dash has a generous tray with rubberized bottom to keep things you're holding up there from sliding too violently. The center compartment is pretty wide and can easily hold a cell phone if necessary, but we usually use it to toss our sunglasses there when they're not on our noggi. The two little side trays could conceivably be used to hold spare change, lip balm, guitar picks, Weeble Wobbles, or whatever else you might find loose in your pockets. Hey, we're not judging.
JL Wrangler Makeshift Wallet Holder
If you're running a big 'ol George Costanza wallet that's uncomfortable to sit on, do like we do and shove it between the E-brake handle and cupholder. It holds securely enough that it doesn't fly out of position and every time you pull up to park somewhere and instinctively go to set the E-brake you'll remember it's there and shove it back in your pocket. If you look at the photo closely you'll see there's also a little rubberized tray under the E-brake handle that could potentially be used to hold loose change, but it's difficult to get to and in our experience is mostly good at holding only spilled coffee and dirt.
JL Wrangler Two-Level Center Console
It's not witchcraft these days for an auto manufacturer to offer a two-tier center console like the one in the JL Wrangler. There are two separate disengagement levers that release the lids and allow access into either the top or bottom. The top tray is located just under the elbow rest in the Jeep and is somewhat shallow. There are cutout to allow for a charging cord to enter from either side and it's a good place to hold your electronic devices, loose change, hand sanitizer, and other little doo dads. Underneath is a deeper compartment with a USB port for charging. It's big enough to hide a tablet or smaller electronic device from prying eyes when the vehicle is parked, but you can't fit a laptop or medium-sized stuffed giraffe in there. (Again, we're not judging.)
JL Wrangler Mesh Door Pockets
We guess something is better than nothing, so we'll go a bit easy on the flimsy bungee mesh netting on the doors of the JL Wrangler. They're barely adequate at holding smaller stuff, but be careful if you put something like a pen or pocket knife in there because chances are better than not your stored item will fall through the netting onto the ground when you open the door. As us how we know. The bungee also isn't tight enough hold relatively heavy items securely in place and even our somewhat light fuel mileage clipboard in our long-term EcoDiesel-powered JL Wrangler will fall out more often than not.
JL Wrangler Smart Front Seatback Storage
Yes, the same flimsy bungee netting that's on the doors is on the front seatbacks in the JL Wrangler, however that's not all the storage possibilities afforded here. We realy like the sturdy nylon webbing that could be used to very easily mount Molle accessories like a storage bag, map holders, or any number of cool aftermarket nylon products. Additionally, we always appreciate little bag holders like this which securely hold bags of messy stuff in place or simply keep your groceries from sliding all over hell and creation when you're cornering.
JL Wrangler Useless Rear Seat Passenger Tray
Set at the rear foot of the center console are these two little carrying trays with the same sort of rubberized surface as found on the dash tray. We may be a little harsh calling them useless, but they're so small and shallow that outside of a few cents worth of spare change we really can't figure what purpose they could serve outside of taking up valuable foot room for the center rear seat passenger.
JL Wrangler Rear Seat Cupholder and Center Console
If you're not using the rear middle seat, you can fold down nice center armrest with cupholders for the two rear passengers to enjoy. Like the front, the cupholders are a smart size that accommodate just about any beverage container and there's a similar slot for a cell phone between them as well as a smallish storage slot that can hold sticky Skittles, crumbs, and mashed pieces of Fig Newton…assuming you've got small children riding back there. If not, it's a good place for your pen or spare change.
JL Wrangler Optional Cargo Tie Down System
As an optional upcharge, some JL Wranglers come with this nifty aluminum track tie-down system with movable tie down clips that can be positioned in the floor rails or on the tailgate. It's a super-useful feature, but do yourself a favor if you frequently haul anything that does better riding on a flat surface and place the movable tie down clips on the tailgate rail rather than leaving them in the floor rails where they're more out of the way until they're actually needed to hold something down.
JL Wrangler Rear Under Floor Cargo Storage
We absolutely love the large under-floor storage area on the JL Wrangler that's way larger than the one offered in the JK Wrangler. It's very easily accessible by opening the tailgate and lifting the cargo floor upwards, yet it's unobtrusive enough that not every set of prying eyes or sticky fingers would go digging under there to see what valuables might be placed in there. It's a great place to stash a purse, lockbox, or other high-value items you need to leave in your vehicle but don't want in plain sight or easy reach.
JL Wrangler Roof, Windshield, and Door Hardware Storage
As cool an addition as the integrated bolt storage holes for the top, door, and windshield hardware are, we admit there's probably only a few Jeep owners who will actually take advantage of them to store the bolts that hold the hard top, windshield, or door hinges on when they're running free and unencumbered by extraneous panels. Still, if nothing more than a nod from Jeep designers to remind owners of the flexibility Wrangler offers for open-air, no-top, no-doors, or no-windshield-bugs-in-your-teeth enjoyment of the outdoors, we think these are a win.
JL Wrangler Cargo Power Port
Again, it's not something uncommon these days, nor is it something that's really storage related in keeping with the theme of this story, but the power port in the JL Wrangler cargo area is a great way to deliver 12V power to your trail 'fridge, air compressor, or other off-road-related gear.
JL Wrangler Tailgate Indent Thingy
Atop the JL WRangler tailgate latch assembly is this dished, flat surface that we can only think reminds us of a cupholder. In truth it's not a very stable vessel containment system and unless your Jeep is parked on a completely flat surface, chances are better than not whatever beverage you set up there will slide off onto the ground. But that said, we've set many a drink on this from coffee in the morning while loading up, to frosty malted adult beverages at camp when the driving is done for the day, so you be the judge.