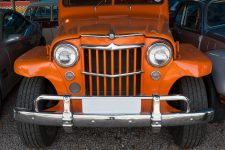 How to Paint a Chrome Bumper On Your Jeep
The real first question here has to be "Why to paint a chrome bumper", but we'll set it aside for a minute. Maybe it got a bit rusty, maybe you want it to match your new Jeep paint job, and maybe you woke up in the middle of the night and realized that chrome actually looks ugly. We don't judge — we give advice. But first, the very basics. 
What is Chrome
It's a self-sufficient chemical element, also known as chromium. We cover such a simple thing for a simple reason now: chrome is NOT your ordinary metal. You can paint your metal bumper with the same paint you used on your porch, with the same brush, but it will NOT work on chrome. 
Why Is Painting on Chrome Not Always a Good Idea? 
Because you will — with a pretty good chance — achieve nothing but creating yet another ugly-looking thing in this universe. The paint, if applied on your chrome bumper directly, will inevitably: 
Flake off;
Shed;
Fall off;
Fade;
And most importantly — will just look bad. 
Painting on chrome is the same as painting on vinyl or film: it just doesn't stick. 
So How to Paint a Chrome Bumper? 
In order to paint a chrome bumper effectively, you need to make it less chrome: 
Prepare;
Un-chrome;
Prime. 
Step zero here would be actually removing the bumper in question from your car. Take it off, unscrew it, and put it on the floor or the table at least a couple meters from your car. You want to paint a bumper, not the whole Jeep, right?
Now that you have the bumper ready — wash it.
Painting on dirt is a guaranteed place in hell. It's not just looking bad, it also says a lot about your level of care about the outcome:
Clean your bumper with water and soap, or any special shampoo for the case;
Let it dry;
Again — clean it to remove all the oil, grease, wax, and dust from the corners;
Make sure that it's 100% dry (you'll need a lot of tissues). 
Now that you're done and your chrome bumper is ready — make it less shiny and more paint-friendly. 
In other words, just sand it, with the finest grain sandpaper you have, until all the glares are gone and it's almost matte. 
You want it to reflect nothing but the general color of the surfaces around it. If you can see your reflection in the bumper — it's NOT ready for paint, at all.
Looks good? Not yet. Now you've got to prime it. The primers market is oversaturated today and there's no way you've never seen at least one of these weird-colored spray bottles. 
The majority of modern primers are self-etching, meaning that they will stick to the surface easily and in the shortest period possible. 
By the end of the preparation stage, you should have a perfectly primed, even and sanded, bumper for your Jeep, standing in your garage. Now, tp the very last step: paint it! You can use any paint, meant for metal. There are dozens, if not hundreds, of brands, fighting for your attention. 
Of course, you have to let it dry, let it sit unbothered, and check on the result of your work by the time the paint is supposed to do its thing. 
Remember: just-applied paint has a DIFFERENT tone from the one that's been applied 1-2 days ago. 
In case you're satisfied with the result — congratulations. Don't forget to check for the practical consequences in a day or two. In case you're not satisfied… Well, we warned you. There are no guarantees in the Jeep world (unless we're talking suspension, these are eternal). 
How to Paint a Chrome Bumper to Regret it (Guide on Mistakes)
Here are 3 of the most common mistakes people do when it comes to painting on something as complicated as chrome: 
Saving on the preparation phase. If you paint your whole bumper with a regular paint, with no sanding, no cleaning, and no consultation with someone who would actually understand the physics behind the process — you're almost guaranteed to have an ugly-looking "dirty" outcome;
Saving on duct tape. It's hard to stress enough how important duct tape is: if you don't cover the vents, the grill, and parts of your bumper you're not actually planning to paint, you'll soon go back to the store to get substances that will help you remove the paint;
Saving on materials. You can paint it with your kids' watercolor, but it won't give you the result (and will, actually, make the whole experience — a nightmare). Buy the best ones you can afford. 
Painting an Old Chrome Bumper or Buying a New one?
That's one unexpected move: keep in mind that painting on metal is way, WAY easier than trying to deal with chromium. Depending on your year and model, you'll either find the color you need, or not.  
Now, while it dries, here's what you need to know about the whole process itself: 
Put on every item of protecting gear you have easily accessible. Gloves, masks, even full-body equipment you can get;
Make sure to double-tape all the corners you want to stay chrome;
NEVER try to paint anything in front of an open fire. It's a straight-forward, inevitable way to lose your hair and eyebrows.
Please take all the precautionary measures to protect your health and your car looks. Health, of course, is number one priority. Now we can switch to the very beginning and answer all the toys inside:
Does my chrome bumper need to be painted for me? 
No, most paint shops will take care of this for you. It is not a separate charge from the bumper installation. 
Can I paint my bumper myself? 
Both yes and no., in order for our bumpers to look as good as they do, the striping and painting must be professionally done. If you attempt to paint your own bumper, we will not be able to install it on your vehicle.
Can you get fooled in the process?
The short answer is — yes. Hire a alicious paint company, try to do the thing after simply Googling how to paint a chrome bumper (with dozens upon dozens of Video instructions on the topic, but zero result (or before and after) shots that transpire significantly later.
FInal Advice
If you want to have less chrome in your Jeep — you can always deal with it easily. All it takes are a few minutes and some elbow grease! If you're noticing that your Jeep is becoming a bit too shiny in places, or you don't like the idea of chrome parts on your vehicle, no worries. You can get rid of the excess chrome when you deal with it yourself, with the help of a few tools and about five minutes of your time. Seriously — even if this isn't something that's relevant to you now, knowing how to do it means that you'll never be without a way to do so in the future.