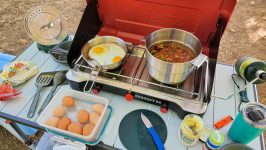 Easy Camping Recipes That Taste Gourmet — CleverHiker
If you're thinking oatmeal is textureless muck, you haven't tried this recipe yet. This wholesome and delicious breakfast will leave you nourished and longing for more. Steel-cut oats look similar to rice and are processed differently than other forms of oatmeal. This gives them a great chewy, non-mushy texture. We look forward to the tradition of making steel-cut oats with peaches on camping trips in cool weather. It's affordable, it warms the belly, and it's incredibly easy to make for a group.
Shopping list:
Steel-cut oats (1 cup makes 2 hearty servings)

Water or milk (3 cups per 1 cup oats)

Salt (roughly 1/2 tsp. per 1 cup oats – kosher is best)

Frozen peaches (medium-large bag for a group)

Cinnamon

Brown sugar

Heavy whipping cream or milk alternative
To make steel-cut oats with peaches in camp: Add oats, liquid (water or milk), and salt to a pan. Bring to a boil, and reduce the heat to a simmer for 20 minutes, stirring occasionally. Cook your oats for 5-10 minutes more, depending on how chewy you like them. In 30 minutes they'll be soft, thick, and creamy. The oats will continue to thicken as they rest, so it's ok if there's some residual liquid when you take them off the heat.
Simultaneously, sauté frozen peaches in a skillet with cinnamon, brown sugar, and a very small amount of water. If you're feeling adventurous, add a few sprigs of fresh thyme to the mix while the concoction melts and simmers.
To serve, divide oats into bowls and top with peaches and a generous dash of cold cream.