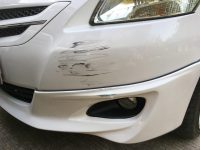 Bumper Scratch Repair – the Guide
Scratching your bumper can be very annoying, but fortunately, the bumper scratch repair is a straightforward task that can be attempted on your own.
Bumper scratches can destroy the appearance of your car, and if you're not careful about it, it can cause rust to form. Luckily, there are multiple ways to repair and prevent bumper scratches from affecting your car's bodywork in the future. 
Here are a few things to think about when it comes to getting those bumper scratches out of your life for the foreseeable future.
Consider Your Car's Finish
When you get a bumper scrape, the first thing you should consider is your car's finish. If you have a dark car, you may not be able to see the damage as easily. But if you have a light car, the damage will be more visible. 
You should also consider whether the scratch is on the front, rear, or back of your bumper. If it's on the front, it will be more visible when you're driving. If it's on the rear, it will be more visible when someone is behind you. And if it's on the back, it will be more visible when you're backing up.
Bumper Scratch Repair – A Quick Glance
Before you begin repairing your bumper scrape, you'll need to gather a few supplies. You'll need plastic or fiberglass filler, automotive paint, and a few other tools. Once you have everything you need, you can start fixing the scrape.
When you're approaching a bumper scratch repair job, the entire surrounding area needs to be cleaned. When you're going about picking up the necessary items for your repair, it's always best to ask questions. If you're not familiar with the items listed above, consult with a customer representative or autobody shop to see if they can provide you with some guidance.
If you follow these steps, you'll be able to fix your bumper scrape quickly and easily!
If you're not the automotive DIY type of person, you can also find professional bumper scrape repair service at a body shop near you. For those that end up taking that route, they can take care of everything from cleaning to applying new paint. 
Bumper scratches tend to happen without warning and doing it yourself will keep your car looking great. Whether you try it on your own or hire a pro, bumper scratches are easy to fix. 
For a more in-depth DIY approach to bumper scratch repair, keep reading.
Bumper Scratch Repair – The DIY Approach
You don't always need to take your car to the shop for bumper scuff repair. You can try the DIY approach and fix it yourself. All you need is a little elbow grease and the right supplies. Here's a step-by-step guide on how to do it: 
1. As previously mentioned, start by cleaning the area around the scratch with soap and water. This will help remove any dirt or debris that could prevent the repair from being successful.
2. Next, use sandpaper to rough up the area around the scratch. This will help the filler adhere better to the surface.
3. Once you've sanded the area, apply a primer specifically designed for bumper scuffs. This will help ensure a smooth finish.
 4. Then, apply a filler to cover up your scratch. Wait for it to dry completely and sand over it again with an even finer grit of sandpaper.
 5. Finally, apply a clear coat over your newly filled area to finish it off. You may need more than one coat, depending on how big your scrape is. If you want to keep it looking fresh for a long time, use a high-quality car wax afterward to help protect your fresh paint job.
 It's a little time-consuming, but using a DIY approach to bumper scuff repairs can save you money in the long run. You'll have more control over quality and can prevent any problems that might be present if you hire someone else to fix it for you. Just remember to do a small test area first before tackling your entire bumper. If you're careful and take your time, though, you should end up with great results.
Bring In Professionals
If you're not confident in your automotive body repair skills, you should always bring in professionals to repair your bumper scratch. They have the tools and experience to do the job quickly and efficiently. Plus, they can help you avoid any further damage to your car.  
Do some research before going out to find someone who specializes in this type of work. Check reviews and make sure they have the proper certifications. 
-Ask around – friends, family members, and co-workers may know of someone who has done this type of work before. 
-Get more than one estimate – sometimes shops offer different prices depending on their labor costs or parts costs which is why it's important to get more than one estimate so that you're not paying too much or not enough for the service provided.
Key Takeaways
Bumper scratch repair is a simple and straightforward DIY project that can be done in an afternoon. By following the steps listed in this guide, you'll be well on your way to leaving that pesky scratch in the dust.