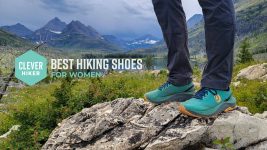 Best Hiking Shoes for Women of 2023
Choosing a great pair of hiking shoes is one of the most important gear decisions you'll make. Getting a pair that has the right balance of comfort, traction, weight, and durability will make a huge difference with every step along the trail.
Finding the perfect fit can be tricky though, and we expect our footwear to withstand a lot of rough use on the trail. Our team has trail-tested dozens of pairs of hiking shoes over thousands of miles, and we'll use that experience in this guide to help you find the very best hiking shoes for your needs.
Related: Best Hiking Shoes for Men
Quick Recommendations
Check out this quick list of our favorite hiking shoes, or continue scrolling to see our full list with in-depth reviews.
What's New:
A ton of new shoes hit the market this year, and we've been putting them to the test to see how they stack up against our top picks.
There have been some big changes to the order of shoes on our list – most notably the HOKA Speedgoat 5 moved into our number one spot. After several hundred miles of testing, we think their balance of comfort, weight, and durability is top of the pack. The Merrell Moab 3s earned the second mention on our list because they're very high-quality for the price. And the last of the major changes saw the Topo Athletic Ultraventure 3s move up to number three on the list because we find their supportive build and wide toebox to be more comfortable than many other shoes for long days on the trail.
Women's Hiking Shoe Comparison Table
What's Most Important to You in a Hiking Shoe?
COMFORT & FIT:
Fit is very personal, so what works for some people may not be the best option for others. Generally, the most comfortable hiking shoes should give your toes some room to spread, have cushioning that supports your foot shape, and have some flex in the upper so it moves with your foot.
PRICE:
High-quality footwear can be expensive, but we're usually willing to spring for it because the success of our adventures depends on having happy, healthy feet. Cheap footwear tends to be less breathable, falls apart easily, and is more likely to create blisters and other foot problems. We recommend spending a bit more if you're able as it will be cheaper than replacing blown out and ill-fitting shoes in the long run. You can expect quality craftmanship and performance from all of the footwear on this list.
WEIGHT:
Weight on your feet zaps about 5 times more energy than weight carried on your back. Lighter shoes mean less muscle fatigue, less stumbling, and they can help avoid knee and hip flexor problems. That's not to say that heavier shoes are bad though. If you do a lot of hiking off-trail or you tend to carry a heavier pack, you'll likely be more confident in a more burly and durable shoe.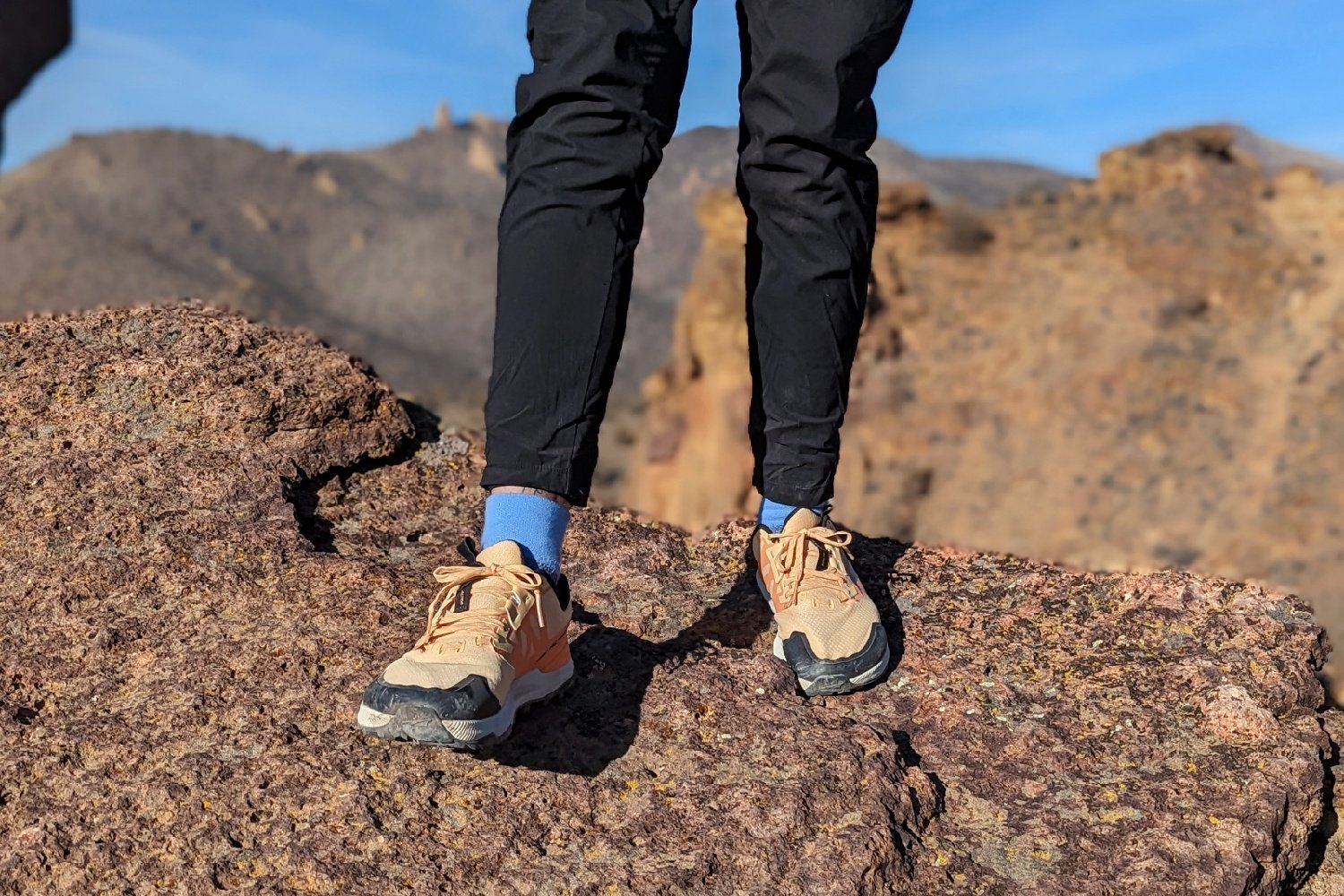 DURABILITY & MATERIALS:
Hiking shoes can be a big investment, so finding a durable pair will help you get the most bang for your buck. Traditional leather shoes are going to be more durable than lightweight trail runners. But if keeping weight low is important to you, look for a pair of lightweight shoes/trail runners with nylon reinforcements to get the best balance of weight and durability.
WATERPROOF VS NON-WATERPROOF:
Almost all of the shoes on this list come in both waterproof and non-waterproof versions. Find the specific shoe that appeals to you most, then decide if waterproof/non-waterproof will work best.
Waterproof hiking shoes can be a real lifesaver if you often hike in wet, muddy areas. We like using them for soggy day hikes in spring and fall. On the other hand, waterproof shoes aren't very breathable on hot days, and they can be heavy and slow to dry when they get wet.
Non-waterproof shoes are lighter and more breathable, and though they're susceptible to getting wet, they dry fairly quickly.Most backpackers – us included – tend to prefer non-waterproof hiking shoes for multi-day trips because of the breathability benefit.
Best Hiking Shoes for Women of 2023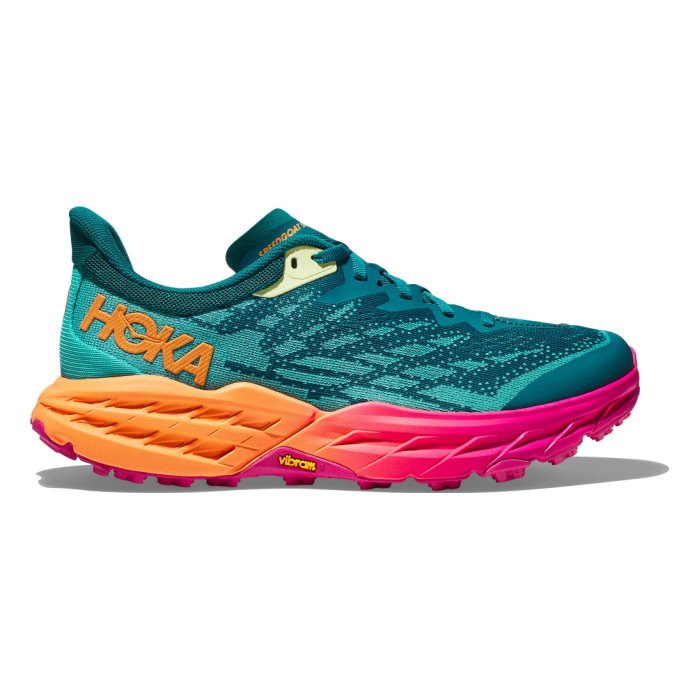 Women's HOKA Speedgoat 5
Best trail runners for hiking
Price: MSRP: $155
Weight: (PAIR): 1 lb. 4.7 oz.
Options: Waterproof
Sizing: True to size
Pros
Very cushy soles
Excellent traction
Supportive
Roomy toe box
Breathable
Lightweight
Flexible
No break-in needed
Cons
Taller stack height can feel a bit unstable
HOKAs are known for their exceptional comfort and support, and the Speedgoat 5 is the best example of this in their trail shoe lineup. The biggest standout feature of the Speedgoats is their ultra-cushy midsole, which is excellent at absorbing impact and doesn't flatten out as quickly as some other lightweight hiking shoes we've tested.
Thanks to the supportive design, the Speedgoats are a favorite among thru-hikers who need a shoe that's lightweight and can keep their feet and joints comfortable while logging lots of miles. The Speedgoats are also more durable than many other trail runners because they're constructed with less mesh.
If a cushioned feel and supportive build are your top priorities in a lightweight hiking shoe, you won't find anything better than the Speedgoats.
Women's Merrell Moab 3
Best budget hiking shoes
Price: MSRP: $120
Weight: (PAIR): 1 lb. 10 oz.
Options: Waterproof
Sizing: True to size; fits wide, wide sizes available
Pros
Affordable
Very little break-in needed
Durable
Breathable
Excellent traction
The Merrell Moab 3s have reigned supreme as the best budget hiking shoe for as long we can remember due to their comfort, durability, and performance. These are some of the more durable hiking shoes on our list, which makes their already friendly price point all the more appealing.
The Moabs may not be the best choice for big mile days since they're on the heavy and bulky side. But what they lack in grace they more than make up for in cushioning and support, so they're an exceptional choice for weekend warriors and day hikers.
The Moabs require less break-in than other traditional shoes which means you can spend more time doing what you love – enjoying your hike! So if you're after a burlier shoe that doesn't compromise on the performance features that really count – durability, traction, and comfort – we think you'll love the Moabs.
Women's Topo Athletic Ultraventure 3
Best balance of weight, support & breathability
Price: MSRP: $150
Weight: (PAIR): 1 lb. 4.6 oz.
Sizing: True to size; fits wide
Pros
Excellent value
Lightweight
Breathable
Flexible
Excellent traction
Roomy toe box
Cushy soles
No break-in needed
Cons
Taller stack height can feel a bit unstable
We love hiking and backpacking in the Topo Athletic Ultraventure 3s because they're lightweight, highly breathable, and they dry quickly after water crossings. They're similar in cushioning to the HOKA Speedgoats above, but they have a wider toe box that allows your feet to spread naturally.
The uppers are flexible, light, and airy, so they'll keep your feet feeling cool and free on long hiking days. But we've found that the taller stack height (a 5mm. increase over the Ultraventure 2s) can feel a bit unstable on tricky terrain. That said, if you mostly stick to groomed trails that don't include scrambles or rocky traverses, you'll likely find the Ultraventures plenty comfortable and secure for putting up big miles.
The Ultraventures kind of blend two of our favorite trail shoes – you get the cushy sole of the Speedgoat mixed with the wider toe box of the Lone Peaks. So we think the Ultraventures are a homerun for hikers looking for the best of both worlds.
Women's Salomon X Ultra 4 GTX
Best waterproof hiking shoes
Price: MSRP: $160
Weight: (PAIR): 1 lb. 9.9 oz.
Options: Waterproof
Sizing: True to size; wide sizes available
Pros
Very little break-in needed
Lightweight for how durable/supportive they are
Excellent traction
Breathable
Stable
Waterproof
Cons
Quicklace takes some getting used to
The Salomon X Ultra 4 GTX hiking shoes have a nearly unrivaled balance of durability and weight. They're built like a traditional shoe, but they fit more like trail runners. The X Ultras feel much more nimble than other shoes in their category, and they require practically no break-in period. We've also found that the traction is well above average on the X Ultras, so they're great for backpacking or day hikes on challenging terrain.
We've used every iteration of the X Ultras since the original came out, and the only thing we didn't love at first is the Quicklace. It's harder to replace than regular laces, and it can be tough to get the it tucked up into the "lace garage" on the tongue. That said, the Quicklace is a minor gripe on an otherwise outstanding shoe, and it's easy to use once you're used to it.
Needless to say, we're big fans of the X Ultras, and we highly recommend them for hikers wanting a shoe that fits like a trail runner but lasts as long as more traditional hiking footwear.
Women's Saucony Peregrine 13
Best budget trail runners for hiking
Price: MSRP: $140
Weight: (PAIR): 1 lb. 3.7 oz.
Options: Waterproof
Sizing: True to size
Pros
Excellent traction
Breathable
Lightweight
Affordable
Flexible
Rock plate (increased protection/durability in sole)
No break-in needed
We've hiked thousands of miles in Saucony Peregrines over the years, and they're some of our favorites due to their exceptional traction and low weight. Whether it's a trek through Nepal, the Sierras, or the Torres del Paine in Patagonia, the Peregrines bite into the terrain to provide stability and confidence.
The newest Peregrines are lighter than ever, even grippier than before, and have a refined fit. They also have an increased stack height with more underfoot cushioning for tough terrain. Plus the Peregrine 13s are made with a highly breathable knit upper that dries quickly, so they're ready for just about anything you throw at them.
A shoe this light won't hold up as well as more traditional hiking shoes in the long run, but you'll expend less energy with each step and experience less problems with sweaty feet (like blisters). The Saucony Peregrines are the shoes you'll catch us rocking for most of our high-mileage backpacking trips, and we can't recommend them highly enough for those who prefer trail runners.
Women's Altra Lone Peak 7
Best ultralight hiking shoes
Price: MSRP: $150
Weight: (PAIR): 1 lb. 4.5 oz.
Options: Waterproof
Sizing: True to size; fits wide, wide sizes available
Pros
Roomy toe box
Excellent traction
Lightweight
Flexible
Breathable
Rock plate (increased protection & durability in sole)
No break-in needed
Built-in gaiter attachment
Altra Lone Peaks have long been the flagship shoe of lightweight hikers due to their weight, grippy outsole, and roomy fit. The 7th iteration of the LPs got another big makeover – the upper has been redesigned, the outsole has been overhauled, and the modern colorways make these shoes stand out against the crowd.
Some hikers struggled with the durability of the previous model, but we're happy to report that the Lone Peak 7s feature more reinforced spots and will last far longer than the LP 6s. The signature Trail Claw lug pattern also got a makeover and is more sticky than before, resulting in less slips on wet rock and other tricky terrain.
Personally, we're loving the LP 7s and they've quickly become our favorite version of the Lone Peaks we've ever tested. For hikers seeking a wider fit that allows for natural movement, the Lone Peak 7s should be at the top of your list.
Women's Keen Targhee III WP
Excellent value hiking shoes for day hikers
Price: MSRP: $155
Weight: (PAIR): 1 lb. 11.8 oz.
Options: Non-waterproof
Sizing: True to size; fits wide
Pros
Excellent traction
Roomy toe box
Secure lacing system
Stable
Waterproof
Cons
Heavier than some
Stiff soles
Requires longer break-in period
The KEEN Targhee III WPs are a crowd favorite because they're a dependable shoe that's made to last. These leather hiking shoes will require a longer break-in time than many of the lightweight models on our list, but the high-quality material will hold up for hundreds of miles on the trail.
One of our favorite features of the Targhees is the elastic band that connects the laces to the heel cup. This helps provide a secure, locked-in feeling and makes it easier to dial in the perfect fit. The Targhees are also known for their wide toe box, so they're an excellent choice for hikers needing a little extra wiggle room in their shoes.
Because they're on the bulkier side and not as breathable or fast-drying as some shoes, we recommend the Targhees for shorter hikes and those who want something long lasting and comfy for daily wear.
Women's Salomon XA Pro 3D V9 GTX
Grippy hiking shoes that work well in wet climates
Price: MSRP: $160
Weight: (PAIR): 1 lb. 7.9 oz.
Options: Non-waterproof
Sizing: True to size; fits a bit narrow
Pros
Supportive
Excellent traction
Durable
Rock plate (increased protection & durability in sole)
Stable
Waterproof
Cons
Quicklace takes some getting used to
Some break-in required
The Salomon XA Pro 3D V8 GTX excel on trails with tricky terrain thanks to their stable, supportive build and excellent traction. Because they're lighter than many traditional hiking shoes but burlier than the trail runners on our list, the XA Pros are an ideal balance of durability and all-day comfort.
These shoes are a top pick for day hikers wanting a good value option that will last for multiple seasons. And their aggressive Contagrip traction and GoreTex membrane make the XA Pros some of the best hiking shoes on our list for particularly wet, rugged climates.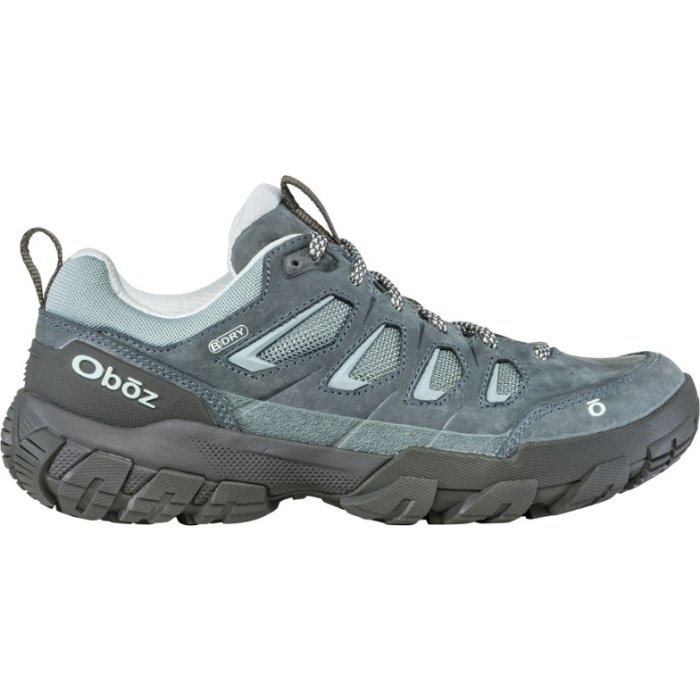 Women's Oboz Sawtooth X WP
Most durable & supportive hiking shoes
Price: MSRP: $160
Weight: (PAIR): 2 lbs. 1.1 oz.
Options: Non-waterproof
Sizing: True to size; wide toe box (though not as wide as other Oboz we've tried), wide sizes available
Pros
Excellent traction
Durable
Stable
Supportive
Wide toe box
Very little break-in needed
Waterproof
Cons
Wide fit isn't for everyone
Heavier than some
Thanks to Oboz's signature premium insoles, the Oboz Sawtooth X WP are some of the most supportive shoes we've tested. The molded arch and heel cup, cushy midsoles, and exceptional traction make this shoe a great choice for challenging terrain – especially for backpackers who tend to carry a heavier pack around 40 lbs. or more.
The Sawtooths have been a star in Oboz's lineup of trail shoes for years, and this tenth anniversary edition stays true to the heart of the original while improving upon some key performance features. The reimagined midsole is more durable and supportive and the outsole has stickier rubber with a new lug pattern for better traction on variable terrain.
The traditional-style Sawtooths start out a little more stiff than some others, so we recommend breaking them in before taking them on any big trips. But after you get past this initial period, you'll have a comfy shoe that can withstand multiple years of hiking.
Women's Merrell MQM 3
Lightweight hiking shoe/approach shoe hybrid
Price: MSRP: $120
Weight: (PAIR): 1 lb. 6.5 oz.
Options: Waterproof
Sizing: True to size
Pros
Affordable
Lightweight
Cushy soles
Breathable
No break-in required
Cons
Traction isn't as solid as others
More stiff than others in its weight class
The Merrell MQM 3 is a pretty unique shoe that blends the freedom of a lightweight hiking shoe with the scrambling prowess of an approach shoe. They have a slim heel and midfoot that opens up to a wider toe box for a secure, yet unrestricted fit that allows your toes to move naturally.
The outsoles on the Flex don't have much variety in the lug pattern, so we've found that the MQMs can struggle a bit on trails with mixed terrain. But the sticky climbing zone at the front and the soft rubber of the Vibram lugs along the rest of the foot work well for granite inclines and rocky traverses. The cushy soles also provide plenty of comfort for long days with a pack on, so the MQMs are good choice for backpackers tackling mountainous trails.
While the hybrid design of the MQM 3 doesn't excel as a hiking shoe or an approach shoe in our view, we think its affordable price and solid performance in both categories make it a good option for hikers who spend most of their time on granite-laden trails.
Honorable Mentions
The following hiking shoes didn't make our final list, but they're very popular and they've still got a lot of good things going for them. You never know, one of these shoes might be your perfect fit:
Merrell Siren Edge 3 WP: The lightweight and affordable Merrell Siren Edge 3 hiking shoes have a varied lug pattern for good traction on many different types of terrain. But we find the support to be a little overbuilt making this shoe a bit less table than we'd prefer.
Vasque Breeze LT NTX: are lightweight and breathable, but durable enough to cover big miles. They're an excellent shoe, but we have several more affordable options with similar performance on the main list.
La Sportiva TX4: La Sportiva's TX4s are approach shoes, so they excel on trails with a lot of scrambling. But they're not as versatile as many of the other shoes on our main list.
Arc'terx Aerios FL GTX: The quality construction and impeccable styling of the Arcteryx Aerios really stand out, but we don't find their on-trail performance to be on par with the shoes on our main list.
Critical Footwear Considerations
BOOTS VS. SHOES VS. TRAIL RUNNERS
Hiking footwear is a really personal choice, and people often have differing opinions on what type of shoe works best for hiking. We tend to prefer lightweight trail runners since they're more comfortable to hike long distances in and they're typically more breathable. Traditional hiking shoes – especially those made with leather – are going to be more durable, but they're typically significantly heavier/bulkier. Here's an article that will help you decide which style works best for you.
SIZING
Feet can swell during long days on trail, so it's a good idea to buy hiking footwear at least a half size larger than your normal shoes if you're on the edge of a size. A good way to test sizing on your hiking shoes is to loosen all the laces, situate your foot so that your toes touch the front of the toe box, and then make sure you can put your index finger between your heel and the back of the shoe. This will ensure that your toes don't slide forward and hit the toe box on downhill sections of trail. You should also consider which socks you'll be wearing and if you'll be adding aftermarket insoles when choosing a size. It's much better for footwear to be a little big than too small.
BREAK-IN PERIOD – You're going to take thousands of steps on any backpacking or hiking trip, so you need to know that your footwear will fit comfortably and won't cause blisters. We recommend buying your footwear at least a few weeks before any long hiking trips and spending as much time in them as you can. This will allow your new shoes to soften up, and you can make sure they work well for your feet. If you notice any issues, it's much easier to address them before you head into the backcountry.
TRACTION
Traction is one of the most important aspects of backpacking and hiking footwear. Your shoes will take you over narrow and rocky ridgelines, through slippery water crossings, and across loose scree fields. Knowing that your footwear will keep you from slipping is crucial, especially over washed out or exposed sections of trail. We heavily factored quality traction into all of our footwear recommendations.
MANAGING MOISTURE & BLISTERS
If you're on an extended trip in wet conditions or you find yourself caught in a downpour during a day hike, your feet will likely get wet no matter what type of footwear you're wearing. Wet feet can lead to hot spots and blisters, but this can be prevented if you have a healthy foot care routine. Whether you hike in waterproof hiking shoes or non-waterproof trail runners, be sure to check out our post onHow to Prevent and Treat Blisters for more info on moisture and blister management.
WATERPROOFING TREATMENTS
Waterproof footwear is ideal for soggy day hikes, but it's important to remember that "waterproof" doesn't mean that water can never get in. Water always finds a way in during a prolonged downpour, and light rain can drip down your legs and into your shoes. Keep in mind that waterproof treatments are not permanent, you'll eventually need to reapply a treatment to keep your shoes sealed.
SOCKS – We've found that wearing quality socks makes a big difference in how long we can keep our feet happy and in good shape on trail. Hiking socks should be comfortable, durable, and made with materials that wick moisture away from your skin. Check out our Best Hiking Socks list to see our top picks.
INSOLES
Aftermarket insoles can help alleviate a variety of shoe discomforts on the trail. If you suffer from plantar fasciitis or you just need more cushioning and support in an otherwise rigid shoe, swapping insoles may be your solution. Insoles can also help take up a little extra space in footwear for a customized fit if you're between sizes.
More Information
We hope this guide helps you find the perfect gear for your needs. If you have more questions or a suggestion, we'd love to hear from you! Sign up for our newsletter to stay updated on our latest posts then visit our Facebook page and Instagram to join the community conversation.
If you found this guide helpful, please share on social media and click the little heart button below to give us a digital high five! Also, be sure to check out our CleverHiker Gear Guide to see all of our top gear picks.
Thanks for reading and happy trails!