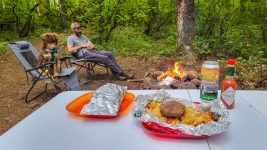 Best Foil Packet Meals & Recipes | Campfire Meals in Foil
How to Cook a Foil Packet Meal
Over a Campfire
Get your campfire going about an hour before you want to start cooking your dinner. That way, you'll have time to create a bed of hot embers to cook over. You'll need plenty of dry wood to build a hot fire with a solid structure. After your fire's been burning strong for at least 40 minutes, use a fire poker or sturdy stick to drag hot coals near the side of your fire, creating a hot bed of embers.
Place the foil packets directly over the coals, away from direct flames. Alternatively, you can use a campfire cooking grate that hovers a few inches above the embers. 
Cook for a total of 25-40 minutes, turning midway using bbq tongs or a fire glove. There are a ton of variables when cooking over a campfire, but your meal should take about 12-20 minutes per side (25-40 min. total). If it's taking a lot longer than that, your coals aren't hot enough.
On the Grill
Preheat your grill to medium (about 600°F). Place foil packets on the grill and cook for 10 minutes. Then, reduce the heat to low (about 400°F) and continue cooking for 40 minutes to an hour until meat is done and veggies are tender, turning occasionally with bbq tongs.
In the Oven
Preheat the oven to 375°F. Spray foil with nonstick spray, place veggies and potatoes on the foil and top with meat. Seal the foil well and place them on a large baking sheet. Bake for about 45 minutes.