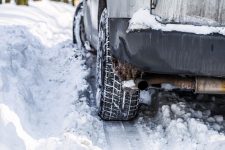 A Guide On How To Install A Pro Muffler In Your Jeep
It's no surprise that Jeeps can sometimes take a beating when they're taken on rough terrain. Everyone dreads the sound they hear when they know their muffler has taken some severe damage. One moment you're thoroughly enjoying the trails you're offroading on, and the next moment your mind has shifted to despair because you're realizing that you'll have to replace your muffler. The factory exhaust that Jeeps have isn't really the best for offroading, and that's why you should consider upgrading to a Pro muffler.
Pypes Mufflers
Pypes mufflers (specifically the Pypes Performance Exhaust with Street Pro Muffler) are a very good upgrade you can do to your Jeep because of the increased clearance you'll have. This means you won't have to worry about damage when you're out on some serious terrain. The avoidance of further damage isn't the only benefit of getting the upgrade. You'll also have increased performance in your vehicle.
When you start installing aftermarket parts to your Jeep, it can start adding a considerable amount of weight to it. Aftermarket bumpers, tire carriers, winches, and sidebars really add a lot of extra weight, and this begins to weigh down on the factory exhaust that your vehicle comes installed with. Upgrading to something like the Pypes Performance High Ground Clearance exhaust will not only add horsepower to your Jeep, but it'll even give you better fuel economy. Your Jeep won't all of a sudden turn into a racehorse of a vehicle, but you'll definitely notice the extra kick it has after the upgrade is complete.
The Pypes Performance High Ground Clearance line makes things a little more basic and just uses a solo high-flow muffler instead of the factory resonator that your vehicle comes with. The exhaust pipe will be situated much higher up so that it won't get damaged by obstacles when you're out offroading. Because it's manufactured with 304 stainless steel, you won't have to worry about future corrosion. This type of steel is known to be much stronger than even factory steel.
Replacing the factory exhaust on your Jeep isn't an overly complicated project, and you'll save quite a bit of money if you do it yourself. The Pypes High Clearance system is a very well-reviewed upgrade that will have that smile back on your face whenever it comes time for you to get back onto the trails.
A 2013 Rubicon JKU owner said that they installed the Pypes system in their vehicle and they instantly noticed that it ran much quieter and at reduced RPMs than before.
It's a little easier if you have a full mechanic shop to do the upgrade, but this guide will use the absolute minimum amount of tools to show how simple the project is. If you have any of the following tools, then you might be able to shave off some time:
Cut-off tool
Reciprocating saw
Angle grinder
Air chisel
You should be able to get this project done within about two hours.
What Tools Are Required?
9/16" wrench
5/8" deep socket
15mm deep socket
Impact wrench (an air ratchet also works)
A long pry bar (if you don't have a pry bar, you can also use a flathead screwdriver)
WD-40 or another type of penetrating oil
Exhaust sealant (this isn't mandatory, but it's highly recommended)
Tailpipe sealant (this is also not mandatory, but highly recommended)
Just like the first step of many vehicle upgrades, you'll want to give the clamps, pipe junctions, and exhaust hangers a good spray with your penetrating oil. You'll be thanking yourself for doing that later on.
Give the penetrating oil some time to work its magic. While you're waiting, start taking the Pypes product out of the package.
There are only two clamps and four isolators securing the factory system to the Jeep. Your specific model might have the clamps welded right against the pipes with the nut being on the upper side, making it a little tricky to reach.
You'll want to use your 9/16″ wrench to loosen up the nut. It doesn't need to be taken completely off.
There are tiny holes located above the muffler hangers that you can use your prybar on in order to pry off the isolator blocks that are on the body side hanger rods. Depending on how long you've had your Jeep, there's a chance that they will be full of rust. Give them a good spray with your penetrating oil before trying to take them off. You might notice that the ones on the body side of the vehicle are less rusty, so it's suggested to work on those ones first.
You can now move on to the exhaust hangers. You might get tempted to just cut them off, but ensure that you don't because you'll be reusing them. Once each of the hangers is dislodged, you'll get your 5/8″ deep socket to take the nut off the rear clamp. If you get lucky, you'll be able to get the muffler out by just turning it a couple of times. It might take you a couple of minutes before you're able to get it free.
Loosening the clamp on the front side will also loosen the other connection, and that'll assist you in breaking the muffler free.
The system starts at the downpipe and spans towards the back axle. In order for the pipes to break free, loosen up the evap canister and the factory skid along with it. If you're driving a 2-door Jeep JK, the bigger Pro muffler states that it has to be located in a different area. Some people do this either way because replacement costs quite a bit of money.
You can also just cut the factory system if you're wanting to save yourself some work.
There are four clamps in the Pypes system. There are also two exhaust hangers and another optional hanger bracket that you can install in the front by the transfer case if it doesn't cause any issues with the clearance.
Some people might not even bother using the clamps provided, but your vehicle might be a little different. If your factory mount is busted, then you should just use the ones that come with the system.
The Pypes Pro exhaust is very light in comparison to the factory one, so the additional amount isn't mandatory. You can add it later on in the process if you'd like.
There are two straight pipes that come with the Pypes system.
The muffler
An over the axle tailpipe
The straight pipe will be installed right in front of the muffler, and the other one will be installed behind it. You'll notice in the muffler. The will be placed facing the rear of the Jeep, while the other one will be facing to the center.
If you want to do a test before clamping things in place, you can just put it all together to check and see how the clearance is. If things look good, then you can continue with assembling it. Ensure to use a tiny bit of muffler/tailpipe sealant at every connecting point so that nothing will end up leaking after. Don't forget to put the clamps back over the pipes located at all of the junctions.
You usually won't have an issue with things getting too close to the body of the vehicle, but if you want an increased amount of ground clearance, try situating all of the clamps and nuts in a downward fashion. The only clamp that needs to be facing the driver's side is the clamp at the front.
Once you've finished the project, you'll love the new, low sound of it. It's not loud enough to bug your neighbors, but if you're the type that likes making a statement when you're driving around, consider the Pypes M80 muffler. This muffler is known to be much more aggressive sounding. This all boils down to personal preference. Pypes mufflers are known to be very solid and reliable.
ting a muffler place to see what options they have for your Jeep, consider asking about the Pypes mufflers. They have a lot of kits available that will be sure to have you itching to drive your Jeep at every chance you can possibly get.