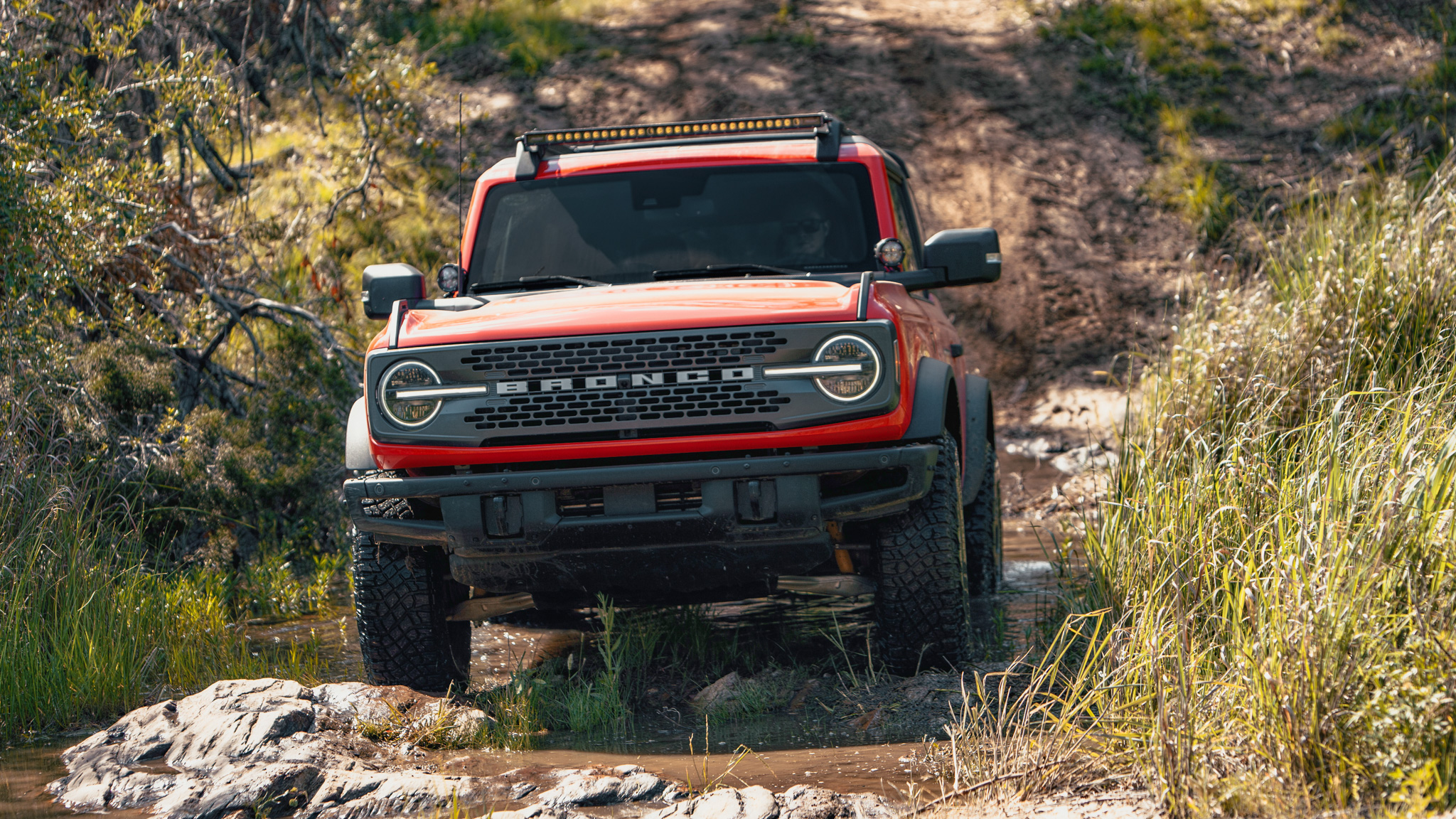 2021 Ford Bronco Independently Locking Front Differential Explained
Ford's much anticipated 2021 Bronco has finally begun production in earnest and is beginning to trickle out to dealer lots and reservation holders' driveways. Getting more people behind the wheel of the Bronco has brought up more questions about the feature sets that come with the Blue Oval's new off-roader. One of the features is the ability to independently operate the front electronic locking differential.
The list of vehicles with electronic locking front differentials from the factory is rather low, as it tends to be a feature that only the hardest of hard-core off-roaders need to have. Jeep's Wrangler and Gladiator offer an electronic locking front differential, as does the Ram 2500 Power Wagon and Chevrolet Colorado ZR2. And now, Ford's 2021 Bronco enters the mix.
The 2021 Ford Bronco has the option of adding a front electronic locking differential to all models, and it is standard on the more desert-oriented Wildtrak trim. To get the electronic locking front differential, Bronco buyers will need to add the $4,995 Sasquatch package (which is an option on all trim, including Base). The Sasquatch package also adds 4.70:1 axle gearing, 35-inch tires, beadlock-capable wheels, and high-clearance fenders, among other things.
Where the 2021 Ford Bronco differs from the other vehicles that offer a front locking differential, is that the Bronco does not need to have the rear differential lock engaged to utilize the front differential lock. In the Jeep, Ram, and Chevy examples, drivers need to engage the rear differential lock before engaging the front, and if the rear is disengaged the vehicle will automatically disengage the front, as well. Manufacturers do this as a sort of failsafe to protect the drivetrain and steering by assuming that if the rear differential lock is not needed, neither is the front.
In the case of the 2021 Ford Bronco, the reason Ford allows the front differential to be engaged independently of the rear is as simple as it is ingenious. And it all has to do with another feature unique to Bronco: Ford's new Trail Turn Assist. Trail Turn Assist utilizes the vehicle's brake system to hold the rear inside wheel, allowing the Bronco to turn sharply around trail obstacles. The theory is that Trail Turn Assist will be used on difficult trails when the driver is also utilizing the locking differentials. Trouble is, Trail Turn Assist only works when the rear axle is unlocked. So, to enable the Bronco to continue clawing its way through difficult trails, Ford has allowed the front locking differential to remain engaged when the rear is off to facilitate Trail Turn Assist.
Savvy off-roaders will see that there are more potential uses for leaving the front locked with the rear open while on the trail. However, we'd probably advise against attempting powerful font-dig maneuvers with Bronco's IFS suspension. But we can't stop you