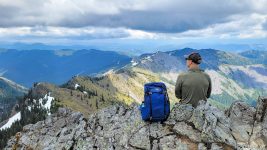 20 Great Deals at REI's 4th of July Sale 2022
The snow is melting and the parks are opening – it's time to get outside! We're just as stoked as you are for summer hiking and backpacking season, and REI has you covered with some great deals on gear to get you on the trail.
REI's 4th of July sale runs from June 24 – July 4th. We scoured the deals and narrowed this list down to the gear we're most excited about.
---
Not a Member yet?
Some deals are only for REI members! If you're not a member, don't fret! You can pick up a lifetime membership for $30, and immediately get access to these rad benefits:
Knowledgeable & friendly staff – We always have an awesome experience with the sales and customer service staff. They're friendly and helpful, and they really know their stuff!

Save money – There are so many benefits to membership, but some of our favorites are access to 20% off coupons a few times a year, 10% dividend back on full-price purchases, access to the used gear Garage Sale, and discounts on REI Adventures and in-store classes.

REI brand products are a great value – We generally find that REI brand products strike a great balance between quality and cost. The Magma line of sleeping bags and the Half Dome line of tents are some of our favorite products from their wide range of offerings.

Excellent return policy – Customer service reigns supreme here. REI gives you 365 days to return or exchange items and we love the ability to buy online and return in store.

REI is getting into the ultralight game – We're pretty stoked to see REI jumping into the ultralight arena. They're now stocking their shelves with UL retailers, such as Hyperlite Mountain Gear, as well as upgrading many of their REI brand product lines to focus on fast and light gear.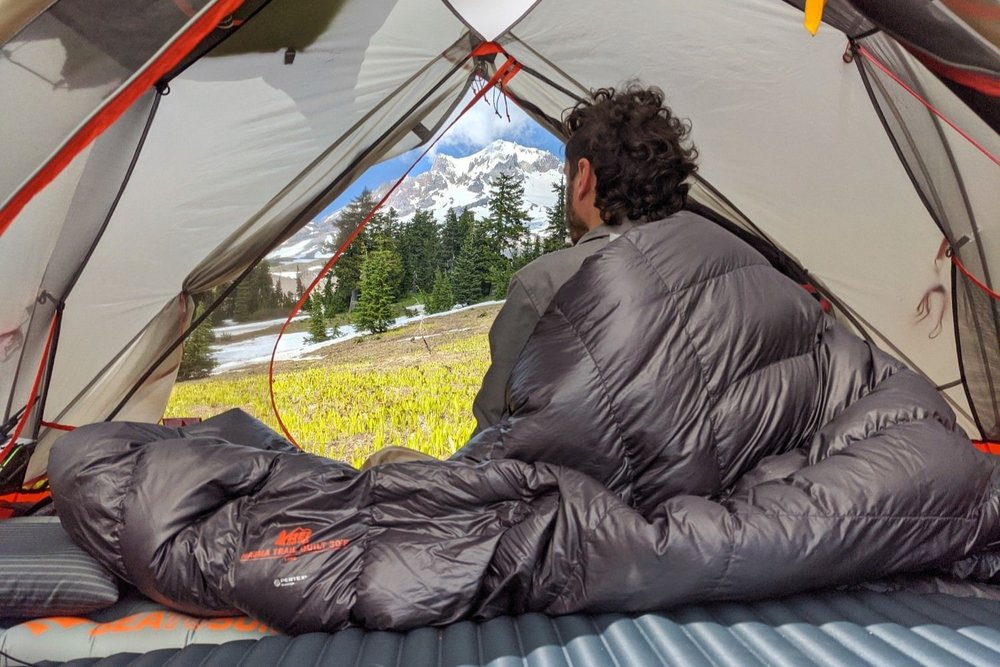 We're huge fans of the entire Magma line from REI – and we think this member's only deal on the 30°F Magma Trail Quilt shouldn't be passed up. The combination of weight, warmth, and cost makes the Magma one of our favorite quilts of all time, and it ranks highly on our Best Sleeping Bags and Best Backpacking Quilts lists.
---
If you're looking for good value hiking footwear that doesn't compromise on quality, the Merrell Moab 2 Mid WP (men's / women's) and Low WP (men's / women's) are excellent choices. The Moab line has been a favorite among hikers for many years due to their comfort, durability, and friendly price. Despite their tough build, the Moabs require very little break-in, and the mesh spots provide good breathability. The Moabs rank highly on our Best Hiking Boots for Men and Women and Best Hiking Shoes for Men and Women lists.
---
We're big fans of MSR stoves, and the PocketRocket 2 has been a top pick on our Best Backpacking Stoves list for years. This stove is lightweight, compact, durable, and it has great simmer control. The upgraded MSR Pocket Rocket Deluxe has some extra features, like a push button ignitor and better performance in bad weather. Both are truly excellent backcountry stoves that come in handy kit versions as well: Pocket Rocket 2 Stove Kit & Pocket Rocket Deluxe Stove Kit.
---
The REI Siesta Hooded 25 (also available as a double) is one of our favorite sleeping bags for frontcountry camping because it has a hood for extra warmth on chilly nights and for holding a full-size bed pillow securely in place. Pair your Siesta with the luxurious REI Camp Dreamer or the value-priced Kingdom Mattress and you'll forget you're not in your actual bed back home. Learn more about these sleeping bags and mattresses on our Best Camping Sleeping Bags and Best Camping Mattresses guides.
---
The Camp X Chair is a simple, affordable option that's great for sitting around a campfire, at the beach, or just about anywhere. It ranks highly on our Best Camping Chairs list. To complete the setup, pick up the REI Co-op Camp Prep Table. We named it best overall on our Best Camping Tables list because it's sturdy, stable, and has a slatted aluminum tabletop that's heat resistant and easy to clean.
---
We've often wished for a lighter, more compact option from Jetboil that includes their efficient heating tech, and the Stash stove is exactly what we've been hoping for. Weighing in at only 2.4 oz. for the stove and 3.9 oz. for the pot and lid, the entire set is very lightweight. The .8 L pot is an excellent size for cooking a meal for one or boiling water to rehydrate meals for two.
---
The Camp Chef Everest Stove is a must have for all you creative camp cooks who love whipping up gourmet camp meals. This thing is seriously powerful – each burner has a heat output of up to 20,000 BTU. By comparison, household stoves have an average output of 7,000 BTU. Needless to say, that's a lot of fire power! The Everest also features a convenient igniter button and built in wind blockers to maintain efficiency. The Everest stove is our top pick on our Best Camping Stoves list.
---
The portable and convenient Eureka Ignite 2-Burner Stove is perfect for cooking some gourmet meals around the campfire. Its push button ignitor makes it easy to use, and the simmer control function allows for precise cooking. If you'll be cooking for a larger group, you may want to upgrade to the Ignite Plus for the wider burners. Check out the Ignite Plus on our Best Camping Stoves list.
---
The Marmot Limestone 4P is a solid storm-ready shelter made with quality materials and extra-thick aluminum poles that are color-coded for fast and easy pitching. It has large doors on either side and a mesh ceiling for great views and ventilation when the rainfly is off. The Limestone 6P is 15 inches taller for those who want more room to stand up. Check out the Marmot Limestone on our Best Camping Tents list.
---
If you're looking for great simmer control in a sleek, durable, and lightweight package, you'll love the GSI Outdoors Selkirk 540. The powder-coated steel shell is tough and built to last, but this baby is almost two pounds lighter than similar stoves so it's much easier to maneuver. And for all you gourmets out there, the Sekirk's cooking surface is big enough to use two pots and pans at once for creating culinary masterpieces. Learn more about the Selkirk on our Best Camping Stoves list.
---
Prana clothing is known for having a great balance of style and longevity, and the Stretch Zion II shorts certainly live up to that reputation. The fabric is stretchy, easy to move in, and thick yet breathable for durability and comfort. And those going for utility will like that the Zions offer a ton of secure storage without feeling or looking frumpy like some other cargo shorts. We listed the Stretch Zions as the best value on our Best Hiking Shorts guide.
---
Solo Stove's innovative gasifier stoves are efficient and just plain fun to use. The Bonfire is the life of the party and a warm, glowing centerpiece to gather around whether we're out camping or relaxing in our own backyard. We especially love being able to enjoy a fire without smoke irritating our eyes, lungs, or our neighbors. The Lite and Campfire camp stoves work well for heating water and cooking on camping and backpacking trips. Learn more about the Solo Stove Lite and Campfire on our Best Backpacking Stoves and Best Camping Stoves lists.
---
The Gregory 3D Hydro is lightweight, durable, and it has a ton of handy features. What really sets it apart is that it's soft-molded with a water bottle-like material. That means it holds its shape and stays open to dry completely between uses – greatly reducing the chances of grime accumulation. It even has a hook to hang it upside down when you're done. The easy care and durability are why the 3D Hydro has the top spot on our Best Hydration Bladders list.
---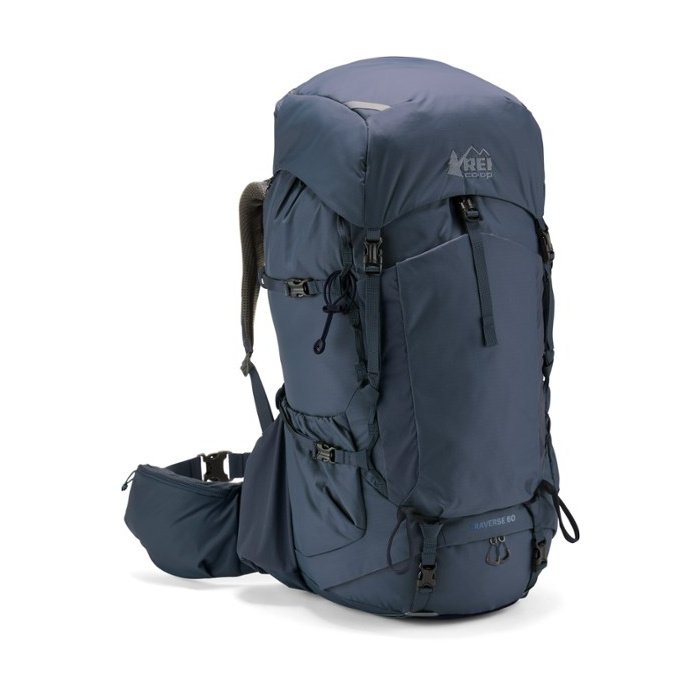 All sizes of the REI Traverse packs are on sale, but our 60L model (men's / women's) are our favorites. These large-capacity packs are more affordable than other packs in this class, and we like the pocket organization. The Traverse isn't our first choice, but it did earn a mention on our Best Backpacking Backpacks list because it's a great value.
---
The REI Groundbreaker 2 is a basic, affordable camping tent, and it's an absolute steal at its sale price). It's a little tight for two, but it's spacious for one person and their gear. It's not the most protective tent if you have to wait out a storm. But if you're looking for a simple and inexpensive tent for occasional use, the Groundbreaker is a great option. See how it compares to other tents on our Best Camping Tents list.
---
The time has come to take your hydration to the next level with a bottle that really shows your personal style! Klean Kanteen Water Bottles are offered in about a million shapes, sizes, colors, and lid options, so there's a combo out there for everyone! Our go-to is the TKWide 32 oz. paired with the Cafe Cap. To see our favorite Klean Kanteen in action and learn more, check out our Best Water Bottles list.
---
REI has a large line of coolers that range from flat-packs to backpacks. We own the Pack-Away Cooler in multiple sizes and we love them because they take up virtually no space when not in use and they have a convertible design that turns them into a lunchbox. The Pack-Away is featured on our Best Coolers list. The Cool Trail Split Pack is a unique backpack-style cooler that's perfect for carrying everything you need for a day at the beach. The top compartment holds all the essentials, like towels and a change of clothes, and the bottom compartment can pack up to 12 cans plus ice.
---
If you're the camp cook, you know how essential it is to have some counter space to work with. That's one of the reasons we like the Mountain Summit Gear Deluxe Roll Top Kitchen. In addition to having a large surface for your two-burner stove, it also has a prep area for a cutting board and a side table to hold utensils and a drink while you cook. The shelves help keep your kitchen organized and the detachable hanging storage compartment keeps your stuff out of sight from the critters. The Roll Top Kitchen ranks highly on our Best Camping Tables list.
---
If you've been saving your lunch money for a personal locator beacon of your own, now's a great time to buy. The Garmin InReach Mini is a small and lightweight two-way communicator, GPS device, and emergency locator beacon all in one. We like carrying one for peace of mind and as a backup navigation device on extended trips in the backcountry.
---
If you have a small vehicle, large family, or just generally travel gear-heavy, a roof box can be one of the best investments you'll make. But investment is the right word – they aren't cheap. This is why it's a good time to snag one at a discount. We love the Yakima SkyBox 18 Carbonite Cargo Roof Box, which is spacious yet aerodynamic, easy-to-mount, and overall very convenient.
---
REI Outlet Coupon
The season of new gear releases is upon us which means last year's colors and designs are going on clearance. If you don't mind being a little behind on the latest fashion trends and gear updates, this is the perfect time to grab some big ticket items (like footwear and tents) at a deep discount.
To sweeten the deal, REI Members can get $10 off a $50 purchase at REI Outlet using code OUT4JULY22 from June 30 – July 4th. Below you'll find past season models of some of our favorite gear to use your coupon on.
More Information
We hope this guide helps you find some great outdoor gear that you'll love for years to come! If you found this guide helpful, please feel free to share it with friends and click the little heart button below to give us a digital high five.
For more popular CleverHiker content, check out the following links:
---
---
Some of the links on this page are affiliate links, which means we may receive a modest commission if purchases are made through those links. This adds no cost to our readers and helps us keep our site up and running. Our reputation is our most important asset, which is why we only provide completely honest and unbiased recommendations.