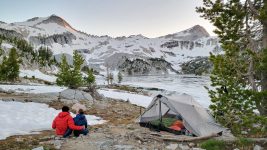 18 Hot Deals at REI's Holiday Warm Up Sale — CleverHiker
The winter fun has just begun, and REI has you covered with some great deals on cold weather gear. The Holiday Warm Up Sale is on from December 9-19th. It includes big discounts on some of our favorite winter clothing as well as some awesome gift items for the outdoorsy folks in your life.
Many of the bargains in this sale are for members only, so it's the perfect time to sign up if you haven't already joined. Members can also use coupon code OUTDEC22 for $20 off a $100 REI Outlet purchase. We'll outline some of our favorite things about REI membership below, and then we'll show all the can't-miss deals in the sale.
This is a sponsored post, but as always, our opinions and reviews are completely independent and unbiased.