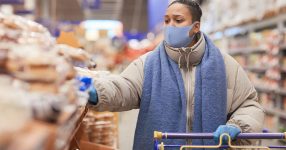 Food lines back at US Food Banks as Economy starts to collapse & Inflation hits record highs!
With gas and grocery prices soaring, and more Americans deciding to leave the workplace and become de facto wards of the state, food banks are again seeing a surge of people flooding their doorways.
According to a report from the Associated Press, food banks are again struggling to meet the latest demand as people feel inflations crushing effects on their budgets. In addition, the Labor Department announced Wednesday that the consumer price index (CPI) surged to a new 40-year high of 9.1% in June, exceeding predictions of 8.8%. The CPI is a broad measure of the price for everyday goods like gasoline, groceries, and rent.
Inflation is a TAX on all Americans.
Gasoline is UP 59.9%
Electricity is UP 13.7%
Food at home is UP 12.2%
New Cars are UP 11.4%
Transportation is UP 8.8%
Food away from home is UP 7.7%
Used Cars are UP 7.1%
Shelter is UP 5.6%
Apparel is UP 5.2%
Major food-at-home categories, and % change from last year:
Cereals and cereal products: +15.1%
Beef and veal: +4.1%
Pork: +9.0%
Poultry: +17.3%
Fish and seafood: +11.0%
Eggs: +33.1%
Dairy and related products: +13.5%
Fresh fruits: +7.3%
Fresh vegetables: +6.5%
Juices and nonalcoholic drinks: +11.6%
Coffee: 15.8%
Fats and oils: 19.5%
Baby food: 14.0%
In Los Angeles, California's Alameda County Community Food Bank says food distribution has now exceeded the records they set during the so-called pandemic. The Los Angeles bank gave away around 30 million pounds of food during the first three months of this year, far more than the 22 million pounds passed out during the first quarter of 2020.
"There is a critical need for the public sector to purchase more food now," said Katie Fitzgerald, president and chief operating officer for the national food bank network, said. The group shows that more than 53 million people received help from food banks and food pantries in 2021 – or one-third more than before the pandemic.
A Feeding America food bank survey earlier this year showed that 80% of food banks were reporting either an increase or steady demand for emergency food services. 
Economic Collapse Watch: Americans Resorting To Microloans to Buy Gas and Groceries!
As we reported earlier in the week, things are getting so bad that lenders are now starting programs to give out microloans to people who need help buying groceries and gas!
E.J. Antoni, a research fellow for regional economics in the Center for Data Analysis at The Heritage Foundation, told the Daily Caller News, "The average worker has lost the equivalent of almost $3,400 in annual income since Biden took office."
Real average hourly earnings decreased 3.6% from June 2021 to June 2022, according to recent Bureau of Labor Statistics (BLS) numbers. The change in real average hourly earnings combined with a decrease of 0.9% in the average workweek resulted in a 4.4% decrease in real average weekly earnings over this period.

"This is catastrophic, $3,400 is some people's food budgets for a year," Antoni continued.
Are food riots around the corner?
As we pointed out in our article earlier this week, throughout the world we are starting to see uprisings and people rioting over food.
While the mainstream media refuses to cover the chaos, food freedom movements, shortage riots, and protests against destructive climate policies are becoming a global movement. For example, the freedom farmer protests in the Netherlands have now spread to Germany, Poland, and Italy, and protests and even uprisings against governments have spread to other areas of the world.
NORTH MACEDONIA – Unrest is spreading through the Balkens now, people are barely surviving the increases in food and fuel price increases.

We are being kept in the dark by our media & under new protest laws by our government incase we get any ideas 🔥pic.twitter.com/IcX59lVz8T

— Bernie's Tweets (@BernieSpofforth) July 7, 2022
ROME—Second day of protests, as more Italians join taxi drivers clambering against political leaders.

Whether against @Uber, or gas and food prices, or corruption—it seems Italians are losing their patience.

— Bree A Dail (@breeadail) July 14, 2022
The Netherlands 🇳🇱

The food supply shortage in supermarkets. The Netherlands is the second-largest exporter of agriculture in the world. The farmer's protest and blockade has huge repercussions for the global food supply chain.

No farmers, no food.pic.twitter.com/aB9HSGrpO6

— James Melville (@JamesMelville) July 9, 2022
🇰🇪 Kenya | Protests

"No food, No elections" pic.twitter.com/Ve5R3qJDBX

— Sphithiphithi Evaluator (@_AfricanSoil) July 9, 2022
Calidonia Panama .. citizens continue to demonstrate against rising prices for food, fuel, gas, electricity, high inflation, political corruption, low wages.#Panama #Calidonia #Protest #demonstrate pic.twitter.com/Oa1x1DKvIP

— WeAreProtestors (@WeAreProtestors) July 14, 2022
Be Prepared to Feed Yourself when the Collapse Hits!
Grocery Options that ship right to your Home: 
Be Prepared to Defend Yourself
Learn to Be Self-sufficient NOW!
To truly be prepared, you need to learn how to be 100% self-sufficient.