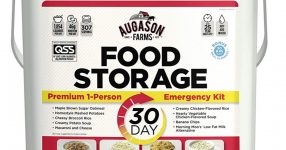 Emergency Food Company Augason Farms Shuts Down for 90 Days: Can't Fill Food Orders
Emergency food supplier Augason Farms has ceased operations for 90 days, citing, "global raw-material shortages" and "substantial delays" in procurement and production.
On their website, they posted the following message, "Due to an extremely high order volume through all sales channels we are currently not able to receive any orders through our website. All orders previously placed will still be shipped."
But according to a message sent to customers, President Mark Augason said "the lasting effects of COVID-19 has translated into global raw-material shortages and caused substantial delays" in the procurement and production process. The letter went on to confirm that they were suspending business for the next 90 days.
Is the next manufactured crisis going to be an energy crisis?
There is a bigger bottleneck at the Chinese ports…
China and India are now facing an eminent power crisis as fuel and coal does not arrive..

Food prices are rising globally..

Entire global supply chain has been thrown into chaos..

This is a direct byproduct of Lockdowns.. pic.twitter.com/6TqPQGMCPH

— Zaid Hamid (@ZaidZamanHamid) October 9, 2021
Lebanon was plunged into a total blackout Saturday after two main power stations went offline because they ran out of fuel, the state electricity corporation saidhttps://t.co/GROGYx3OzR

— AFP News Agency (@AFP) October 9, 2021
The Supply Chain is Broken and it's not coming back anytime soon!
From lazy democrats who refuse to go back to work, to global policies that seem to be purposely targeting our global supply chain, there is no doubt even more trouble is coming. In a matter of two years, the globalists have managed to completely collapse our global supply chain to the point where the new normal will be massive shortages and increases in the price of everyday goods.
For the foreseeable future, this problem isn't going to get better, in fact, it's likely to get much, much worse. As we told you for over a decade before the manufactured COVID crisis, you better get what you need NOW because between the all-out attack on our way of living, inflation, and the shrinking dollar you need to make sure your prepping inventory has what you need to get through the tough times ahead.
We warned you this was coming!
Since the start of the so-called pandemic, we warned you that none of this had to do with a virus. We also warned you that the globalists were attempting to manufacture food shortages to help usher in the great reset and spread panic throughout the populous. Back then we reported on how farmers were purposely destroying enormous amounts of food as the media was pretending we were running out of food due to "COVID-19".
Preparing for Manufactured Food Shortages and the Coming Economic Disaster
The key to preparedness is knowing what the real threat are, and then taking actions to protect yourself from those threats. While there is no doubt this entire crisis is manufactured, it is still a major threat. The coming food shortages and economic collapse caused by the media and people attempting to destroy the American Dream are a major threat!
Preparedness Resources: