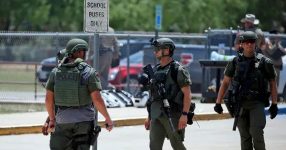 Cops Arrested & Stopped Parents from Trying to Stop Killer
Today we learned that Texas law enforcement officers stood by for almost an hour and refused to enter Robb Elementary School while a Salvador Ramos was inside shooting children.
According to the Associated Press, frustrated parents begged police officers to charge into the Texas elementary school where a gunman's rampage killed 19 children and two teachers.
"Go in there! Go in there!" nearby women shouted at the officers soon after the attack began, said Juan Carranza, 24, who saw the scene from outside his house, across the street from Robb Elementary School in the close-knit town of Uvalde. Carranza said the officers did not go in.
Cops refused to stop killer who shot and killed 18 kids in Texas — instead, they stopped parents from storming the school to save their kids!

WTF???
pic.twitter.com/Bm0R6xNdic

— OFFGRID Survival (@offgridsurvival) May 26, 2022
Javier Cazares, whose fourth-grade daughter, Jacklyn Cazares, was killed in the attack, said he raced to the school when he heard about the shooting, arriving while police were still gathered outside the building.
Upset that police were not moving in, he raised the idea of charging into the school with several other bystanders. "Let's just rush in because the cops aren't doing anything like they are supposed to," he said. "More could have been done."
Cops stood outside the school while the killer rampaged inside.

Onlookers yelled at them to go in. They didn't. One parent urged bystanders:

"Let's just rush in because the cops aren't doing anything like they are supposed to." @AP story: https://t.co/l2CqPCzmAf

— Andy Specht (@AndySpecht) May 26, 2022
When police did finally enter, their incompetence got another kid killed. A boy in the school shared his account with KENS News Channel 5, "When I heard the shooting through the door, I told my friend to hide under something so he won't find us," he said. "I was hiding hard. And I was telling my friend to not talk because he is going to hear us." 
"When the cops came, the cop said: 'Yell if you need help!' And one of the persons in my class said 'help.' The guy overheard and he came in and shot her," the boy said. "The cop barged into that classroom. The guy shot at the cop. And the cops started shooting."
None of it makes sense!
According to law enforcement, Salvador Ramos crashed his truck into a ditch outside the school, grabbed his rifle, and shot at two people outside a nearby funeral home who ran away uninjured.
Officials say he "encountered" a school district security officer outside the school, though authorities had conflicting reports on whether the men exchanged gunfire. After somehow bypassing safety locks designed to keep people away from the kids he ran inside, and then fired on two arriving Uvalde police officers who were outside the building, said Texas Department of Public Safety spokesperson Travis Considine. The police officers were injured.
After entering the school, Ramos charged into one classroom and began to kill.
According to witnesses, police refused to enter the school for an hour as the madman continued to shoot students inside.
Department of Public Safety Director Steve McCraw told reporters that 40 minutes to an hour elapsed from when Ramos opened fire on the school security officer to when the tactical team shot him. However, a department spokesman said later that they could not estimate how long the gunman was in the school or when he was killed.
Meanwhile, a law enforcement official familiar with the investigation said the Border Patrol agents had trouble breaching the classroom door and had to get a staff member to open the room with a key. The official spoke on the condition of anonymity because he was not authorized to speak publicly about the ongoing investigation.
According to some local reports, some officers went in to get their own kids out first and then waited to go back in after the shooter had killed everyone.
— Sarmad Faiz (@move2strike) May 26, 2022
School had extensive safety plan and AI social media monitoring systems.
According to NBC, in 2018 The district adopted an array of security measures that included its own police force, threat assessment teams at each school, a threat reporting system, social media monitoring software, fences around schools and a requirement that teachers lock their classroom doors, according to the security plan posted on the district's website. 
According to the Daily Mail, Uvalde school district was part of AI program that rooted out potential mass killers and monitored social media for threats and potential shooters. They say Texas school officials had been monitoring students' social media prior to the deadly shooting in Uvalde Tuesday – but failed to pick up on posts from gunman.
According to its creators, the service – powered by advanced linguistics technology – scans and analyzes digital content to pick out and flag potential safety and security risks, as well as mental health and social and emotional concerns.

The software scans selected digital content – in this case, thousands of students' social media accounts – and identifies language that fit those criteria.
Another excuse to take your guns?
Within minutes of the news breaking, democrat lawmakers were already using the shooting as an excuse to call for gun bans – even as they knew police officers, who most assume would protect the public – refused to enter the school and stop 19 kids from being slaughtered.
The President used the latest mass shooting as a rallying cry to ban guns – the shooting that law enforcement agents and the FBI again failed to stop, despite the shooter's past behaviors and getting into a shoot-out with the shooter before entering an elementary school. But, of course, Biden failed to mention that. So instead, he focuses on using this tragedy to take away your freedom and ability to protect yourself from these criminals.
President Biden in discussing gun reforms:

"The Second Amendment is not absolute. When it was passed you couldn't own a cannon. You couldn't own certain kinds of weapons. There's always been limitations." pic.twitter.com/ctttgPcNlU

— CBS News (@CBSNews) May 25, 2022