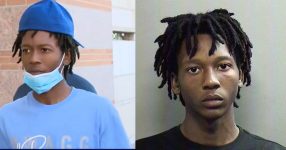 Arlington Texas School Shooter Released on Bail
The black 18-year-old school shooter who opened fire in an Arlington, Texas, school on Wednesday, injuring four people, two of whom are in critical condition, was RELEASED on $75,000 bail today.
Timothy George Simpkins, 18, has been charged with three counts of aggravated assault for firing a .45 caliber gun during a fistfight at school on Wednesday morning, before fleeing in his Dodge Charger. Arlington Assistant Police Chief Kevin Kolbye said during a news conference Wednesday afternoon that the shooting stemmed from a fight that broke out in a classroom.
Apparently, the fight that led to the high school shooting in Arlington, Texas. Student in black allegedly shot 4 and fled and is now on the run. pic.twitter.com/GqbgnAFUOg

— Dude In Texas™️ (@ChiefSVP) October 6, 2021
My daughter just texted me that there was a school school shooting at Timberview H.S. In Mansfield ISD in Arlington, TX. She sent this video that's out. Her nearby school is on lockdown also, and we hear police sirens rushing in. Police confirm there is an active shooter. Praying pic.twitter.com/m90QzZUfTz

— Nerissa Knight (@nerissaknight) October 6, 2021
Oddly, as soon as the media figured out the shooter was black, the story seemed to die quicker than a coronavirus patient on a ventilator!
Of course, as usual, the family claims he was a good boy and was only acting out because he was being bullied over being financially "blessed", having fancy clothes, and a $35,000 car. "He was able to get things that other teenagers cannot have, because he wore nice clothes because he drove nice cars, he was like a target," said the shooter's mother.
Texas Shooter released on bail after shooting his school up

His family claims he was bullied over being financially "blessed", having fancy clothes and $35,000 car

Black people are SO oppressed, aren't they? 🤡

— Drew Hernandez (@DrewHLive) October 7, 2021
On top of being released, he is not even being charged with attempted murder. Instead, Simpkins is facing three counts of aggravated assault with a deadly weapon.
The sister of the teacher who was wounded was disgusted by his release. She tweeted a video of him walking out of the jail and said: 'How does this keep managing to get worse?'